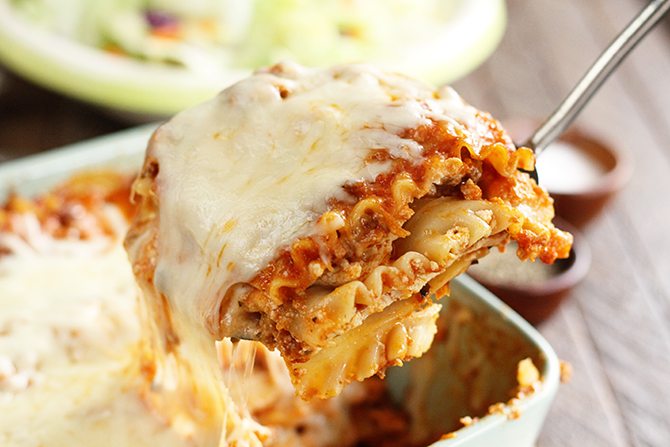 One of my favorite things to make for my family is homemade lasagna. I'll take a Sunday afternoon and make homemade sauce, the whole deal. But that's the thing … it takes all afternoon.
Sometimes I want lasagna on a Tuesday night. And I don't have time to do all that on a Tuesday night.
Enter my 6-ingredient Lasagna. Seriously. Only 6 ingredients. And you don't even have to boil the noodles. It all cooks right together.
Yeah, it has to cook for about an hour, but the prep is super easy. And that hour will give you time to get homework done or just sit and chill. (Yeah right. We know that's not going to happen!)
As with most dishes like this, it's even better the next day. Just be sure to wrap it tightly in foil and reheat at 350 degrees. You can even sprinkle a little more cheese on top if you want. I mean, who doesn't like extra cheese? Just remember, if the dish is straight out of the fridge, start it in a cold oven. Never put a cold dish in a hot oven. That's your cooking tip of the day.
Y'all enjoy!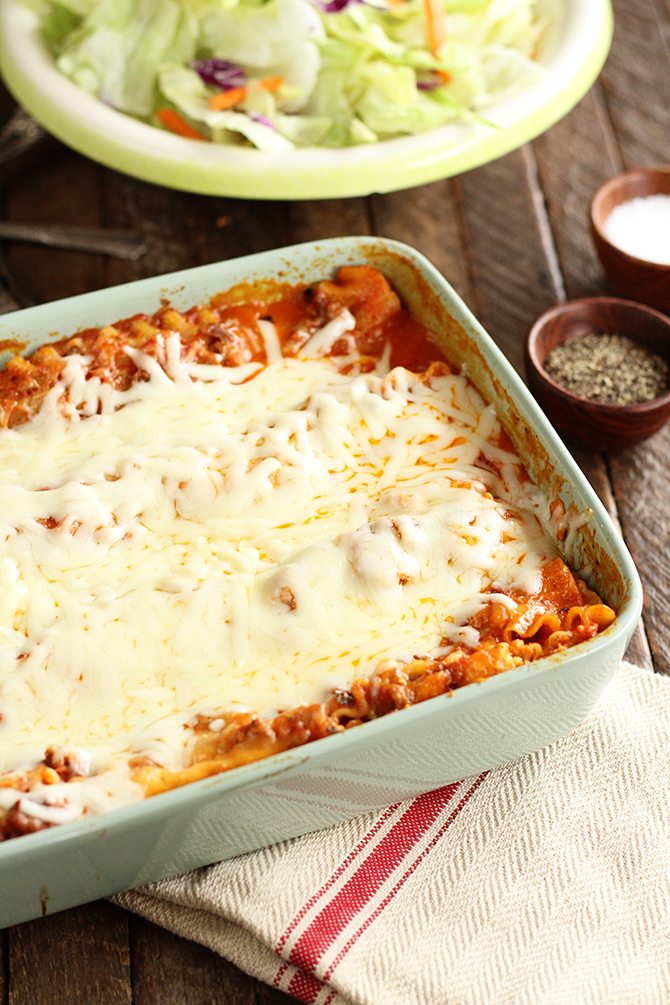 Easiest Lasagna
Prep time: 20 minutes
Cook time: 60 minutes
Total time: 1 hour 20 minutes
Serves 6 to 8
Ingredients
1 lb lean ground beef
1 (24- to 26-ounce) jarred marinara
1 cup water
1 (12-ounce) package no-boil, oven ready lasagna noodles
1 (15-ounce) container ricotta cheese
2 cups shredded mozarella cheese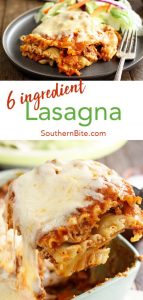 Instructions
Preheat the oven and lightly spray an 11-by-7-inch baking dish with nonstick cooking spray.
Brown the ground beef over medium-high heat and drain away the excess grease.
Return the meat to the skillet over medium-low heat and add the marinara and 1 cup water.
Stir to combine and heat through.
Layer about ¼ of the meat sauce evenly in the bottom of the prepared pan.
Cover with a layer of the uncooked pasta.
Add about half of the ricotta cheese and spread evenly. Sprinkle about ⅓ of the mozzarella cheese.
Top with another ¼ of the sauce, then more pasta, the remaining ricotta, and ⅓ more of the mozzarella cheese.
Add another ¼ of the sauce, then another layer of pasta. Top with the remaining sauce and sprinkle with the remaining mozzarella cheese.
Wrap the dish tightly with aluminum foil and bake for an hour or until the pasta is tender. Allow to rest for about 10 minutes before serving.
This recipe originally appeared on SouthernBite.com. For more great recipes, visit the website or check out The Southern Bite Cookbook.