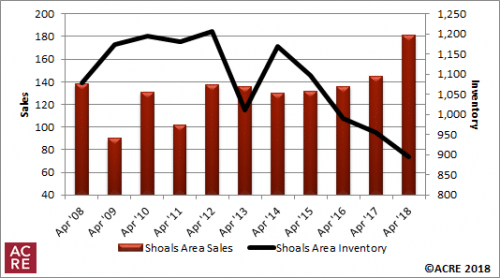 Click here to view or print the entire monthly report compliments of the ACRE Corporate Cabinet.
Sales: According to the Multiple Listing Service of the Shoals Area Association of Realtors, there were 181 residential sales in the Shoals area during April, up 24.8 percent from the same month in 2017. April 2018 residential sales are the highest they have been in the last 10 years, while the April trough was in 2009 with 90 total sales. Two more resources to review: Quarterly Report and the Annual Report.
Forecast: April's 182 home sales were 42 units or 30.2 percent above the Alabama Center for Real Estate's monthly forecast. ACRE forecasts a total of 1,688 residential sales in the Shoals area during 2018; there were 1,723 actual sales during 2017.
For all Shoals-area real estate data, click here.
Supply: Shoals area housing inventory totaled 895 units, a decrease of 6.3 percent from one year ago. April's inventory has declined 25.8 percent from the 10-year peak of 1,206 listings in April 2012. April inventory increased 7.6 percent from the previous month.
Demand: April sales in the Shoals area decreased 7.2 percent from the prior month's total of 195 sales. This is inconsistent with historical data from 2013-17 indicating that April sales on average increase 2.1 percent from March. Homes selling in the area during April averaged 71 days on the market, selling 21 days faster than one year ago. The five-year days-on-market average is 125 days for the month of April.
Seeking balance: The inventory for sale divided by the current monthly sales volume equals the number of months of housing supply. The market equilibrium, or balance between supply and demand, is considered by most real estate professionals to be approximately 6 months. The Shoals area has 4.9 months of housing supply, down from 6.6 months one year ago.
Pricing: The Shoals area median sales price in April was $143,000, an 11.3 percent increase from April 2017's median sales price of $128,500. The median sales price was up 5.9 percent from the prior month. Pricing can fluctuate from month to month as the sample size of data (closed transactions) is subject to seasonal buying patterns. ACRE recommends contacting a local real estate professional for additional market pricing information.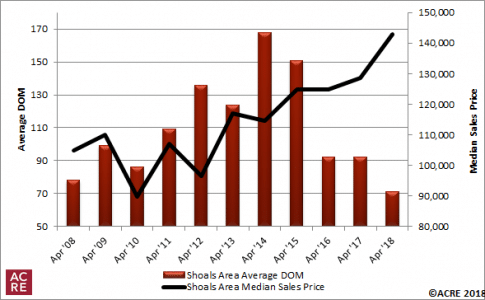 Industry perspective: Statewide, residential real estate sales continued to show growth during the first quarter of 2018 as they grew 2.4 percent from the first quarter of 2017. Low inventory levels, however, played a large role in driving prices upward. During the first quarter of the year, the statewide median sales price increased 7.1 percent from one year ago. Although good news for sellers, this price growth, combined with rising interest rates, could lead to affordability issues for buyers in today's markets.
Click here to generate more graphs from the Shoals Area April Housing Report, including Total Sales, Average Sales Price, Days on the Market, Total Inventory and Months of Supply.