Click here to view or print the entire monthly report compliments of the ACRE Corporate Cabinet.
Sales: According to the Montgomery Area Association of Realtors' Multiple Listing Service, Montgomery-area residential sales totaled 394 units during April, an increase in sales of 4.2 percent from April 2017's total of 378 units. Another resource to review is the Annual Report.
For all Montgomery-area real estate data, click here.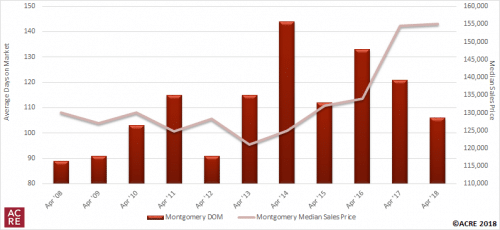 Forecast: Closed transactions during April equaled the Alabama Center for Real Estate's monthly forecast. ACRE's year-to-date sales forecast through April projected 1,405 closed transactions, while the actual sales were 1,324 units.
Supply: The Montgomery area housing inventory in April was 2,248 units, a decrease of .6 percent from April 2017 and 34.7 percent below the month-of-April peak in 2008 (3,442 units).
There were 5.7 months of housing supply during April, a decrease of 4.7 percent from the same time in 2017. About 6 months of supply is considered a balanced market, with buyer and seller having equal bargaining power.
April inventory in the Montgomery area increased 4.9 percent from the prior month. This direction is consistent with historical data indicating April inventory on average (2013-2017) increases from March by 1.5 percent.
Demand: April residential sales decreased 5.5 percent from the prior month. This direction is consistent with seasonal patterns and historical data indicating that April sales, on average (2013-2017), decrease from March by 3 percent.
Existing single-family home sales accounted for 86 percent of total sales, while new construction sales made up 14 percent.
Pricing: The Montgomery-area median sales price in April was $155,000, up 0.3 percent from April 2017 ($154,500). The median sales price decreased 3.1 percent from the prior month. Historical data (2013-2017) indicate the April median sales price typically decreases from March by 2.7 percent. Pricing can fluctuate from month to month as the sample size of data (closed transactions) is subject to seasonal buying patterns. ACRE recommends contacting a local real estate professional for additional market pricing information.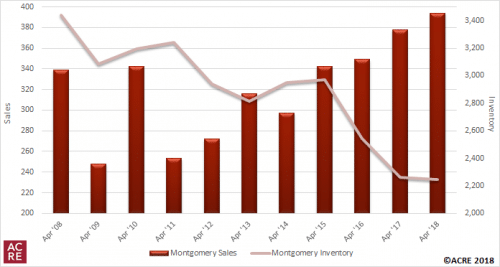 Industry perspective: Statewide, residential real estate sales continued to show growth during the first quarter of 2018 as they grew 2.4 percent from the first quarter of 2017. Low inventory levels, however, played a large role in driving prices upward. During the first quarter of the year, the statewide median sales price increased 7.1 percent from one year ago. Although good news for sellers, this price growth, combined with rising interest rates, could lead to affordability issues for buyers in today's markets.
Click here to generate more graphs from the Montgomery April Housing Report, including Total Sales, Average Sales Price, Days on the Market, Total Inventory and Months of Supply. 
The Montgomery Area Residential Monthly Report is developed in conjunction with the Montgomery Area Association of Realtors to better serve River Region consumers.