Meet Alberto, the Atlantic's first named storm of 2018.
Currently about 55 miles south of Cozumel, Mexico, it's forecast to pass between the Yucatan Peninsula and Cuba on Friday before making landfall early Monday near Mobile Bay in Alabama, according to the latest advisory from the U.S. National Hurricane Center. Alberto is likely to drench the U.S. South and, along the way, bring heavy rains that could cause life-threatening flash floods and mudslides in Cuba and Mexico.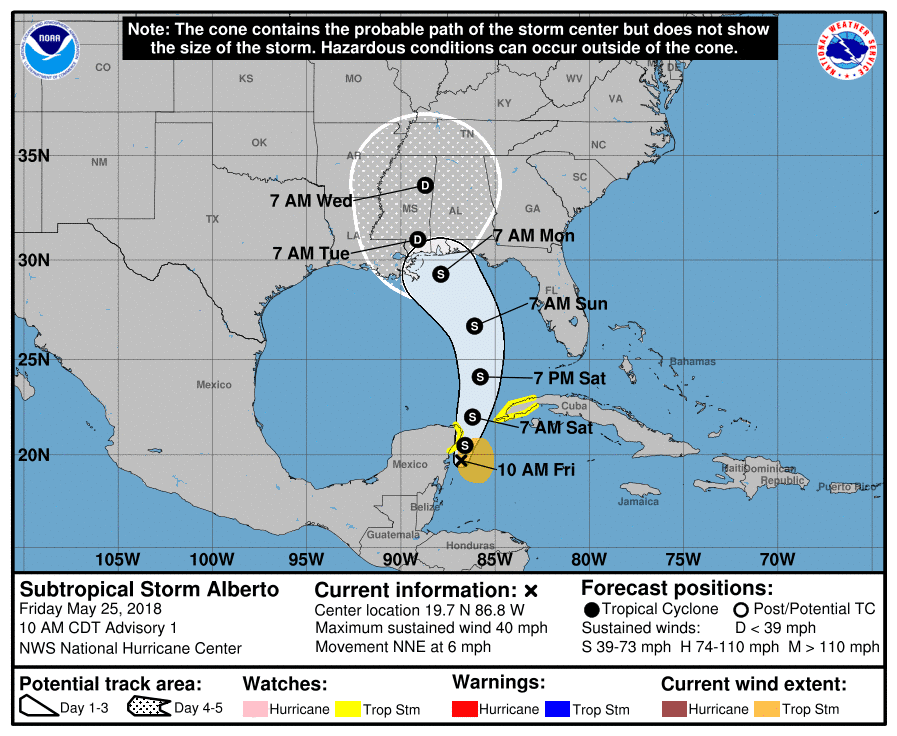 Alberto – which was christened a week before the official start of the Atlantic hurricane season – probably won't have a "major impact" on Gulf of Mexico offshore oil and gas production as it tracks east of most platforms, said Steve Silver, a meteorologist with Radiant Solutions in Gaithersburg, Maryland. But it may bring needed rain to Mississippi River Valley crops, other forecasters say.
Era Group Inc., a Houston-based helicopter operator, began flights to evacuate workers from offshore oil facilities for a "couple" of oil and natural gas customers, the company said in a statement. Some companies are simply monitoring Alberto's progress. There are no interruptions at the Louisiana Offshore Oil Port, according to a company statement.
"There's not enough time for it to have a significant impact," said Matt Rogers, president of the Commodity Weather Group LLC in Bethesda, Maryland. "It is short-lived, making landfall Monday or early Tuesday. And it is going to be a low-end tropical storm."
Tropical storm watches have been issued for parts of the Yucatan and Cuba ahead of Alberto, which had top winds of 40 miles per hour as of noon and was moving north-northeast at 6 mph. Alberto is what's known as a subtropical storm, lacking the full structure of a classical tropical storm.
Heavy rain will fall across Alabama, Georgia and Florida, which could cause some flooding in cotton and peanut fields in the region, but overall the storm will probably help farmers to the north and west, said Dale Mohler, a meteorologist with AccuWeather Inc. in State College, Pennsylvania.
Alabama meteorologist James Spann noted some observations about Alberto on his AlabamaWx.com blog, such as: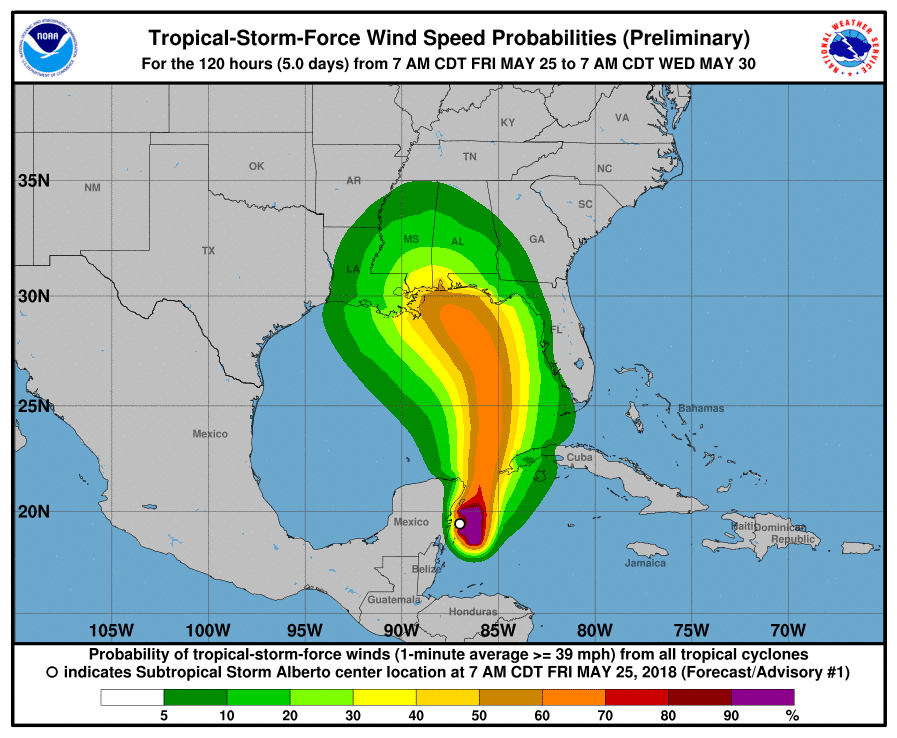 The main threat for the coast will be rain/flooding (east of the landfall point) and rip currents. Rain amounts could exceed 6 inches in spots on the Gulf Coast Sunday and Monday with flooding likely.
There will be no direct impact on the Gulf Coast Friday or Saturday (other than rough surf); the sky will be partly sunny with the usual chance of scattered storms. Rain and wind will begin to increase Sunday afternoon.
The rip current danger will be high all weekend long; red flags are already flying. Stay out of the Gulf; the risk is not worth it.
Winds could gust in the 40-45 mph category at times Sunday night and Monday from Dauphin Island and Gulf Shores west to Destin and Panama City Beach.
A few isolated tornadoes will be possible along and east of the circulation center late Sunday into Monday.
Weather conditions will improve greatly on the coast Tuesday and on through the rest of the week as the tropical system dissipates inland.
There is always going to be some uncertainty involving tropical systems, as they tend to have a mind of their own sometimes, so keep an eye out for forecast changes.
Atlantic storms that make it to the Gulf are closely watched because 5 percent of U.S. natural gas and 17 percent of crude oil production comes out of the region, according to the Energy Information Administration. Onshore areas along the coastline account for about 45 percent of U.S. refining capacity and 51 percent of gas processing.
The National Oceanic and Atmospheric Administration predicted on Thursday that 10 to 16 storms could occur across the Atlantic in 2018. An average year produces 12.
Alberto's early arrival doesn't indicate whether the final tally will be on the low or high end. Since 1950, there's been no correlation between the date of the Atlantic's first storm and how the rest of the season shapes up, said Phil Klotzbach, lead author of the Colorado State University seasonal hurricane forecast.
(With assistance from Amy Stillman, Sheela Tobben, David Wethe and Robert Tuttle. Contact the reporter at [email protected].)
Alabama NewsCenter contributed to this report.