Click here to view or print the entire monthly report.
Sales: According to the Huntsville Area Association of Realtors, Huntsville-area residential sales totaled 747 units during May, an increase of 10 percent from one year ago, when sales totaled 679 units. Existing single-family homes accounted for 76 percent of all residential sales, while newly constructed homes were 22 percent and condo sales were 2 percent. Two more resources to review: Quarterly Report and Annual Report.
For all Huntsville-area housing data, click here.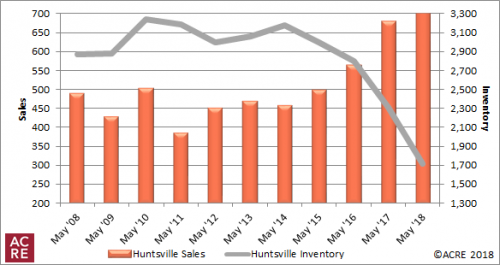 Forecast: May sales for the Huntsville area were 72 units, or 10.7 percent, above the Alabama Center for Real Estate's monthly forecast. ACRE projected 675 sales for the area during May, while the actual sales were 747 units. Year-to-date there have been 2,949 closed residential transactions in the area, 8.1 percent above ACRE's forecast of 2,728 year-to-date sales.
Supply: Housing inventory in the Huntsville area totaled 1,718 listings during May, a decrease of 25.6 percent from the same month in 2017. May inventory was .8 percent above the prior month. This trend is inconsistent with historical data indicating that May inventory on average (2013-17) decreases from April by .1 percent. The inventory-to-sales ratio in May was 2.3 months of housing supply. Restated, at the May sales pace, it would take 2.3 months to absorb the current inventory for sale. This is a decrease of 32.3 percent from 3.4 months of supply in May 2017. The market equilibrium (balance between supply and demand) is approximately 6 months.
Demand: May residential sales in the Huntsville area increased 10.2 percent from the prior month. This is consistent with historical data indicating that May residential sales on average (2013-17) increase from April by 11.7 percent. Homes selling in May averaged 60 days on the market, representing a decrease of 23.1 percent from the same month in 2017. Homes in the Huntsville area are selling much more quickly than in previous years, as the five-year days-on-market average for May is 98 days.
Pricing: The Huntsville-area median sales price in May was $201,985, an increase of 3.3 percent from the previous month and an increase of 4.7 percent from one year ago. Pricing can fluctuate from month to month as the sample size of data (closed transactions) is subject to seasonal buying patterns. ACRE recommends consulting a local real estate professional.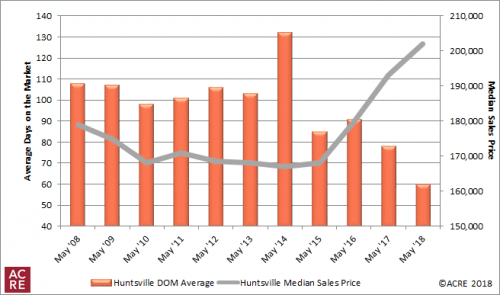 Industry perspective: In both Alabama and the United States, the spring home-buying season has been affected greatly by very low inventory levels. April residential listings decreased 10 percent in the state and decreased 6 percent nationwide from one year ago. Residential sales in Alabama, however, increased 16 percent from one year ago, which is impressive considering the 10 percent drop in inventory. Home price appreciation cooled off somewhat as the statewide median sales price increased 2 percent from one year ago, while it increased 7 percent during the first quarter of the year. Going forward, home sales prices are expected to continue their upward climb during the summer as inventory levels are likely to repeat the declines that were seen during the spring.
Click here to generate more graphs from the Huntsville Area May Housing Report, including Total Sales, Average Sales Price, Days on the Market, Total Inventory and Months of Supply. 
The Huntsville-Madison County Residential Report is developed in conjunction with the Huntsville Area Association of REALTORS to better serve North Alabama consumers.