A few weekends ago, we were at my parents' house for Sunday supper. After her usual over-the-top spread, Mom presented several desserts. Yes, I said several.  In addition to the amazing, expertly prepared Oreo cheesecake, this cobbler was something she "just threw together."
Well, y'all know what an Oreo fan I am, but I have to say, this cobbler stole the show.
It is, by far, the BEST cobbler I've ever had. Not to mention it's ridiculously easy!
The trick here is to use a box of Jiffy Golden Yellow Cake Mix. And while it's not always the easiest to find, our local Walmart almost always has it in stock, so hopefully you can find it close too.
Mom's Peach Cobbler
Prep time: 30 minutes
Cook time: 30 minutes
Total time: 1 hour
Ingredients
6 to 7 peaches (depending on size) (4 cups sliced)
3 cups of water
3/4 cup of sugar, divided
1(9-ounce) box Jiffy Golden Yellow Cake Mix
1/4 teaspoon of cinnamon
1/4 cup of butter, melted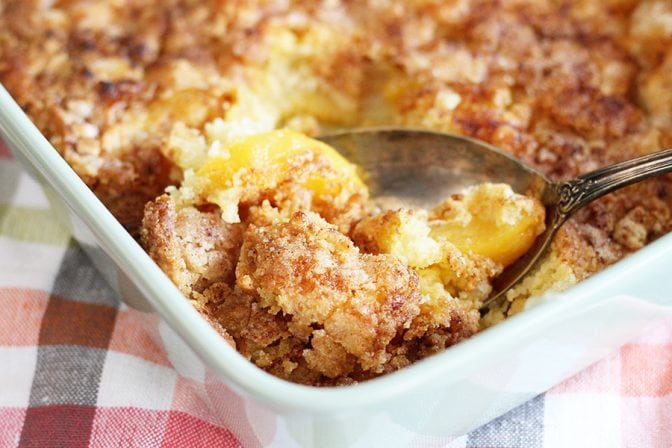 Instructions
Preheat the oven to 350 degrees and lightly spray a 9-by-13-inch baking dish with nonstick cooking spray.
Peel and slice peaches. Add peaches to a medium-sized pot and add water and 1/2 cup sugar. Cook over medium-low heat until peaches are soft (10 to 15 minutes).
Remove from heat and strain peaches into the prepared dish. Add 1/2 cup of liquid remaining in pot over peaches.
Sprinkle with boxed cake mix.
Top cake mix with 1/4 cup sugar and 1/4 teaspoon cinnamon.
Using a butter knife, make swirls in baking dish to combine some of the dry ingredients with the peach juices below.
Drizzle with melted butter.
Bake for 30 to 35 minutes, or until top is golden brown and set.
This recipe originally appeared on SouthernBite.com. For more great recipes, visit the website or check out The Southern Bite Cookbook.