The fact Montaeus Bell was standing before the 2018 graduating class of Montgomery's Park Crossing High School was remarkable.
"Me only being 20, two years removed from school, what do I really have to say?" Bell pondered. "Then, thinking of my story, I have a lot to say."
Bell began by recounting the 2015 fatal car accident involving four Park Crossing baseball players. One of those players, Bell said, was paralyzed from the chest down.
"He was told he would never walk again," the speaker said. "Seventeen years of age and a life ahead of him he can barely imagine in a wheelchair.
"Would you believe this same man stands before you today?"
Thus, Bell recounted a three-year life journey back from paralysis. It's a journey he initially doubted he could complete. But because of the encouragement of his mother, physical and occupational therapists and his mentor Timothy Alexander, Bell is walking toward a bright future. And guiding others.
Montaeus Bell makes his stand as an inspiration to others from Alabama NewsCenter on Vimeo.
Just 24 months before talking to graduates at his high school alma mater, Bell was sitting where the graduates were.
A black cane was the only indication that Bell wasn't still the Park Crossing Thunderbirds ballplayer who was at home at nearly every position on the diamond. But that fateful car ride from practice for the American Legion Post 133 team on May 11, 2015 changed his world.
Bell was behind the wheel. A scant two minutes from their exit, horseplay yielded a loss of control and Bell swerved into a tree.
His friend Trayvon Dixon was killed. Bell was alive but knew he had not escaped injury. It would be two months before he got the news he most dreaded.
The technical term was T4 ASIA A – no motor or sensory function from his chest down. He had fractured his spine at the thoracic level.
Suddenly aspirations of playing baseball in college – or beyond – faded away. He thought his girlfriend would leave and other friends would stop coming by.
"I would just sit back and watch (everyone else) go on with their lives, go to college, start families, get jobs, travel."
Montaeus' mother, Andrea Bell, cried when she heard the news about her son, feeling, she said, as though she had been stabbed in the heart. Five minutes after processing the diagnosis, she spoke to him.
"Montaeus, this wheelchair will not be you," she began. "You will work and you will walk."
Andrea Bell recalls always telling her son to listen to the doctors and nurses but have total faith in God.
"I had to let Montaeus know that anything was possible, that I believed in him and I believed in God," she said. "If he would work hard, believe and not give up, anything was possible. I felt if he would not give up in his mind, he would be OK."
A number of surgeries and medical procedures followed, including a stay at Birmingham's Spain Rehabilitation Center. It was there that staffers told Bell about Timothy Alexander, the paraplegic athlete who had become the face of UAB football.
RELATED: The determination of Timothy Alexander is beating more than just the odds
Initially, Bell wanted nothing to do with Alexander.
"I don't want to meet him," he said. "He's in a wheelchair."
Two weeks later, he asked for Alexander to visit him. By this time, Bell had regained some sensation in his legs.
"I went in there and said, 'Man, what's up? Get up!'" Alexander recalled, asking if Bell could feel and move his legs. "He said, 'Yeah, I can.' I said, 'That means you're about to be walking soon. Forget what the doctors told you. How bad do you want it?'"
Alexander said he knows exactly how Bell felt. He was given the same grim news after a car crash in October 2006.
"That's why I do what I do," the former Erwin High football standout said. "The doctor comes in the room and tells you, 'You'll never do this' or 'You'll never do that.' I know how it feels to be depressed and suicidal and down because they gave up on you just like that.
"I told myself once I got myself well and got myself free and got my life back to a place of happiness, I would remember those dark times and I would use those dark times to inspire the world."
He certainly inspired Bell, now a UAB junior taking summer classes at Lawson State Community College. The former baseball player had planned to study physical therapy; now he has a major in communications and a minor in business.
The Park Crossing product decided to tell his story, and the 2018 Park Crossing graduation was where he would step out. He contacted the faculty for the opportunity to speak, and later invited his mother and grandfather to be there, but he didn't tell them why.
"I cannot believe that Montaeus did that," said Andrea Bell, who only realized her son's role when he took a seat on the platform. Once he sat, he sent her a text: "Record this."
"I was in tears," she recalled. "I knew that he struggled within with some things but he didn't want me to worry. Some of the stuff I knew, but he's a closed book, kind of private."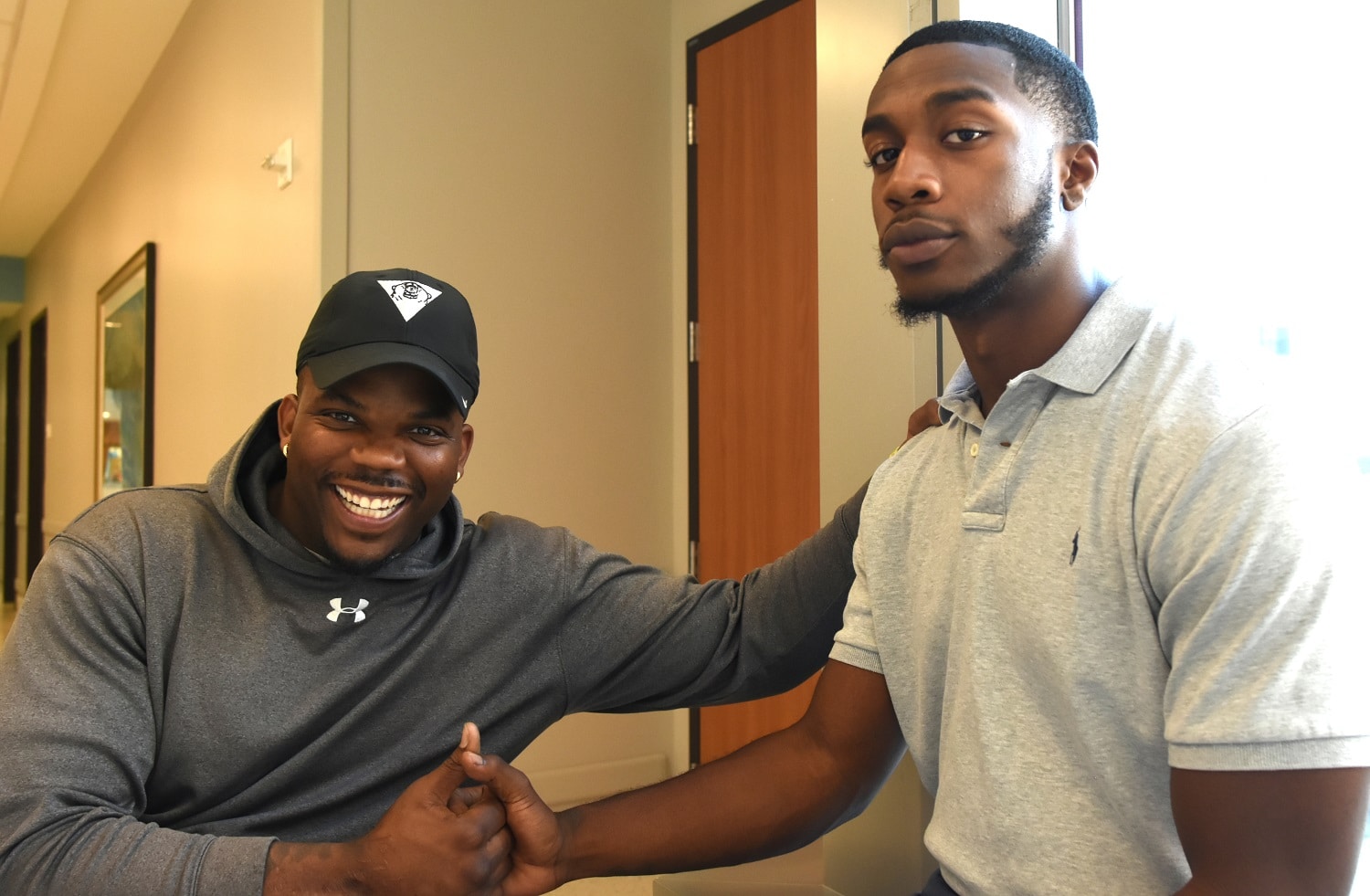 The wheelchair Bell feared might define the rest of his life has been donated to Children's of Alabama hospital. That's only one connection to Children's, where he mentors patients who have injuries similar to his own.
Said Bell, "That's what I see myself doing. Not to take the light away from the graduating class, but that was also my graduation, to go out and speak in front of all those people."
Alexander couldn't have been happier to see the man he mentors step across the stage to inspire the graduates.
"I feel great," said Alexander, an inspirational speaker and the director of character and education for UAB Football. "I'm walking through people in this world who are using my words that I tell them. They're taking action through the words that I gave them. That means the world to me."
Alexander got married about a month ago to the former Kayla Marie Bryant. He didn't walk down the aisle, but he did provide another inspiring moment.
"I was able to stand up for the first time ever (since his accident) for about 15 to 20 minutes," he said. "I didn't walk down the aisle, but I surprised my wife when I stood up for our ceremony.
"She cried," Alexander recalled. "She was in shock."