Gov. Kay Ivey is leading a team of Alabama economic development specialists to the 2018 Farnborough International Airshow for meetings aimed at accelerating growth in the state's aerospace and aviation industry.
Ivey will join a small working team from the Alabama Department of Commerce in scheduled appointments with high-ranking executives and key decision-makers from major aerospace companies.
The Farnborough Airshow, beginning Monday, July 16, is the global aerospace industry's premier trade event in 2018.
"In the past year, we've seen many exciting aerospace projects come to Alabama, and our goal is to make sure we land more of them. At the Farnborough Airshow, I will work with my team at the Alabama Department of Commerce, led by Secretary Greg Canfield, to position the state for additional growth and job creation in the aerospace industry," Ivey said.
"Alabama is a leader in aerospace, and we're aiming to elevate the state's profile in this important industry through even more growth."
Ivey and Canfield will join economic development professionals, elected officials and university representatives from around Alabama at the event near London.
Organizers say Farnborough will host more than 1,500 exhibitors and up to 100,000 visitors during the event's trade show portion, which is dedicated to industry representatives and other professionals. More than 20 U.S. states are typically represented at the international event.
Aerospace growth
The air show mission comes at a time of robust growth for Alabama's aerospace industry.
In 2017, aerospace companies finalized plans for nearly $700 million in new capital investment in Alabama, which will create 1,750 jobs, according to projections by the Alabama Department of Commerce. Investment in the sector totals around $2.4 billion since 2011, resulting in 8,300 new jobs.
Hiring trends within the sector remain strong, with companies including Boeing, Airbus, GE Aviation, Aerojet Rocketdyne and Blue Origin expanding their workforces in the state.
Canfield said the Farnborough Airshow represents an opportunity for his team to engage in a series of scheduled appointments with key industry figures over three days.
"At Farnborough, we can showcase Alabama's many advantages and capabilities in the aerospace sector while positioning the state for additional investment and job creation," he said. "Our team can connect with companies from around the world at one location, without having to travel all over the globe."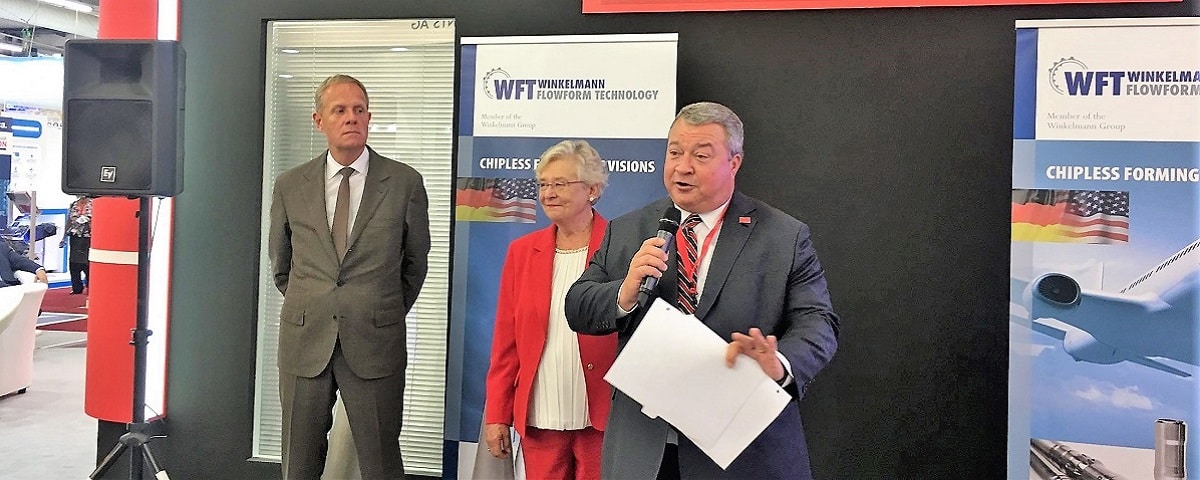 Gaining momentum
Alabama officials have attended the Farnborough International Airshow and its sibling, the Paris Air Show, for a number of years because having a presence at the industry's most important annual events is seen as critical to efforts to land new aerospace jobs and investment.
At the Paris Air Show in 2017, Ivey and Canfield attended 22 appointments with industry executives. The discussions touched on five ongoing projects and uncovered four potential new projects for Alabama. Altogether, these projects involved between 1,600 and 1,900 possible new jobs.
"Alabama's aerospace industry is thriving and gaining momentum for even more future growth," Ivey said. "I want to see this industry continue to expand across Alabama, bringing good jobs, additional investment and new capabilities."
Ivey has a deep interest in aerospace. She is the former chair of the Aerospace States Association, a nationwide group representing states' interests in federal aerospace and aviation policy development. She is a member of the National Space Council's Users Advisory Group.
This story originally appeared on the Alabama Department of Commerce's Made in Alabama website.