The sounds of metal clashing against metal fill the air in the Birmingham Children's Theatre's (BCT) rendition of "The Three Musketeers."
This play, adapted from Ken Ludwig's book, has a little bit of something for everyone, according to Ashley Woods, the managing director for BCT.
"There's sword fighting. There's romance. It's a really classic story with a great villain and great heroes," she said.
"Three Musketeers" comes to life in Birmingham Children's Theatre pop-up production from Alabama NewsCenter on Vimeo.
The play follows D'Artagnan on his adventure to become a musketeer. D'Artagnan, who is quite young, learns the ways of the world during these adventures, which helps many audience members relate to him.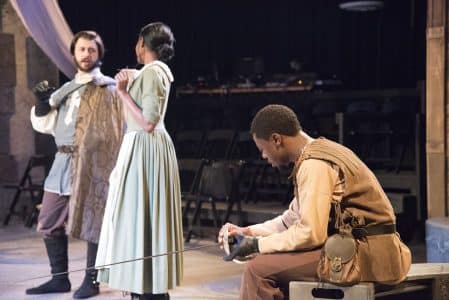 Christian Hatcher, who is studying musical theater at the University of Alabama, plays D'Artagnan. Hatcher said he has been involved in the arts from a very young age, thanks to his mother. Hatcher got away from theater and the arts for a while, but is glad he returned.
Also cast in the show is Tahauny Cleghorn, who studied theater at the University of Montevallo. Cleghorn plays Sabine, D'Artagnan's younger sister. Cleghorn enjoys playing this character because she had the opportunity to build and shape her from the ground up. "Normally, I play the princess or the damsel in distress, so playing Sabine is totally different from what I'm used to," Cleghorn said.
The play is being shown in Brookwood Village shopping mall in a small, converted retail space. Those who attend will find themselves amid all the action and will "feel the swing of the blade in front of their face," according to Woods. She hopes audience members will feel as if they are in France in 1625.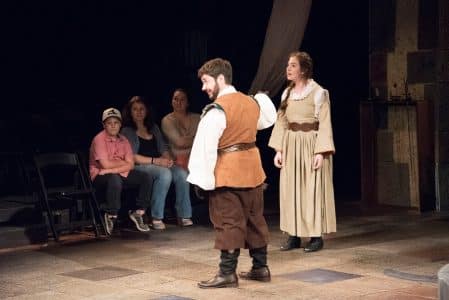 This show is part of BCT's Magic City Theatre Festival initiative. The goal is to make theater fun for everyone, not just a few.
According to Cleghorn, who has done several shows with BCT, working toward this goal is rewarding. "It should be something that the kids want to see, but also mom and dad, or a young couple. Everyone should be entertained by this show."
The show will run from July 12 to July 29. For more information and ticket pricing, go here.