Buddy Holloway of Cropwell would drive 44 miles to get his hair cut. The 90-year-old lived in East Lake for years and retired to a life on the lake.
But he didn't change barbers.
"I tell everybody: When you've got the best barber, you go back," Holloway said of his barber and friend, Vincent Oliver. "I would have probably drove 75 miles if he had moved and I had moved."
Thursday's drive for Holloway was about 20 miles. He was among dozens who made their way to Kilgroe Funeral Home in Leeds to attend the visitation for Oliver, the man known to many as the Mayor of Woodlawn.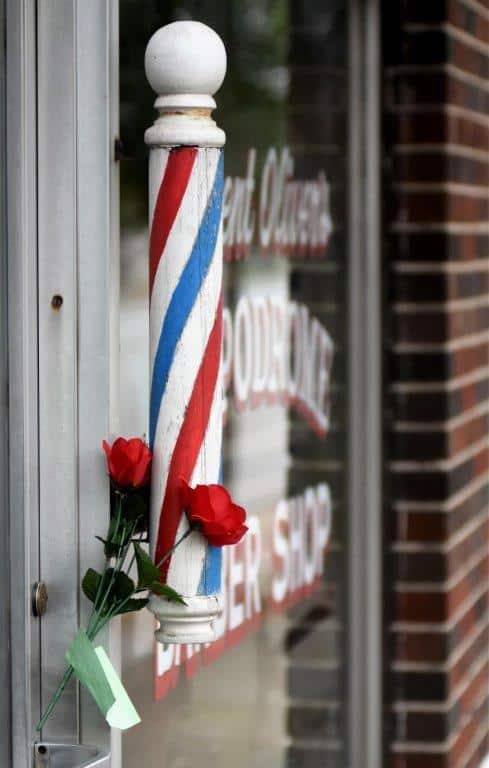 Oliver died Monday, July 9, after a brief bout with pneumonia. He was 77.
Following Thursday night's visitation, there was a family mass at St. Theresa's Catholic Church on Friday and he was laid to rest at Cedar Grove Cemetery.
Many things have changed in Woodlawn since Oliver opened the door of his Hippodrome Barber Shop on First Avenue North in 1966. Through the turbulent time of integration, through a Woodlawn renaissance, a downturn through the 1980s and now another renaissance, almost nothing has remained the same.
Except Oliver, cutting hair at his shop as he had for nearly 52 years. John Oliver, the oldest of his three sons, said the shop formerly had other barbers.
"For the last years, it's been just him," he said. "No phone. No TV. No Coke machine. No appointments. Just a haircut."
And conversation. Johnny Bajalia, owner of nearby Sammy's Sandwich Shop, recalled having a large cup of tea in tow for Oliver when he visited for a haircut. Said Bajalia's son Sidney: "You went to Hippodrome for conversation. Haircuts were on the side."
Changes in Woodlawn over the years did nothing to alter Oliver's perspective of the neighborhood he loved.
"My dad was always (glass) half full," John Oliver said. "He was very positive. There was a sign in his shop: Have A Nice Day. Dad was one of the most positive people in the world.
"Dad was 25 when he started there and started owning the shop," the elder son continued. "Dad was there to service the community and make people happy. He did more than just cut hair. It was an experience when you went to my dad's barbershop."
Family say Oliver was half Sicilian, half Neapolitan and all American. He was raised in east Birmingham and graduated from Woodlawn High School in 1958.
He loved the area, his son said, and he didn't want to leave.
Todd Gerelds is the author of "Woodlawn: One Hope. One Dream. One Way," the book on which the 2015 movie "Woodlawn" was based. He is the son of former Woodlawn football coach Tandy Gerelds, who guided the Colonels through the tumultuous early days of integration.
The younger Gerelds could tell the story of Oliver and his family as well. He thought of Oliver and his wife as a second set of parents.
"Their family had a band," Gerelds said. "They performed at weddings and different things like that."
The family band – "The Family Reunion" – included Oliver's wife, Betty, and their three sons.
"They would be practicing in the den of their house and I'd be over at their house playing with them," Gerelds said.
Years earlier, Oliver had been a dedicated musician, having begun playing saxophone and clarinet in his youth. He was an avid saxophonist for local groups such as the Nomads and played with Phil Cay and the Blue Notes.
Gerelds recalled his father, assistant coaches and various others from Woodlawn High going to Oliver to get their hair cut.
"I'd go get my hair cut at the Hippodrome," he continued. "He had all sorts of memorabilia in there. It made going to get a haircut something that was totally different, like a field trip."
Family members say Oliver was as much a Birmingham institution as his barber shop. The Hippodrome became a living museum of local history with vintage toys and collectibles.
Gerelds said he stopped getting his haircuts at Hippodrome when he moved away. He's been tempted in recent years to stop by.
"It's pretty neat," he said. "It's very nostalgic for me to think about it."
The line of people going into the chapel at Kilgroe Funeral Home Thursday snaked to the back of the building. John Oliver said the outpouring of support blew him away. There were also reports about his father on television and in the newspaper.
"We knew he's unique and he's been written up before, he's been on TV before and it was even picked up by CNN a couple of years ago," he said. "But the outpouring of support for my father has been just very, very pleasing to the family."
At the shop, somebody left a little Hot Wheels car, the kind of thing Oliver might have added to his "museum."
"He collected things and customers gave him things to put on the wall and display, and books about Birmingham and Woodlawn," John Oliver said. "That's what made my dad happy."
Gerelds described Oliver as gregarious, very loving and always happy to see people.  John Oliver said his father's love for people was sometimes more clear when no one else was around.
"He didn't have a lot of money but if somebody was hungry and he had his lunch with him, he'd give it to him," the elder son recalled. "He came home one day and my mom said, 'Where's your jacket?' He had given it to someone.
"I do know that if you were down on your luck, not all the time but if you were having a hard time, he didn't charge you," John Oliver said. "He didn't do that often, but he knew genuinely if you needed a haircut, or could afford it. My dad had that heart. He did."
Oliver was preceded in death by his parents, John Vincent Oliver and Josephine A. Oliver. He is survived by his wife, Betty M. Oliver; sons, John V. Oliver (Miranda), Anthony Oliver (Melissa) and Christopher Oliver (Bethany); sister, Mildred Condello; grandchildren, Morgan O. Lee, Bailey Oliver, Evan Oliver, Foster Oliver, Lucy Oliver and V. J. Oliver; and great-grandchildren, James Oliver Lee and Davis Lowery Lee.