It don't matter whether you're on your way to the Gulf, or you're a native Crenshaw Countian who loves a meat-and-three. The restaurant with the eye-catching name is sure to make you want to pull in.
The "It Don't Matter" family restaurant in Highland Home, 27 miles south of Montgomery, has the best thing an eatery could have going for it besides good food: an unusual name and location, location, location. "It Don't Matter" sits directly on U.S. Highway 331, the main drag from north Alabama to the Florida beaches at Destin, Fort Walton, Seaside and the western end of Panama City.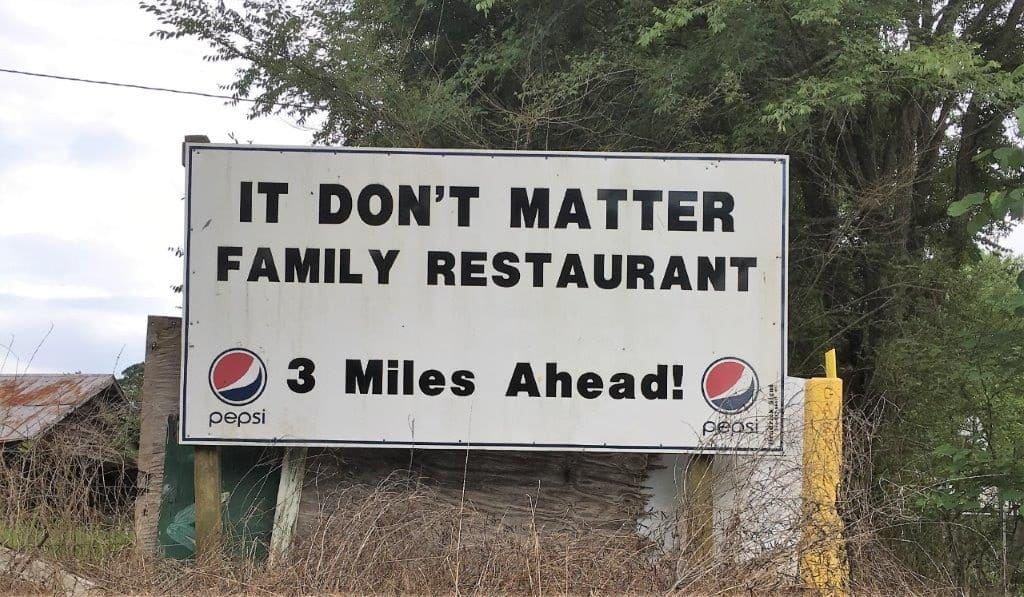 If you're heading south, the restaurant is perched on the left on a hill as 331 slips in to Highland Home, an unincorporated town of 1,200 in the very northern edge of Crenshaw County and a stone's throw from the Montgomery County line. Owner Pete Hayes is keenly aware he has a ready-made clientele of beach-goers driving in front of his daily breakfast; a lunch/dinner buffet of Southern-style meats and vegetables; a seafood buffet on Saturdays; and hand-cut steaks Friday and Saturday nights.
"I've had people come in and say, 'We passed by and turned around and came back. We saw the name and all the cars and said let's go back and try it,'" Hayes says.
But what they really want to know is where the restaurant got its funky name.
Hayes says it came from original owner John Faulk, a local homebuilder, who would respond, "It don't matter" when his wife asked what he wanted for dinner every night. Faulk built the restaurant in 2000 on the site of an abandoned gas station that was long ago the site of Highland Home school.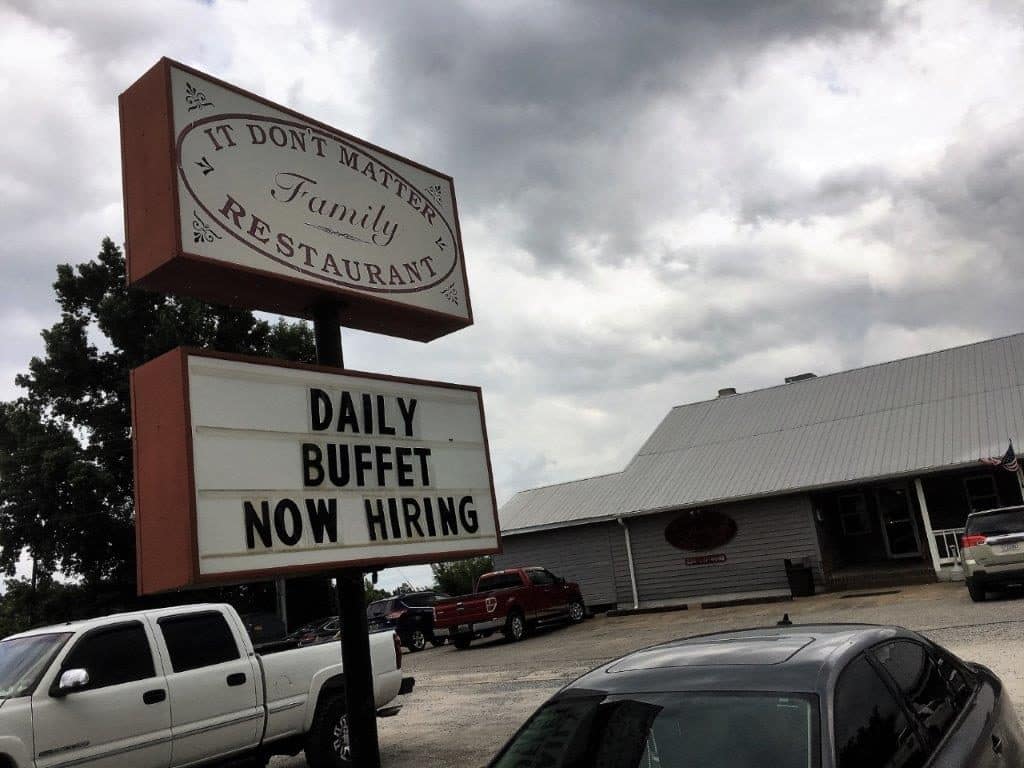 The story of how Hayes acquired the 200-seat restaurant – and Hayes himself – is as interesting as the name.
He was a professional wrestler in the early 1980s alongside the likes of "Nature Boy" Ric Flair, Dusty Rhodes and the "Fabulous Freebirds" Michael Hayes and Terry Gordy in the heyday of Georgia Championship Wrestling.  GCW, later called World Championship Wrestling (WCW), with popular announcer Gordon Solie, drew a national following coast-to-coast in the early days of Atlanta cable Superstation WTBS. Pete Hayes wrestled as Pete Martin in Atlanta and over the years wearing a mask as the Assassin, the Enforcer, Masked Superstar, Los Lobos and the Skull Master, with tag-team partner the Bone Crusher.
Hayes, 58, grew up in the nearby town of Panola. Other than his wrestling career, he has worked most of his life in kitchen maintenance for what has grown to 52 Montgomery County schools.
Every afternoon, Hayes makes the 27-mile trip to the restaurant to make sure everything is going well. His wife, Liz, helps manage, too.
His path to buying "It Don't Matter" in 2005 wasn't exactly in a straight line. His son, "Little Pete," went there to work for Faulk as manager. When Faulk realized it was too much to run both the restaurant and his construction business, he shut down the restaurant, Hayes recalls.
It Don't Matter is an Alabama restaurant with a catchy name and satisfying food from Alabama NewsCenter on Vimeo.
Little Pete said he would manage the restaurant if his father bought and reopened it, which Hayes did. Little Pete, however, eventually went to nursing school, ending his management of "It Don't Matter" and leaving his father with the restaurant.
Which didn't matter to Hayes.
"I really like this business because I like talking to people," Hayes said as one of the main reasons he kept the restaurant. He isn't a silent owner. He is very visible, socializing with customers and helping replenish the buffet. He even cooks, with steaks his forte.
While the name of the restaurant is fun, and Hayes has plenty of it, things haven't always been that way. In 2012, the restaurant burned to the ground in just a few hours after it was struck by lightning, taking 8 1/2 months to build back.
Hayes says he will likely retire from the Montgomery County school system in five years, but has no plans to retire from the restaurant business anytime soon. In fact, he recently opened his second restaurant – Front Porch Barbecue – at the Fort Deposit exit on Interstate 65 some 15 miles away.
"The biggest challenge in this business is to make your customers happy," he says. "You may make 150 of them happy one night, and you make one mad, and they tell 1,000 people. So we try to put out the very best product we can and make people feel like they're at home.
"It does matter to us if you enjoy it."