Jodi Webb is a self-proclaimed "science nerd." She excelled in the subject until her starting senior year at B.B. Comer High School.
As the first chemistry test was handed back, she could sense her straight-A run coming to an end.
There, on her chemistry test, was the grade she never thought she'd see: B.
Though many students would celebrate a B, for Webb the grade felt like failure, as big a failure as trying to pronounce the element Ytterbium or forgetting the atomic number of hydrogen. Nonetheless, she rebounded from the disappointment, all thanks to her high school teacher.
"She was very encouraging. Everything that she said or did was a way for us to step forward," Webb said.
Jodi Webb finds fulfillment in chemistry job at Alabama Power from Alabama NewsCenter on Vimeo.
Webb started working harder, both to make a better grade and to mirror the passion of her teacher. With each mole lecture, each experiment, she listened, her mind captivated by the energy of chemistry and the energy of her teacher.
On the next lesson, the teacher responsible for Webb's love of chemistry and responsible for her first B in science handed her another test back – an A this time.
"That was the best feeling in the world," Webb said.
And she was on top of the world too, a world with endless possibilities. Webb was on a path leading her to a job at Alabama Power and a passion of empowering girls to pursue degrees in science, technology, engineering and math (STEM).
First, though, came college at Troy University. After four years of exams and finals, she received that sought-after paper proclaiming her proficiency in chemistry. Degree in hand, Webb entered the workforce with high hopes.
She began working at a bulk pharmaceutical company out of college. The job was taxing with stressful research and hour-long commutes. Then, after a few short months with the company, she received news that crushed her spirit.
"My mom was diagnosed with breast cancer," Webb said.
For months, she struggled to take care of her mother. On trying nights, commuting to and from work exhausted her, the downpour of life's struggles washing away her strength and energy like acid rain corroding a monument.
"I grew up on a farm, and you can't ever take a sick day or ever take a break. You have to keep going, day by day," Webb said.
In winter 2007, her tenacity paid off.
"One of my friends' father from high school called and mentioned a job opening at (Plant Gaston) – and I was ready for change," Webb said.
That December, change finally arrived. Alabama Power hired her as its newest chemical technician.
Webb works on ensuring water quality and turning it into steam. The steam then turns a turbine that fuels the generator making megawatts.
On the eve of her first day at the company, Webb's excitement was entwined with nerves. Her mother was undergoing a double mastectomy that day.
The surgery, however, went well, and her new coworkers, she said, couldn't have been more supportive.
"It made a huge impact knowing people cared about me here. They knew the struggles I was going through, but they were still so patient with me and so kind to me," Webb said.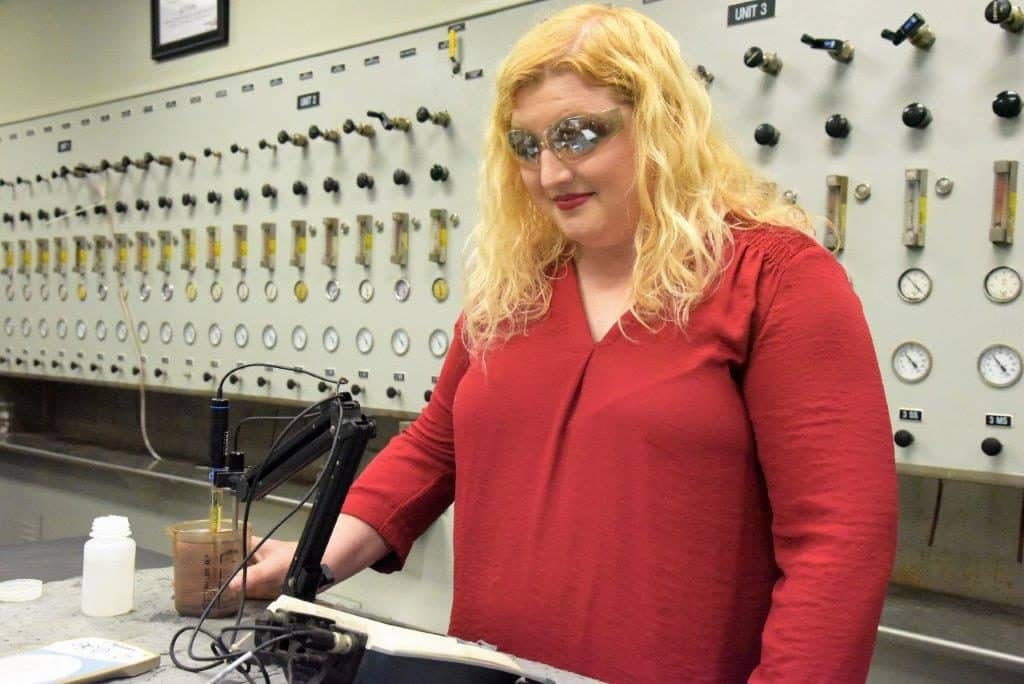 Her mother soon recuperated. A year later, she was in remission and has been for the past 10 years.
Webb takes pride in her work, knowing she makes electricity for people. But there's even greater pride in empowering girls to pursue STEM careers.
Empowering girls to study STEM subjects is vital to improving the under-representation of women in those fields, Webb said.
According to the U.S. Department of Commerce, women are a minority in the STEM workforce, with only 24 percent of STEM jobs filled by women in 2017.
"My word of encouragement is to keep learning … because if you stop learning, you're becoming a stagnant person, and that's not what a STEM career is all about," Webb said.
As to why she loves chemistry, her response is simple: Chemistry is the make-up of everything. Atoms, quarks, electrons, everything fits together for life, and we are no different than an element on a periodic table, she said.
"You being you, have all these different adversities, all these different things coming at you, but that doesn't change elementally who you are," Webb said.