The wedding industry has undergone a great deal of change the past 50 years. Few couples have witnessed that evolution more closely than Max and Mary Andrews, owners of Andrews Bridal Shoppe in Dothan.
The couple opened their bridal store on Aug. 1, 1968. Since then, they've seen trends come and go as technology continues to transform tradition.
"We used to have girls coming in here with magazines dog-eared to pictures they liked. Now, they come with their Pinterest boards on their phones and screenshots from Instagram and Facebook," said Max.
Perhaps the biggest changes have been in the brides themselves, they said.
"What I have enjoyed the most over the years is seeing the transformation in young women. When we first opened this business, we'd mostly see 16- or 17-year-old girls coming in here with their mothers. And their mothers planned everything for them. Now, sometimes we don't even see the mother. Brides now pick out what they want," Mary said.
Mary finds it particularly gratifying to watch women grow more confident and comfortable with themselves, their education and their decision-making.
"Young women have evolved to make their own decisions. I feel like I have had a front-row seat in the cultural changes over the years. Every woman who walks in here gives me a window to the world, and I genuinely enjoy that," Mary said.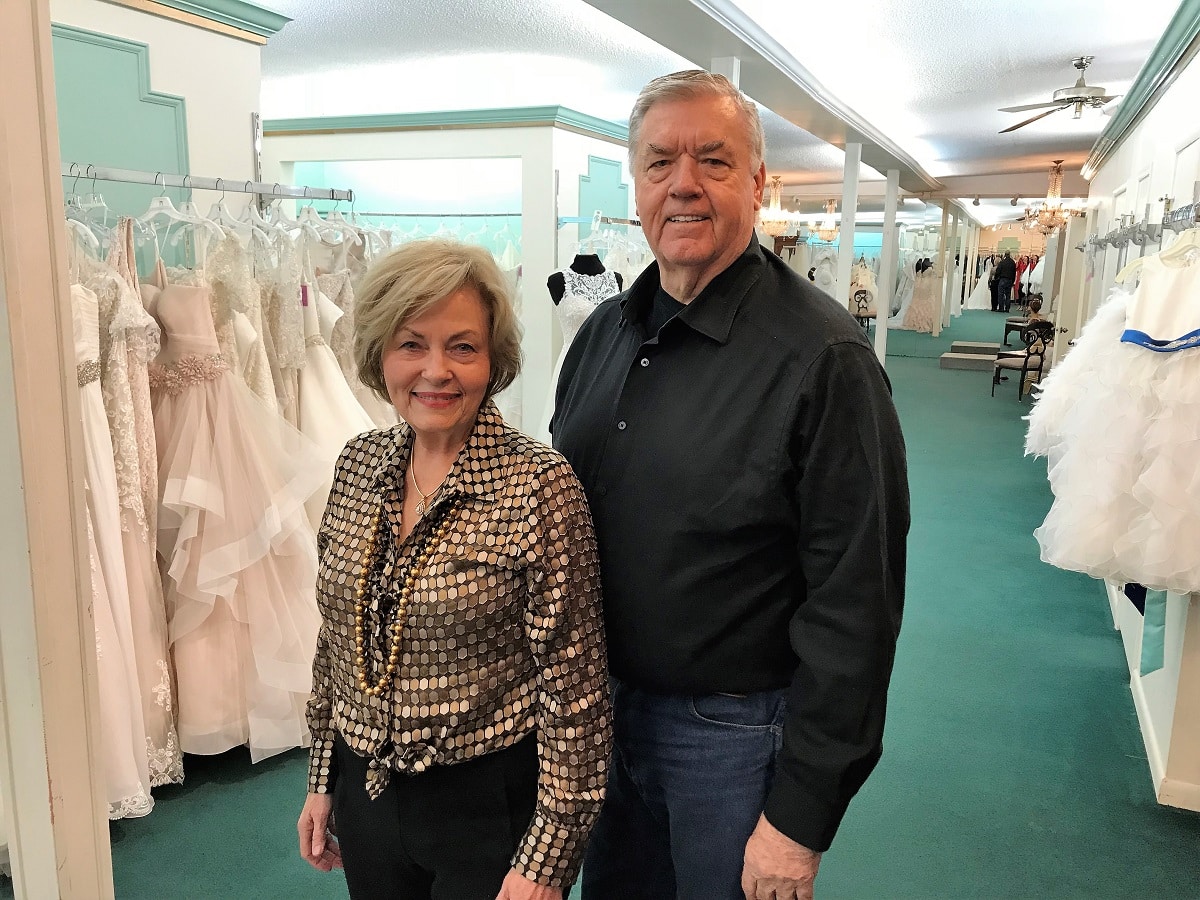 Filling a gap
In the years leading up to their 1968 opening, Max had retired from the Air Force and was working as a high school teacher in Dothan. To make ends meet during the summers, he took up wedding photography.
"I began to notice that the dresses and tuxes that wedding parties were wearing were, in most cases, ill-fitting. It really was through no fault of their own. There just wasn't a local place that could handle those alterations properly or a bridal store in town where folks could shop for a brand name dress or nice tux," Max said.
Soon after, a business idea was born. The Andrews first sold tuxedos. The two then began scouring wedding magazines for dress manufacturers. After dozens of phone calls to New York City, they were successful in bringing designer dresses to their Dothan bridal store.
"We had to start by pleasing one bride," said Max. "Then she has several bridesmaids. It just kept expanding from there. I've told our employees from day one: 'We must get it right and get it right the first time.' We now have third- and even fourth-generation brides."
Wedding details
In addition to wedding gowns and tuxes, Andrews Bridal Shoppe carries a large selection of prom and pageant dresses. Their store on Adams Street remains in its original location – although it's five times larger than when they first opened, now with more than 10,000 square feet.
They opened a second location in the early 1980s on Montgomery Highway, closer to the middle of town. However, the original store is the largest and busiest.
"People know when they come to Andrews Bridal Shoppe, they're going to be greeted by an Andrews. We are small enough to touch every detail but large enough to have the brands and services that you'd expect from a larger city," said Max.
After 50 years in business, Max and Mary aren't slowing down.
"People ask me all the time, 'When are you going to retire?' I tell them, 'This is my hobby. I don't fish, hunt or golf. This is what I do.' As long as I'm able to do it, I'm going to be here every day," Max said.
As for the future of the wedding industry, Mary believes it's on the cusp of another major shift as younger generations approach marriage and weddings differently. No matter what, though, she knows it isn't going away.
"Dreams are still dreams. And love is still love. There is a special emotion that a woman feels when she puts on that dress, and she immediately knows it's the one," said Mary. "That's why we'll continue to do what we do."
Shop Andrews Bridal Shoppe at 700 Adams St. and 2806 Montgomery Highway in Dothan from 9 a.m. to 6 p.m. Monday through Saturday. Visit online at andrewsbridals.com.
This story originally appeared in the Alabama Retailer magazine of the Alabama Retail Association.