July 31, 2013
Alabama Gov. Robert Bentley appointed Jim Bennett as secretary of state after Beth Chapman's resignation. Bennett previously held this position from 1993-2003, appointed and then elected as a Democrat (1994) and as a Republican (1998). Bennett was the first Republican to serve as secretary of state since Reconstruction.
Bennett was also a member of both the Alabama House of Representatives and the Senate, and served for about nine years as labor commissioner under Gov. Bob Riley and Bentley. Before entering politics, Bennett was a reporter for the Birmingham Post-Herald.
Read more at Encyclopedia of Alabama.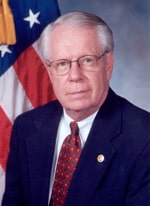 For more on Alabama's Bicentennial, visit Alabama 200.