Birmingham's Annie Avery, 80 years old, was crowned Ms. Alabama Nursing Home 2018 in the 35th annual pageant held July 30 at the Hyatt Regency Birmingham-The Wynfrey Hotel.
"It is a wonderful feeling," Avery said after being crowned by Miss Alabama 2018, Callie Walker. "I've been in things (events) before, but to be a part of this at 80 years old is wonderful … I never thought I'd do something like this, but I'm happy to give back … I want to do good in the community."
Ms. Alabama Nursing Home Pageant 2018 crowns a winner from Alabama NewsCenter on Vimeo.
As the winner, Avery will travel to nursing homes and community events around the state to speak and serve as an ambassador for the Alabama Nursing Home Association.
Avery and the other nine finalists were selected from a field of 61 contestants during preliminary judging in Montgomery. The contestants are evaluated on their outlook on life, personality, poise and involvement in their nursing homes.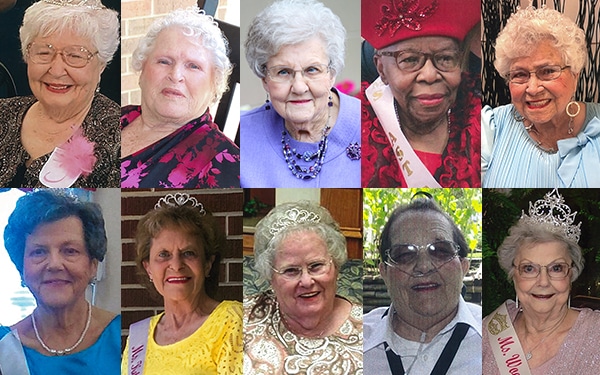 The top 10 had individual interviews with a panel of celebrity judges.
The runners-up were:
Earlier this year, Avery earned the title of Ms. East Glen Center for Nursing & Rehabilitation by competing in the center's pageant.
East Glen is a 108-bed skilled nursing care center in Birmingham.
After winning the Ms. East Glen pageant, Avery said she saw an opportunity to make a difference.
"I really didn't want to go out for it (statewide competition), but God told me to do it … so I did it," she said. "People around (her nursing home) kind of got me excited about this, and I thought to myself, 'Well, if I could be Ms. Alabama, I could really make some things happen.'"
And that's exactly what she plans to do.
"I want to set up a welcoming committee at every nursing home, and be able to let them know what (living in a nursing home) is all about … the pros and cons of living here, and the things they can and cannot do," she said. "And I would like to be a spokesperson for those who do not have a voice."
Avery wants to bring awareness to an organization she founded, Ladies in Red.
"I founded Ladies in Red at my nursing home, and I want to start it up in as many nursing homes that will accept it," Avery said. "My organization puts the spotlight on ladies and their lives, and the things they've overcome in their past."
Avery is a New Orleans native who relocated to Birmingham in 2005, following the devastation of Hurricane Katrina. She had been named in 2002 one of New Orleans' Women of the Year by New Orleans CityBusiness magazine.
Avery and her late husband, James, who died in 2003, were married for 48 years, and raised two sons. She has nine grandchildren, 29 great-grandchildren and one great-great grandchild.
This story originally appeared in The Birmingham Times.