The past two years have been very good for Troy football.
The Trojans pushed eventual national champion Clemson before falling to the Tigers in 2016 and then upset LSU in 2017. Each year, coach Neal Brown's squad won at least 10 games and closed out the season with a bowl victory.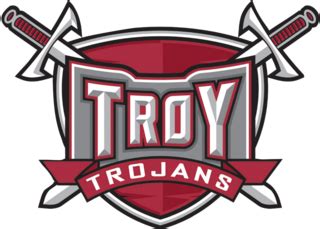 "I think we're excited about where we've gone," said Brown, whose squad was 10-3 in 2016 and 11-2 last year. "We're 21 wins in two years. Twenty-one wins is eighth most in that time.
"Have we arrived? I don't think so," the coach said. "We've only won one conference championship. I don't know if we've arrived until we get to the upper tier of the Group of Five. This first game (against Boise State) affords us that opportunity. We couldn't get it done last year against Boise at their place. They come here this year on Sept. 1st. We're not finished. I still think that we've got several milestones to reach."
The football season is fast approaching and Alabama NewsCenter is continuing its tour of college football programs in the state. Next up is Brown and his Troy Trojans.
"I think we continue to push forward," he said. "The goal for our program is to get to the upper tier of the Group of Five. I think we're moving closer. I don't think we've arrived, but we're getting there. You want to be in the conversation year in and year out."
Alabama NewsCenter: What is the outlook for this season?
Neal Brown: It's positive. We return several starters on defense. Several all-conference players return on defense. Any time you play good on defense, you've got a chance. We've got all our specialists back. Offensively, we've got a deep receiving corps and we return four out of our five starters on the offensive line. The schedule's tough, especially early, and our conference is getting more and more competitive. We're confident this football team can put together a third (good) year.
ANC: What is the strength of this year's team?
Brown: Defensively, we've got really good team speed. We've got depth on the defensive line and in the secondary. Offensively, we have experience on the offensive line and we return several playmakers at receiver that have made plays in big games.
ANC: Who are your team's standouts?
Brown: On offense, I think both our quarterbacks have a chance to be clutch players – Kaleb Barker and Sawyer Smith. At wideout, Damion Willis had a great bowl game. He's got a chance to be our leading receiver and an all-conference-type player. Deondre Douglas is a guy who's been a two-time all-conference player. He's set up to have another really successful season. Traveon Samuel, who transferred in from Louisville, is a guy who can make plays with the ball in his hands. Defensively, Blace Brown, starting corner, and Marcus Jones, who was a freshman All-American a year ago,  and then Trevon Sanders at nose and Tron Folsom, our leading tackler, returns at will linebacker.
ANC: What game do your fans have circled on your schedule?
Brown: I think the first one, without a doubt. It's a measuring-stick game. Boise's at where we want to get to. We want to be one of those teams that year in and year out has an opportunity to get to the top of the Group of Five. Our fans are excited about that. We've got a big game at Nebraska that's got some history. That was our very first Division I football game (in 2001). Our fans are looking forward to that. And then also we've got our rivalry game with South Alabama. We didn't play very well in it last year.
ANC: What is your lingering question?
Brown: The biggest question mark for us is how are our quarterbacks going to perform in a game atmosphere? Then we need … we're going to have multiple running backs step up. Those are questions on offense. Defensively, we have to figure out who's going to apply pressure on the quarterback.
Read 2018 football previews for Jacksonville State University, Miles College, the University of West Alabama, Birmingham-Southern College, the University of North Alabama, Samford University, Tuskegee University, Alabama State University, Alabama A&M University, the University of South Alabama, Huntingdon College, UAB and Auburn University, and don't miss Alabama NewsCenter's football preview of the Alabama Crimson Tide on Friday.