The eyes of college football are on Tuscaloosa, and those eyes are looking up at the Crimson Tide.
It was reported this week that Alabama is just the second team to be ranked No. 1 in the preseason Associated Press Top 25 poll for three straight seasons. Alabama received 42 out of 61 first-place votes.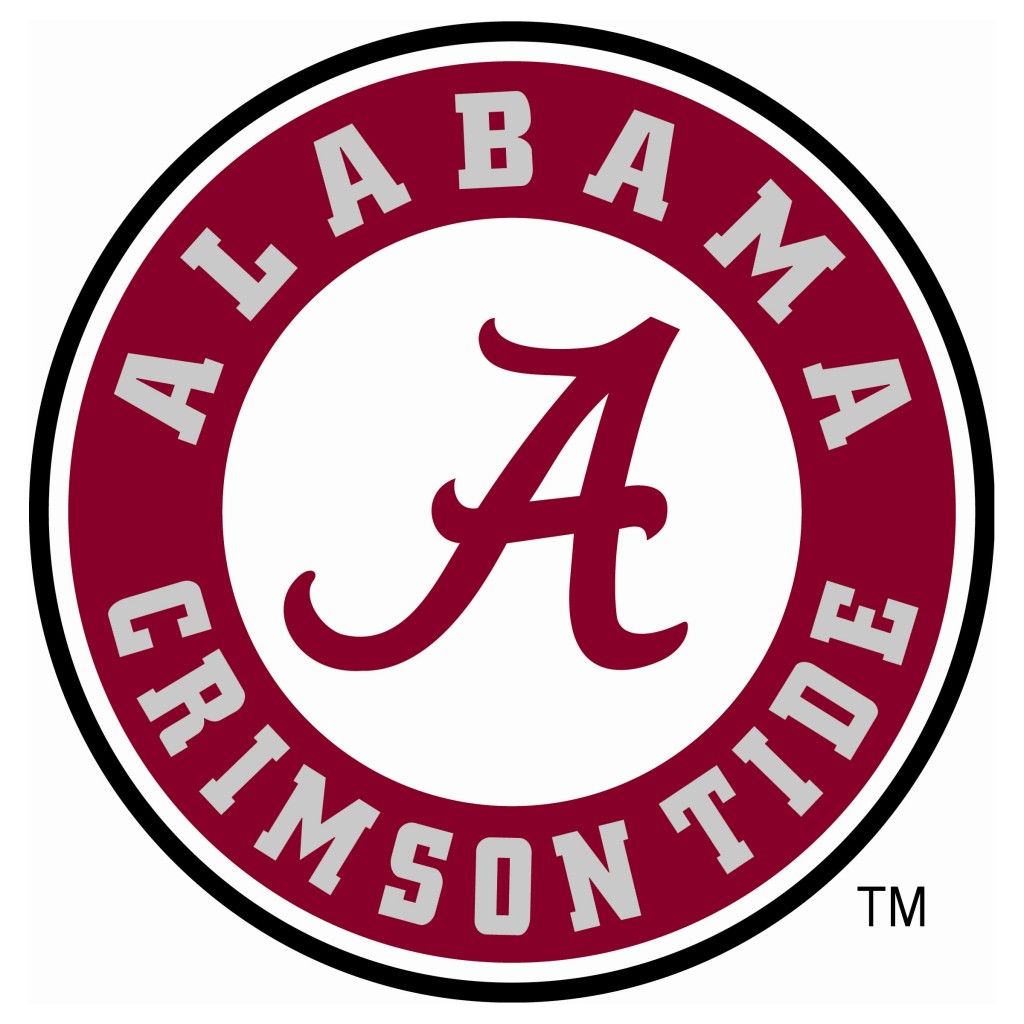 No. 2 Clemson received 18 first-place votes. Georgia is No. 3 and Wisconsin is fourth. The Badgers received one first-place vote. Ohio State is ranked No. 5.
The preseason AP poll started in 1950, and since then only Oklahoma (1985-87) had started No. 1 in three straight years until now.
College football coaches across the land are looking up at Nick Saban, who recently was rewarded with a contract extension and a raise. Saban's agreement extends his term through the 2025 season and his compensation will increase $400,000 per year.
The new deal also includes an $800,000 bonus for signing (and retroactively for winning last season's national championship), and future bonuses in the same amount for completing the 2019, 2020 and 2021 seasons. Saban's new compensation through the 2021 season will be $8.3 million per year, including the bonuses.
Saban's compensation was $11.132 million in 2017, making him the highest-paid coach in college football. That included a signing bonus of $4 million for his previous extension last May.
Alabama's Saban talks about this year's Tide, injuries and getting ready for Louisville from Alabama NewsCenter on Vimeo.
The eyes of folks charged with handing out postseason football awards are also looking to the Capstone. Nine members of the Crimson Tide are on watch lists for postseason awards:
Those watch lists haven't drawn the attention of nearly as many eyes as the yet-to-be-made decision on who will take snaps as Alabama looks to defend its 2017 national championship.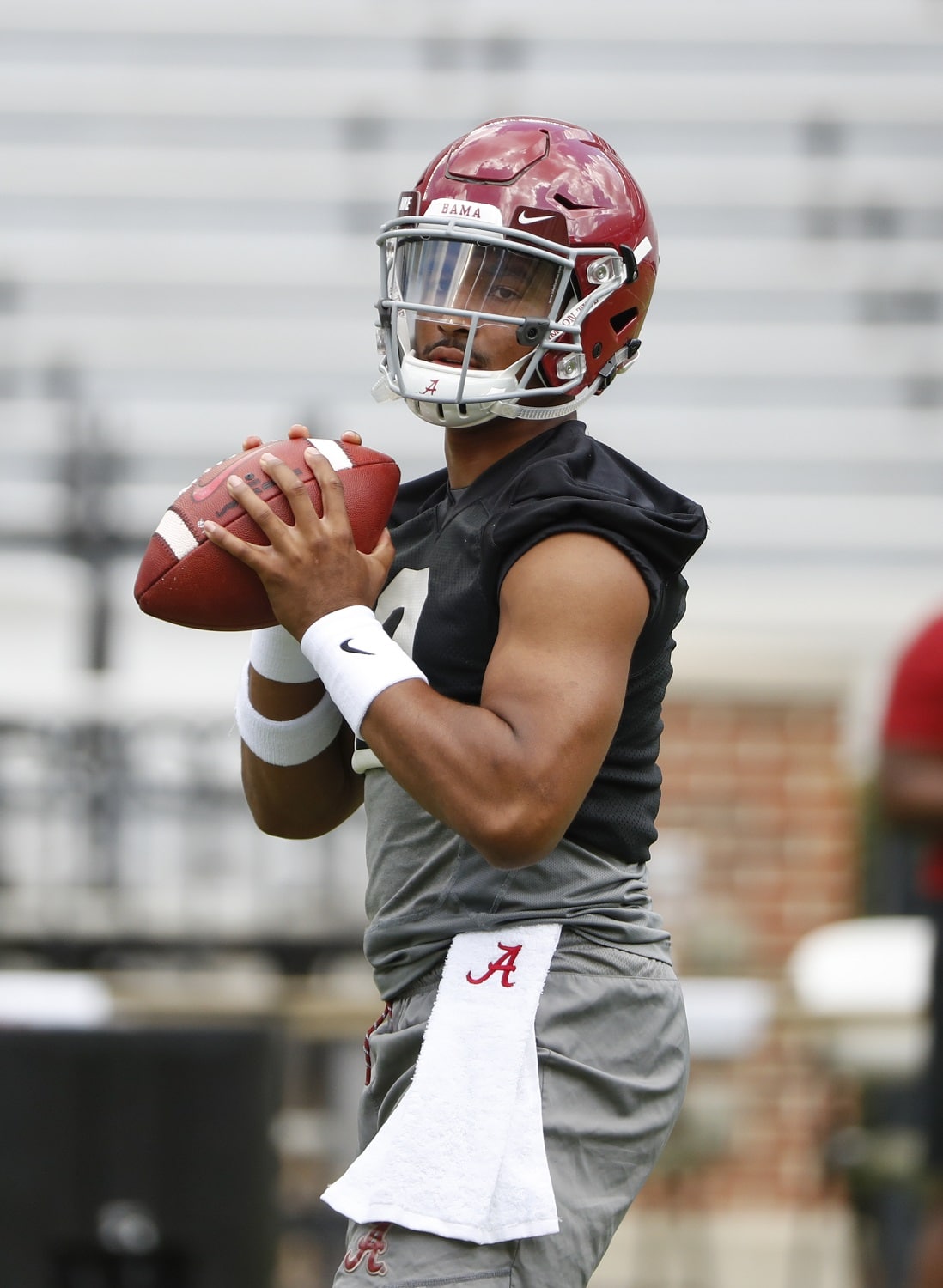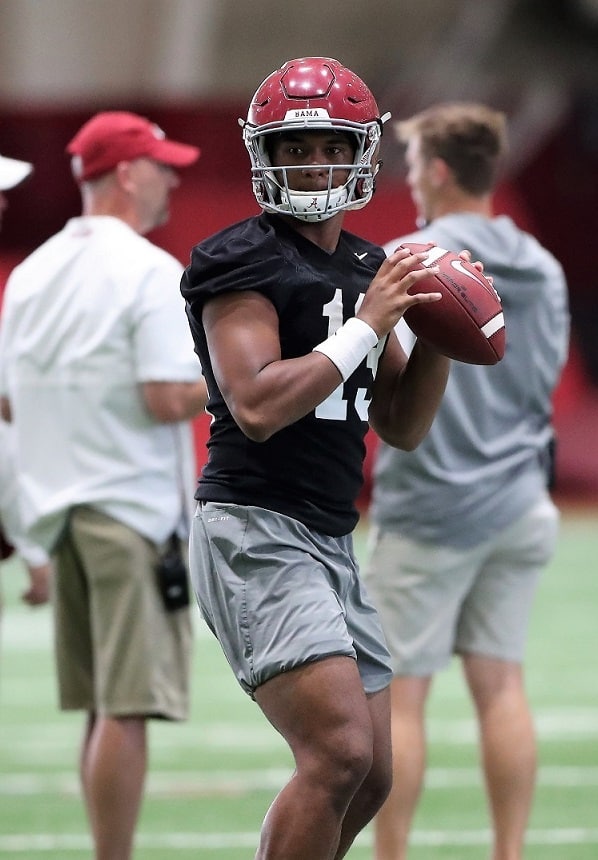 Hurts is the incumbent in this race, the two-year starter who is 26-2 as the starting quarterback for the Tide. The Houston, Texas, native already holds the Alabama career record for rushing touchdowns by a quarterback with 21 and is second in UA career touchdown responsibility with 61 passing and rushing scores. He ranks No. 4 at Alabama with 40 career touchdown passes.
The challenger is Tagovailoa, who came on in relief to start the second half of the College Football Playoff National Championship Game. He capped his freshman season by earning Offensive Player of the Game honors for completing 14 of 24 passes for 166 yards, an interception and three touchdowns, including the game-winning bomb on second and 26 to outlast Georgia.
Despite Tagovailoa not having started a collegiate game, SBNation.com reported that bookmakers at offshore sportsbook BetOnline have established the sophomore among the favorites for the Heisman Trophy. They set his odds of winning the award at 10-1, the same as returning Georgia starting QB Jake Fromm and behind Stanford running back Bryce Love (5-1) and Wisconsin running back Jonathan Taylor (13-2).
Saban has stuck to a wait-and-see stance when repeatedly fielding questions on the subject.
"I think it all will be determined," he said at SEC Media Days. "Everything … will be determined by what the players do, the rest of the summer, how they win the team, what they do in fall camp. And I'm not making any predetermined decisions about that. So, they need to continue to compete, like every other person at every other position on our team is competing.
"I love both guys," the coach continued. "They're both really good competitors. They are really good people. They are good leaders. They both make great contributions to our team. They are very well liked."
The Tide's vaunted defense has suffered some injuries at linebacker. Saban confirmed to reporters – including cbssports.com – on Saturday that sophomore reserve outside linebacker Chris Allen suffered a knee injury in practice that will require season-ending surgery.
That's the second major hit absorbed by Alabama's linebacker unit this offseason. Rising star Terrell Lewis suffered a torn ACL in July.
Alabama opens the 2018 season at 7 p.m. on Saturday, Sept. 1, in Orlando. The Crimson Tide faces Louisville in a game that can be seen nationally on ABC.
Read 2018 football previews for Jacksonville State University, Miles College, the University of West Alabama, Birmingham-Southern College, the University of North Alabama, Samford University, Tuskegee University, Alabama State University, Alabama A&M University, the University of South Alabama, Huntingdon College, Troy University, UAB and Auburn University.