Birmingham native Taylor Hicks will perform at Jasper's Foothills Festival.
Foothills Festival
Jasper's Foothills Festival is Sept. 7-8 at the Courthouse Square. The music festival headliners are Taylor Hicks, River Dan, Paul Thorn, The McCrary Sisters, The SteelDrivers, Robert Randolph and the Family Band, Chris Simmons and Will Hoge. The event will feature a variety of food and vendors. The hours are Friday 6-10:30 p.m. and Saturday from noon to 10:30 p.m.
Alcohol, coolers, bicycles, scooters, personal motorized vehicles and musical instruments are prohibited.
The event is rain or shine.
Admission is free.
For more information, call 205-221-2100.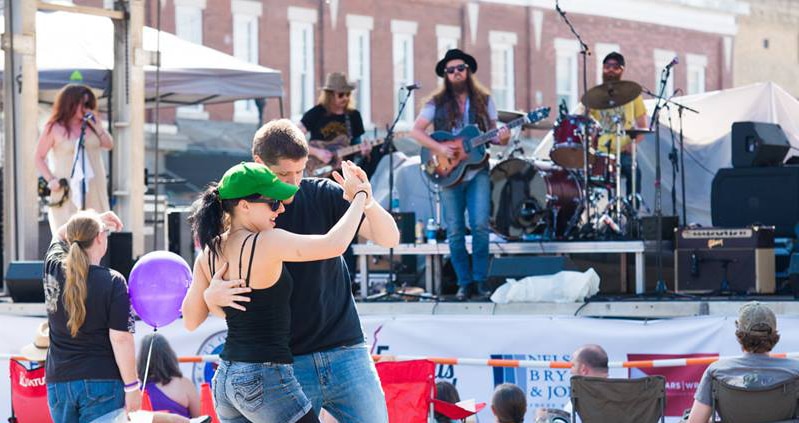 Birmingham Botanical Gardens
It's the perfect time of year to see what's blooming at the Birmingham Botanical Gardens. Beautiful camellias, roses, salvias and perennials are among the array of flowers. View the September gallery here. Admission is free. Follow this link for donations.
The Garden Center is open from 8 a.m. to 5 p.m. Monday through Friday.
The garden is located at 2612 Lane Park Road.
Bernard Blues and Barbecue
Don't miss mouth-watering barbecue at Bernard Blues and BBQ Sept 8-9 on the campus of St. Bernard Abbey and Prep School in Cullman. Blues Hammer Band, Sweet Licks, De Ja' Blue Horns and Bama Blue Grace are the headliners.
Admission is $5 and children 5 and under are free.
For more information, visit https://stbernardprep.com/bernard-blues-bbq/.
Alabama Symphony Orchestra
Enjoy Alabama Symphony Orchestra's unwined series concert "Mendelssohn's Italian Symphony" Thursday, Sept. 13 at 6 p.m. at UAB's Alys Stephens Performing Arts Center. Performancess include Ottorino Respighi's "Trittico Botticelliano" and Felix Mendelssohn's "Italian Symphony." Carlos Izcaray is the conductor. Purchase tickets here.
Follow this link for discounted ticket information.
Visit https://alabamasymphony.org/events for tickets or call 205-975-2787.
Auburn BBQ Fest 2018
Feast on some of the best barbecue Auburn has to offer Sunday, Sept. 9 from 11 a.m. to 5 p.m. The festival-themed gathering will have live entertainment, contests, games and giveaways. Aubie the tiger will make a special appearance.
Follow this link for ticket information.
The venue for the BBQ Fest is located at The Greystone Mansion at 434 E. Magnolia Ave.
Stay current through Facebook or email [email protected] for general information.
Alabama Shakespeare Festival
The Alabama Shakespeare Festival in Montgomery presents "Menopause the Musical" through Sunday, Sept. 16. The hilarious musical features four women who meet at a lingerie sale. Find out what millions of women are laughing about.
For tickets, click here.
To learn more about the production, visit the website.
Women in Jazz Festival
Celebrate women at the 4th Alabama Women in Jazz Festival Sept. 6-8 at the University of Alabama in Huntsville. The festival will feature live jazz and blues music, food vendors and workshops. Jazz Elegance with harpist Brandee Younger will perform Thursday. There will be an album-release vocal performance by B. Alexandria Friday.
The shows are at Roberts Hall on Thursday and Friday at 7 p.m. The show on Saturday is in the Chan Auditorium at 3 p.m.
Alcohol, pets and smoking are not allowed.
Contact www.valleyartsandentertainment.org or [email protected].
Jazz in the Park
This weekend's Jazz in the Park concert series will feature Kayoband and Adam Hawley on Sunday, Sept. 9 from 6 p.m. until 9 p.m. at Huntsville Big Spring Park East. Admission is free. Click here for the complete schedule. Call 205-616-1735 or visit magiccitysmoothjazz.com/.
Follow Jazz in the Park on Facebook for inclement weather and other notifications.
Dates are subject to change.
Steven Curtis Chapman in concert
Grammy-award winner Steven Curtis Chapman will perform at the Lyric Theatre during the SCC SOLO: A night of Hits, History and Influences tour on Friday, Sept. 7 beginning at 7:30 p.m. Chapman is a Christian music singer, songwriter, record producer, actor and author.
He has won 58 Gospel Music Association Dove Awards, five Grammys, an American Music Award and had 48 No. 1 singles, selling nearly 11 million albums, and eight RIAA-certified gold or platinum albums.
Buy tickets here.
Three Dog Night in concert
Spend an evening with Grammy-nominated Three Dog Night on Thursday, Sept. 6 beginning at 7:30 p.m. at the Alabama Theatre in Birmingham. For nearly five decades, tens of millions of their hit songs have sold around the world. The band has 21 consecutive Top 40 hits, 3 No. 1 singles, 11 Top 10s, 18 straight Top 20s, seven million-selling singles and 12 straight RIAA-Certified Gold LPs.
Their hits appeared on best-selling charts in pop, rock and country.
Buy tickets here.