Les Dames Takeover series is underway through Saturday, Sept. 29 at the Market at Pepper Place. Live cooking presentations will showcase some of the most prominent chefs from the Birmingham metropolitan area.
Cooking demonstrations begin at 9 a.m. and include a taste-testing and samples of Alabama-grown food.
The first in its series is Chef Brittany Garrigus of Satterfield's Restaurant. Garrigus, accompanied by food writer Susan Swagler and scholarship recipient Sydney Smith, featured a mouth-watering homemade Pear Jam.
For the complete schedule, follow this link. The free event will take place rain or shine.
The Birmingham chapter of Les Dames d'Escoffier International is a group of leaders in the food and beverage industries. Les Dames works to grow, create, promote and share the local food culture.
To learn more about Les Dames Takeover, visit www.pepperplace.com or contact [email protected]
The venue is at 2829 2nd Ave S.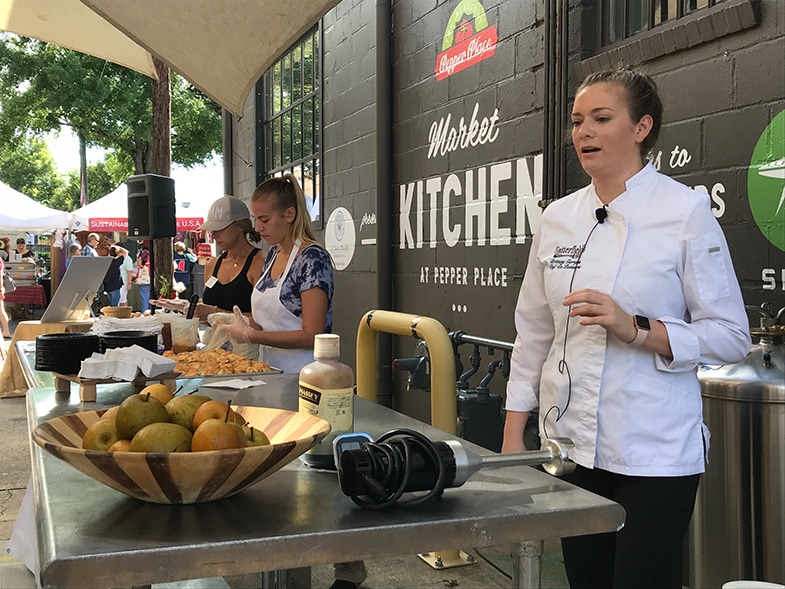 Homemade Pear Jam
Ingredients:
1 vanilla bean (or 1 tablespoon vanilla extract)
4 1/4 cups of peeled and chopped pears
3 1/4 cups sugar
Preparation:
Cook time: 45 minutes
Combine sugar and vanilla bean paste (or extract) in pot. Heat pot to low-medium heat and add chopped pears. Cook on low heat for about 45 minutes until boiling. Treat on a frozen plate to make sure the jam is set. Transfer jam into jar or serve and enjoy. Garrigus recommends serving the jam on top of ice cream, hot biscuits or with grilled chicken or pork.
Recipe courtesy of pastry chef Brittany Garrigus of Satterfield's Restaurant in Cahaba Heights, Alabama.