Alabama Power crews remain staged safely throughout Georgia and are ready to help restore power lost from Hurricane Florence, which made landfall today at 6:15 a.m. near Wrightsville Beach, North Carolina. The National Hurricane Center reported the Category 1 storm had sustained winds of 90 mph as it made its way ashore.
The storm team of about 1,200 people includes Alabama Power line and contract line crews, support and tree-cutting personnel and is part of a massive industry effort to help utilities hit by the drenching storm.
Florence's high winds, along with rain totals that could exceed 20 inches in some locations, are expected to cause massive power outages. Duke Energy has projected as many as 3 million power outages across the Carolinas. As of 9:30 a.m., outage totals had topped 500,000, according to news reports.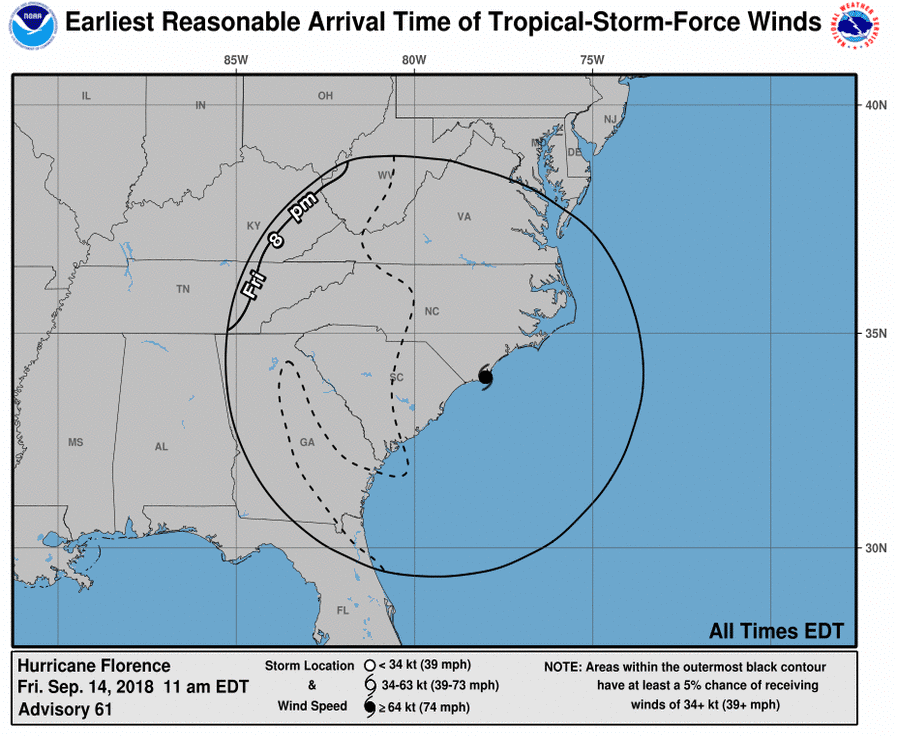 Duke Energy earlier this week requested crews from Alabama Power and other utilities to be staged safely closer to areas that may be affected. Alabama Power's storm team is part of more than 40,000 workers from at least 17 states who have mobilized to respond to Florence, according to Edison Electric Institute (EEI). The Electricity Subsector Coordinating Council, U.S. Department of Energy, Department of Homeland Security and Federal Emergency Management Agency are coordinating to support the preparation and staging of the mutual assistance crews.
Crews will work around the clock to restore electricity safely and efficiently, as soon as it is safe to do so, EEI said. Crews won't be able to use certain equipment, such as bucket trucks, until high winds have passed. Flooding also could hamper restoration efforts, as could damage to critical infrastructure that may have to be rebuilt. EEI and Duke warned that customers could face extended power outages.
Even before Alabama Power crews have begun restoring electricity, the company's Facebook page has received messages of support from around the country.
A sampling: