Grant Lynch, the popular head of Talladega Superspeedway for the past 25 years, will have his swan song with the track's recently announced Transformation – The Talladega Superspeedway Infield Project in fall 2019.
Lynch, the speedway chairman who joined the staff in January 1993, will retire after more than a quarter century of service in November next year — just weeks after the completion of Transformation, which will allow fans to be immersed in the sport like never before.
"Grant is one of the most spirited and beloved characters in our sport and has been a perfect fit to head Talladega Superspeedway for more than half of the track's existence," said International Speedway Corporation CEO Lesa France Kennedy, whose grandfather Bill France Sr. built the 2.66-mile venue that opened in 1969. "He has always put his heart and soul into the success of the track, the sport of NASCAR, the local community and the state of Alabama. All of us at ISC (International Speedway Corporation, parent company of Talladega Superspeedway) are excited to have him lead the charge on Transformation – The Talladega Superspeedway Infield Project. We can't thank him enough for what he has meant to the track and so many people."
Transformation, the approximately $50 million redevelopment endeavor, is part of ISC's long-term capital allocation plan and reinvestment into its major motorsports complexes.
The project is highlighted by the Garage Fan Zone Experience, 140,000 square feet of social and engagement areas. The space will feature "up-close" fan access to the drivers and teams, interactive attractions, Wi-Fi, a 35,000-square-foot covered Open Air Club, 41-foot diagonal video screens, a new Gatorade Victory Lane, a Pit Road Paddock Club and enhanced amenities in the iconic Talladega infield. In addition,more than 300 new RV spaces will be configured inside the track.
"I have had a wonderful ride here at Talladega, and the time has gone by so fast," Lynch said of the track, which will celebrate its 50th anniversary next season. "We have always tried to make this place the very best it can be for the fans, our local communities and for everyone involved in the sport of NASCAR, as well as ARCA. We truly are a tourist destination for families everywhere to enjoy Southern hospitality and racing at its best.
"That's why I am so excited about next year with Transformation, because we will once again differentiate ourselves from other sporting venues. It's going to be incredible for everyone. Transformation will put an exclamation point on my career. I am proud of what we have been able to accomplish over the years, and I have cherished every minute of it, but I am also super excited about the track's future."
During his reign, Lynch has overseen many changes and updates to the mammoth track. They include the building of garages in 1999 and construction of new grandstands with fold-out chairs and video boards. Also during his tenure, the track's second major weekend was shifted from summer to fall and the NASCAR Camping World Truck Series made its debut in 2006. A host of fan programming was introduced, such as the "Big One on the Blvd.," the traditional Saturday Night infield concert, Kids VIP and appreciation events for military, first responders and educators.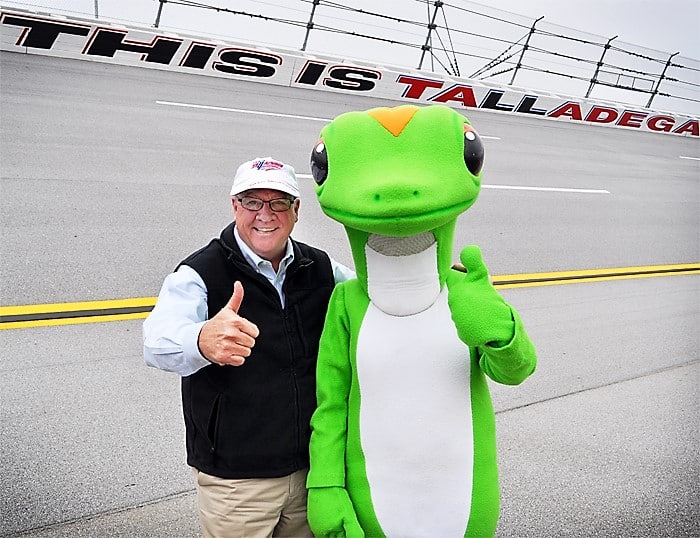 Lynch started as the track's general manager in 1993 and was promoted to vice president of ISC and president of Talladega Superspeedway later the same year. In 1997, ISC appointed him to oversee the construction and management of Kansas Speedway. In 2000, he assumed additional operational responsibilities with Chicagoland Speedway and was named ISC senior vice president of business operations in 2007. In July 2009, he became chairman of Talladega Superspeedway.
Lynch came to Talladega after 11 years with R.J. Reynolds Tobacco Co., where he served as senior manager of operations and public relations, managing the company's involvement in NASCAR's Winston Cup Series. He originally joined the company in 1982 as a Camel GT Series show car driver.
Lynch and his wife, Marcia, who live in Talladega, have two daughters, Ashley and Sara Katherine, who both live and work in Birmingham.
Lynch is on boards for the Alabama Wildlife Federation, Alabama Institute for the Deaf and the Blind (AIDB) and Antique Talladega. He has served on the Boy Scouts Council, Regions Bank Talladega, and was chairman or vice chairman of the Talladega Economic Development Authority for 25 years.
The Speedway will host its fall 2018 weekend with a NASCAR Playoff doubleheader, featuring the 1000Bulbs.com 500 for the Monster Energy NASCAR Cup Series on Sunday, Oct. 14, while the NASCAR Camping World Truck Series takes to the track for the Talladega 250 the day before, on Saturday, Oct. 13. For ticket information on both events, which will have playoff ramifications, call 855-518-RACE (7223) or log on to www.talladegasuperspeedway.com.