For generations of beach travelers, Bay Minette has been a signal that vacations will soon begin. Other than bathroom breaks, gasoline fill-ups or cold drinks bought for the final 47-mile stretch to the white sands of the Gulf of Mexico, few visitors venture off the Highway 287/31/59 path that merges in town.
People passed through here for thousands of years before Bay Minette was first settled in the early 1860s. Indians lived on the nearby Tensaw Delta; Spanish conquistador Narvez was the earliest known explorer in 1528. The surrounding forests and fertile farmland enticed the town's first residents, and those natural resources continue to provide sustenance for many today.
But while the Log Cabin Inn and businesses along the beach thoroughfare have long been familiar to families, just off the main route lies a bustling governmental center, major industries, a municipal airport, nine-hole city golf course and quaint downtown square with plenty of free parking. The older section is easy to spot beneath the state landmark concrete water tower built in 1915, which remains the city's tallest structure.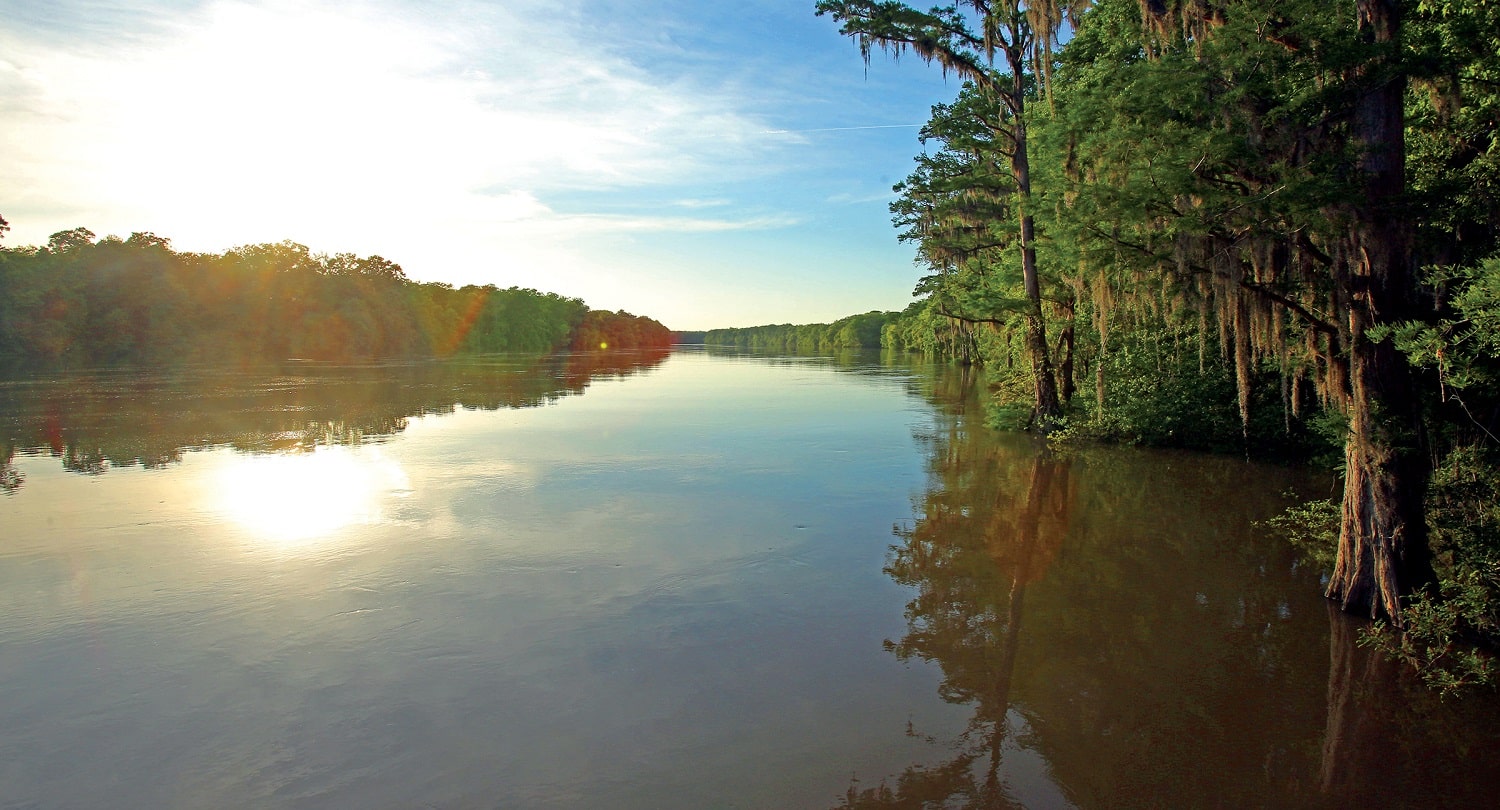 Bay Minette is the governmental seat of Baldwin County, stemming from a crazy couple of days when all things legal were moved by wagons up from Daphne in 1901, over the armed objection of community leaders 20 miles to the south who hoped to ignore the legislative act that permitted the transfer. A romanticized mural from 1937 about the takeover graces the walls of the Post Office. Today, the new courthouse sits in the middle of the old square, surrounded by the county jail, administrative buildings and attorney shingles hanging on every corner and street in between.
Unlike many small Alabama towns, Bay Minette is actually growing. Its population has steadily risen from 1,000 a century ago to nearly 10,000 today. Some streets are covered by a canopy of long-limbed live oak trees; tall pines tower over historic homes and churches. Sidewalks connect the town from one end to the other, providing an opportunity to exercise and socialize on picturesque paths.
North Baldwin Infirmary is the center of healthcare services in the upper portions of the state's largest and longest county (83 miles from north to south, bigger than Rhode Island in square miles). The nonprofit hospital has 70 beds, cutting-edge medical equipment and emergency services, and an in-house academy for high school students.
Local schools welcome pupils from surrounding communities, some of whom will attend a $13 million elementary academy recently approved by the school board. In turn, many of those children one day will join more than 10,000 students and 250 teachers on the sprawling Coastal Alabama Community College campus, which boasts of having the state's lowest tuition. CACC is home to Sun Chiefs baseball, basketball, golf, softball, tennis and volleyball teams and top-notch academic and athletic facilities. Two-time Masters golf tournament champion Bubba Watson is among the junior college's alumni.
On the same highway, Street's Seafood Restaurant is a longtime gathering place for seniors and workers who fill its four large dining rooms after loading plates along the expansive buffet line. Street's is better known to out-of-towners for its menu dominated by shrimp, oyster and fish specialties delivered by the friendly staff.
Downtown, Teresa's Bar-B-Que is new but so popular that patrons, including Alabama Power linemen, often wait at the entrance for an open table, while other customers line up to retrieve phoned orders. Down the street, Danny's Southern Cooking is another new restaurant drawing crowds for its fried chicken and homestyle meals.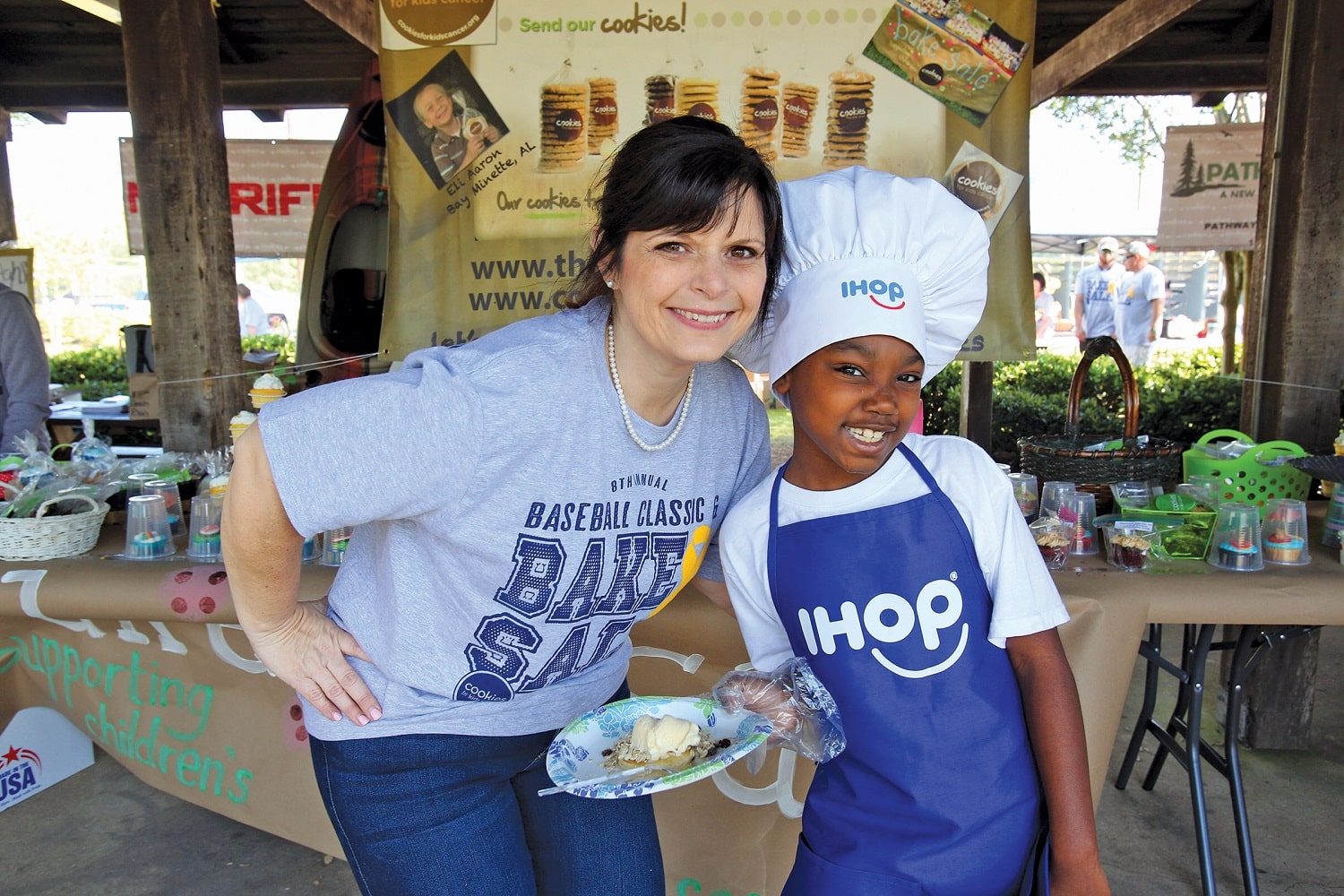 Just across from the courthouse, Stacey's Drug Store is a fixture, sporting vintage orange Rexall window highlights with mortar and pestle logo while providing the special touches of a century-old hometown pharmacy. The Bay Minette Public Library nearby has stained glass windows, stemming from the building's origin as a century-old Baptist church. A couple of blocks away, people with car trouble trust Corley's Auto Care – housed in an old horse carriage shop – to get them back on the road.
Local celebrities include former Alabama and NFL defensive end Wallace Gilberry, who played 10 seasons with the Giants, Chiefs, Buccaneers, Bengals and Lions before retiring. He returned home in 2016 to host a celebrity fundraising basketball game, annual Easter egg hunts and flag football league for kids.
Award-winning broadcaster Chasity Byrd is a Fox 10 television meteorologist in Mobile who still lives in Bay Minette. Alabama Supreme Court Chief Justice Lyn Stewart's legal office is here in her hometown. Nine-year-old cancer survivor Starla Chapman has nearly 30,000 followers on her Facebook page. She is on the first IHOP Kid Culinary Team and was a Children's Miracle Network Champion Child in 2014.
But residents who were around in 1976 are still talking about when Steven Spielberg came to town to film a cast of stars and 2,000 local extras for the evacuation scene of "Close Encounters of the Third Kind." The Hollywood director chose Bay Minette because of its abandoned L&N Railroad station, and the movie went on to be one of the most successful ever. A decade later, a community effort paid for the station built in 1904 to be moved several miles to the main beach route, where it is now the headquarters of the North Baldwin Chamber of Commerce.
"I've just fallen in love with this little town," says Kristina Angelone, a Miami native and coordinator of special projects and operations for the chamber. "I'm used to living in a metropolis, but Bay Minette has become my adopted hometown."
Standard Furniture
Three years ago, the hosts of HGTV's popular "Fixer Upper" joined hands with Bay Minette's largest employer, launching the Magnolia Home line. Despite selling bed frames, dressers, night stands and chests nationwide for more than 70 years, Standard Furniture became something of an overnight sensation.
"It's been great," says Chief Financial Officer Karmen Still, sitting in a conference room of the company that builds or distributes 14.5 million units annually and ranks among the top 13 furniture manufacturers. "That's the brand that everyone recognizes."
Chip and Joanna Gaines have brought widespread notoriety, but Macy's, American Freight, Badcock, Aaron's and other major retailers have sold Standard furniture for many years. Recently, Wayfair and e-commerce sites have become big buyers of Standard products. In 2016, Standard opened its Asia headquarters in Vietnam.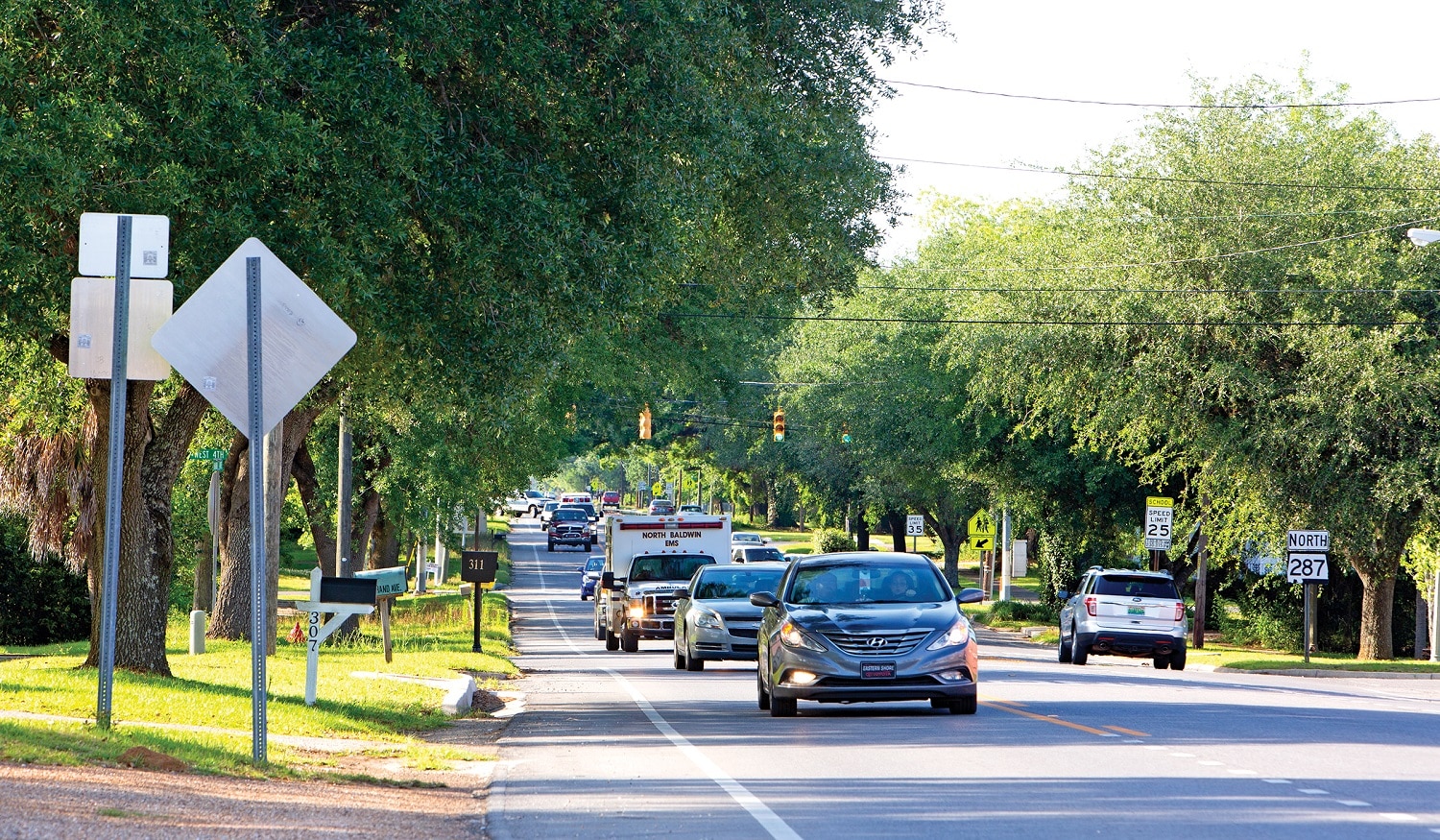 More than 500 local employees build the bedroom furniture from parts received at the Port of Mobile, with the finished products being transported across the U.S. and Canada by a fleet of trucks pulling 53-foot-long, 3,000-cubic-foot trailers. Standard has independent sales representatives throughout the country.
The Standard plant is one of the most well-known faces of Bay Minette business, running along Highway 31 for block after city block. The current facility is the fruit of frequent expansions after fire destroyed the plant in 1960. A plant tour necessitates driving a golf cart, the same mode of transport many of the supervisors use to quickly get from one area to another. Some employees ride bicycles or one of more than 130 forklifts on the plant floor.
Clint Perez came to Standard 20 years ago from Louisiana. Now 42 and having lost his Cajun accent, he marvels at the impossibility of quickly explaining everything it takes to put together all of the furniture sold by Standard. He steadily beeps his golf cart horn passing from one section of the plant to the next, each area filled with large equipment manned by multiple employees.
"We have a very good maintenance crew," he says. "It's a big job keeping our machines running. Anything mechanical, at some point in time, it's going to break down. Our crew has the know-how to get just about anything fixed."
One large section of the plant contains industrial saws to cut wide wood panels to specific sizes for each piece of furniture; another area is for laminate applications to board edges; another area is just for top-side lamination; computerized saws in a nearby section cut out oddly shaped parts; more than 20 machines in the next area drill holes; another entire room is for making nothing but grooves for drawers and holes for hardware.
Perez notes that all of the huge sections he has raced through in the past five minutes are "shop" areas, and that everything ahead is solely "assembly." He says there are four large assembly lines devoted to beds, where pieces are joined using hydraulic screwdrivers. Some employees connect headboards to footboards. Finally, workers pack and load onto trailers the finished products that are moved to warehouses.
Perez says the monstrous warehouse he is driving through is Standard's "small" one, which makes sense when Still drives a couple of blocks to the distribution center built in 2002. That warehouse is reminiscent of the ending scene in "Raiders of the Lost Ark," when the crated ark is taken down a seemingly endless row of huge crates stacked from floor to ceiling.
Still says "we ran out of room here," forcing Standard to open yet another warehouse in Frisco City. "Once a year, we count all of this, which is fun," she remarks, joking about a necessary accounting aspect of the job she's had for 18 years.
Across a large parking lot of distribution trailers, there are offices and the Magnolia House showroom that opened in February 2017 to display the furniture originated by the Gaines.
"We're very happy about this addition," Still says.
Builder's Hardware & Supply Co.
Nearly a century ago, Dick Owen's granddad of the same name acquired a hardware store in a building across from the courthouse, and later bought the building next door. Little has changed since then, other than that the spittoons are gone and both buildings are air-conditioned.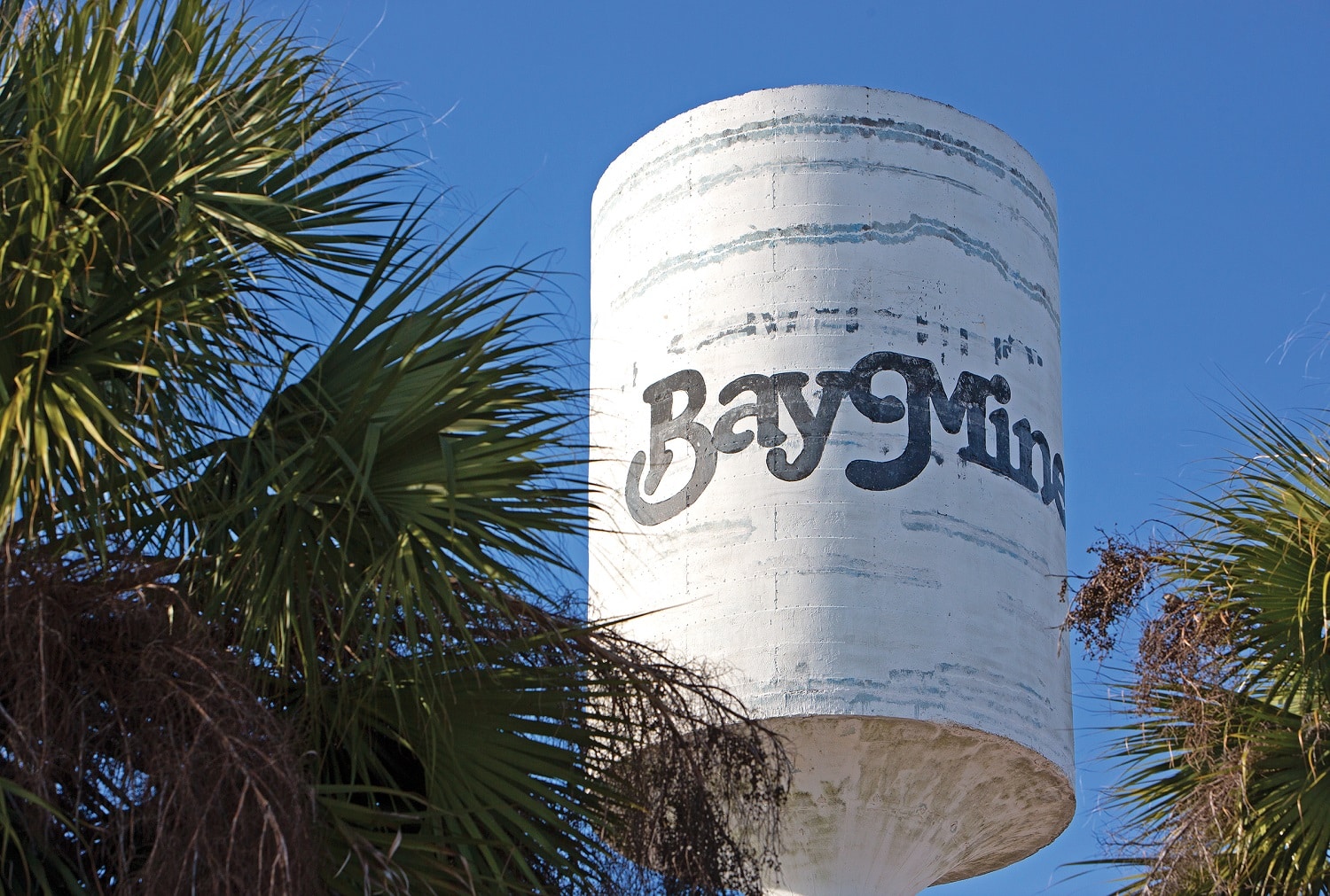 "We're coming up on 100 years for the store and I'm trying to hang in there for that long," says Dick Owen III, whose legal offices are alongside the hardware store. "I guess this is the oldest retail business in town. Virtually all of the mom and pop stores are gone now."
In addition to selling mule accessories and dynamite for decades, and nowadays offering electric and plumbing parts, tools, knives, guns, nails, screws and bolts, the Owen family is practically political royalty in Bay Minette.
Dick's dad made truck deliveries at 12 years old when there wasn't a requirement of a driver's license, earned his business degree at the University of Alabama, fought in World War II and the Korean War, and then served two terms in the state House of Representatives and two terms in the Senate. He was mayor of Bay Minette when Dick III was growing up.
But Dick Jr. saw the writing on the wall, believing the independent hardware store business would be financially unstable in the future. "He steered me away from it," Dick III says. "Even then, the country was getting away from moms and pops, moving toward Kmart and Home Depot."
So Owen III went to Tuscaloosa to earn a law degree, clerked for Balch & Bingham during law school, became Bay Minette city attorney for eight years and assistant district attorney for a decade. But he couldn't bear letting the hardware go, choosing instead to take over the store in 2005; he still does payables and purchases.
Owen finds it interesting that his legal offices are in a former funeral home, where coffins were sold, a hearse was stored and an ambulance was on call for live folks. When Dick Jr. went to college, there were about 1,000 residents in Bay Minette, and it was the county's largest city and center of commerce.
"People would come in from all around on Saturday to buy things from the hardware store, then shop around town," Owen III says. "We still sell one bolt – where you have to buy a whole box at the chain hardware stores. We cut keys, and we're so good at it we get referrals from Walmart."
Owen employs three full-time workers and several part-timers in his hardware store, which is open Monday-Friday and a half-day Saturday. When Dick III was growing up, his grandfather closed for a half-day on Thursday. People still like to come by and shoot the breeze about as much as they like to buy something. Practically everyone in the Owen family has worked there at one time or another. Owen's mother was the accountant until she was 91, driving to the store each workday to "chase after a penny."
Owen's children love their careers outside the store and he says "there's no way" they will continue the family business, which he understands. "It's like nursing a baby," he says, "you can't get away for anything else."
Owen has had inquiries from investors about keeping Builder's Hardware open into a second century after he retires.
"It's possible I won't have to just lock the door and walk away," he says smiling. "It's an iconic kind of place for Bay Minette. We provide a lot of things you just can't get otherwise."
City recreation
Children and parents are skating on a rink separated by a wall where on the other side kids and adults are bowling. On both sides of the rink and the bowling alley are foosball tables, pool tables, Skee-Ball machines, table hockey and other arcade games. Alongside the skating rink an indoor playground rises several levels near the high ceiling. Net batting cages dominate the floor next to the playground.
"Not many municipalities have a bowling alley and skating rink combo with concessions," says Tina Covington, a former Mobile Press-Register reporter who grew up in Bay Minette and works for the city.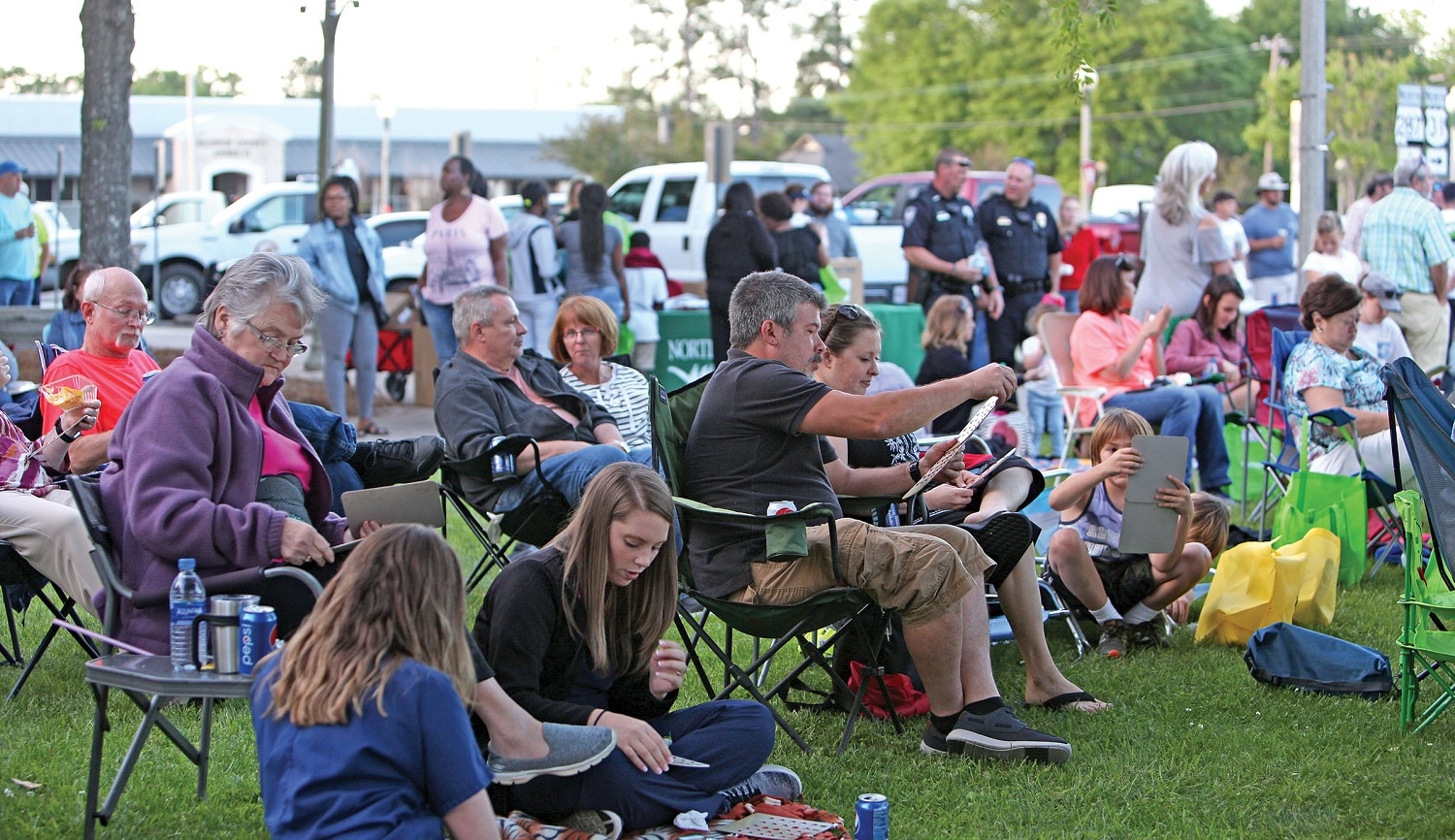 The rink and alley are along Highway 31, but residents enjoy recreational facilities from one end of the city to the other, under the direction of Kelly Johnson, who was born and raised here. Johnson runs seasonal programs for soccer, softball, baseball and football involving more than 1,200 kids. Other children and adults play at 10 top-notch parks. There are softball teams, dance and exercise classes for adults, bowling leagues and a horse arena on the outskirts of town.
A $3.5 million sports complex is set for construction between the high school and middle school that will have four softball fields, three soccer pitches, three tennis courts and parking connected by a new road away from the main highway.
"This will open up a whole new avenue for Bay Minette," says Covington.
Nearby is the city swimming complex sporting an Olympic-size pool alongside a zero-entry children's pool. There are four slides, as well as water sprayers and geysers at the pools that often host swimming competitions. Tennis courts are next door, as well as a universal playground ideal for children with disabilities and in wheelchairs. The city has a skate park, and a dog park will soon open behind the tennis courts.
A few streets over is a full city block where there's another kids park with a splash pad, misting rings, and geysers and cannons that shoot water. The adjacent wooden playground was built by volunteers after the community raised $130,000 for materials.
While most children use Halliday Park and O.C. Waters Park for baseball and softball, Blackburn Park is a shaded area for picnics and family gatherings. Rex Courtyard is the open remnants of a former movie house now used for free Friday movies, weddings and civic events.
Ulmer Park is named for Seaman Vincent Ulmer, who died when the USS Stark was attacked by Iraq in the Persian Gulf in 1987. The Bay Minette native had served two years in the Navy before his ship was struck by two missiles without warning during a peacetime mission, killing Ulmer and 36 other sailors.
Johnson's staff uses two city vans and two buses to bring children to the parks, bowling alley and skating rink, as well as a summer camp for 5-to-12-year-olds at the rec center. They enjoy an inflated slide inside the rink, but perhaps the most popular place is Ice Cream Alley, where kids gather around bright green tables and yellow chairs to eat frozen treats.
"There's a huge crowd in here almost every day," Johnson says. "And they like ice cream."
Quincy Compressor
A world map at the entrance of one of Bay Minette's biggest industries makes the bold claim of building "Undeniably the World's Finest Compressors." For nearly a century, Quincy Compressor has backed up its boast.
A glass case crammed with crystal and bronze awards, such as Product of the Year, is one way to judge a company's worth. A better way might be the continuing sales to some of the world's most recognized companies, as well as young customers who don't quibble over cost when walking through Lowe's or cruising the Northern Tool catalogue.
NASA uses Quincy compressors on its shuttle launchpads. Six Flags uses Quincy equipment to safely bring the amusement park roller coasters to a halt.
The company got its name from the city where it was founded in 1920: Quincy, Illinois. But in 2015 the factory and home offices up North were consolidated and moved to the newer Bay Minette facility, bringing a factory expansion and pushing employment to about 250, which doesn't include a nationwide independent sales and service force of about 500 people in 150 locations.
"The company grew up around our piston technology but that technology has continuously changed," says Jacqueline Gay, marketing services manager. "A lot of people consider compressed air sort of the fourth utility. Most companies use compressed air in some fashion and, within industry, our brand name is synonymous with quality."
While a small Quincy compressor is considered the premium brand for the average DIY guy or gal, the bulk of the company's sales are industrial gas- or electric-powered machines that are about 6 feet long and 5 feet tall. Another huge seller is the compressors that propel food and beverage dispensers in restaurants. However, Quincy employees designed and built six compressors, each big enough to fill an average-size living room, for the Thyssenkrupp steel factory in Mobile.
"There are so many kinds of applications," says Gay, a Dallas native who's been with Quincy
14 years. "We manufacture the components and provide the service. We also help companies recognize and understand how they can improve their systems for energy efficiency."
Last year Quincy sold a record number of compressors, many of them to repeat customers. New customers have been drawn to the Intelligent Connectivity System that predicts potential shutdowns, and the Badger XE, which operates in harsh weather that can ruin competing-brand equipment. Gay says the Badger is considered "the biggest thing since sliced bread" by industry insiders and buyers.
Quincy employees average about 15 years on the job but some have been working at the Bay Minette plant for 40. They take parts that arrive as red hunks of stainless steel and through steps down the line produce shiny silver components that could pass for artwork. Those parts and many others go into the car-sized QSI 1500, Quincy's "bread and butter" compressor that powers oil wells around the world.
"They'll turn them on and just walk away, which is a testament to our compressors' durability," Gay says. "Those will still look good in 25 or 30 years."
APC Office
Tripp Ward has a big stuffed bass and a buck hanging on his office wall. He's proud of his country origins, having been raised on a family farm in York, which propelled him to a rodeo scholarship at the University of West Alabama.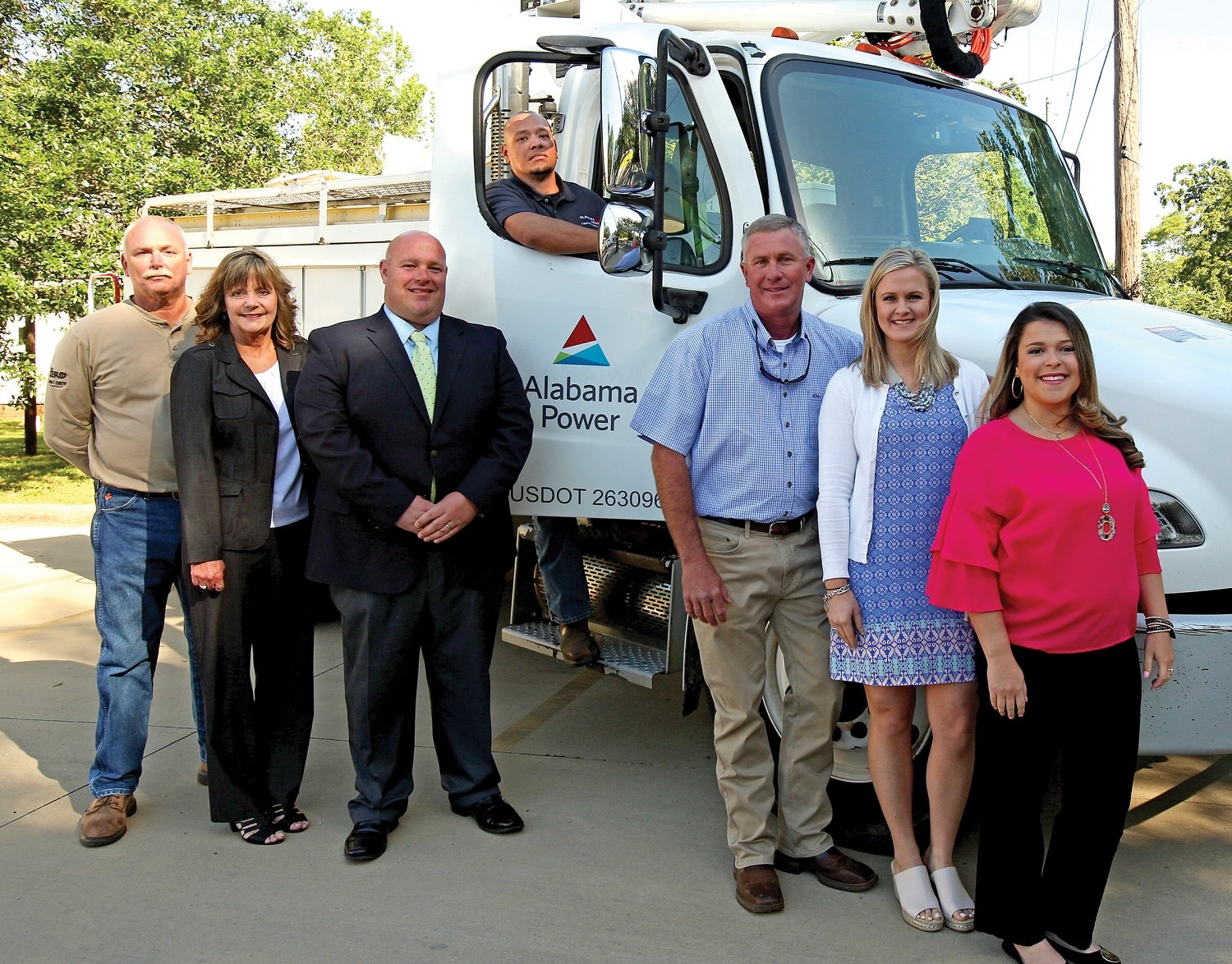 In 2004, he married his college sweetheart, Natalie, a Columbus, Mississippi, native, which was a big town to Ward. He went to work at Mississippi Power as a customer service representative. After four years, he was promoted to an analyst at Plant Ratcliffe, became a team leader and after nine years in Mississippi, last August joined Alabama Power.
"I'm an Alabama person and this is home for me," Ward says of Bay Minette. "I call this the modern-day Mayberry. The people are friendly everywhere you go. The entire community has just welcomed us with open arms."
Ward says there's lots to do for his wife and their two children: Emma, 10, and Hampton, 8. They've already made a mark on the community. Tripp is chairman of the North Baldwin Young Professionals; on the board of the chamber of commerce; is a graduate of Leadership Baldwin County; a mentor for Big Brothers Big Sisters; and coaches his son's baseball team. Natalie is a member of the Junior Heritage Women's League; Eastern Shore Auxiliary League; and volunteers for the Saint Agatha Catholic Church soup kitchen.
Customer Service Representative Jade Wilkerson has only been with the company two years but has known Alabama Power her entire life: her father, Gary Wilkerson, is a local operations lineman in Citronelle and her brother, Gary Wilkerson Jr., is a lineman-Power Delivery working out of Thomasville. She's a Mount Vernon native, continues living there but enjoys her time in Bay Minette each workday. She is attending Coastal Alabama Community College majoring in business management.
"I like the small-town feel because I'm from a small town," says Jade, who's expecting her first child in October. "Everyone is really nice here. Everyone knows everyone."
Customer Service Rep Sara Taylor has been with Alabama Power for eight years, starting in the Birmingham Call Center. The Fort Walton Beach, Florida, native moved to the West Mobile Office in 2012, to the Theodore Office in 2014 and then the Bay Minette Office in 2016.
A University of South Alabama graduate, she is married to Jeffrey Taylor, a lineman-Power Delivery working out of Schillingers Road Crew Headquarters in Mobile. They live in Spanish Fort, about halfway between their two work locations.
"I like Bay Minette because it's a small town with a family feel," Sara says. "There are a lot of good people in this little city."
Local Operations Lineman Ken Phillips has been with the company 26 years since beginning as a helper in Atmore. The Baldwin County High School alumnus joined a line crew in Mobile for three years before moving back to Atmore and for the past 12 years has worked in his hometown of Bay Minette. He and his wife, Sonia, have been married 26 years and have three children: Kyle, 22, Leanne, 19, and Kristen, 16.
Distribution Specialist Tom Sheffield has worked for Alabama Power 26 years, 12 years on the Atmore line crew and the past 14 years in the Bay Minette Engineering department of his hometown. The Baldwin County High School graduate has lived in the area all his life and enjoys the "relaxed lifestyle."
LOL Scott Davis began with the company as a helper at Eight Mile and worked 11 years in Brewton before transferring to Bay Minette in 2017. He and his wife, Tabatha, have five children: Trista, 19, Taya, 17, Mallory, 12, Alyssa, 9, and Braylon, 8.
Lori McCormick has been a Customer Service rep in Merchandise Sales for three years in Bay Minette, after transferring to complete her college degree at Huntingdon College's local campus. However, she's worked for Alabama Power for 22 years. The Fayette native started in the Montgomery Call Center, spending three years before moving on to Metering Services, Power Delivery and Customer Services in the Monroeville and Reform offices. McCormick has two children: Chase Ethridge, 21, who lives in Birmingham, and Carley, 16, who recently got her driver's license.
"I like Bay Minette because of the recreation that is in the town and the surrounding area," McCormick says. "It is a very kid-friendly town and only a short drive to the beach!"