Alabama whipped Ole Miss 62-7 in its Southeastern Conference opener. In so doing, the Crimson Tide became the first SEC team to open the season by scoring 50 points in each of its first three games.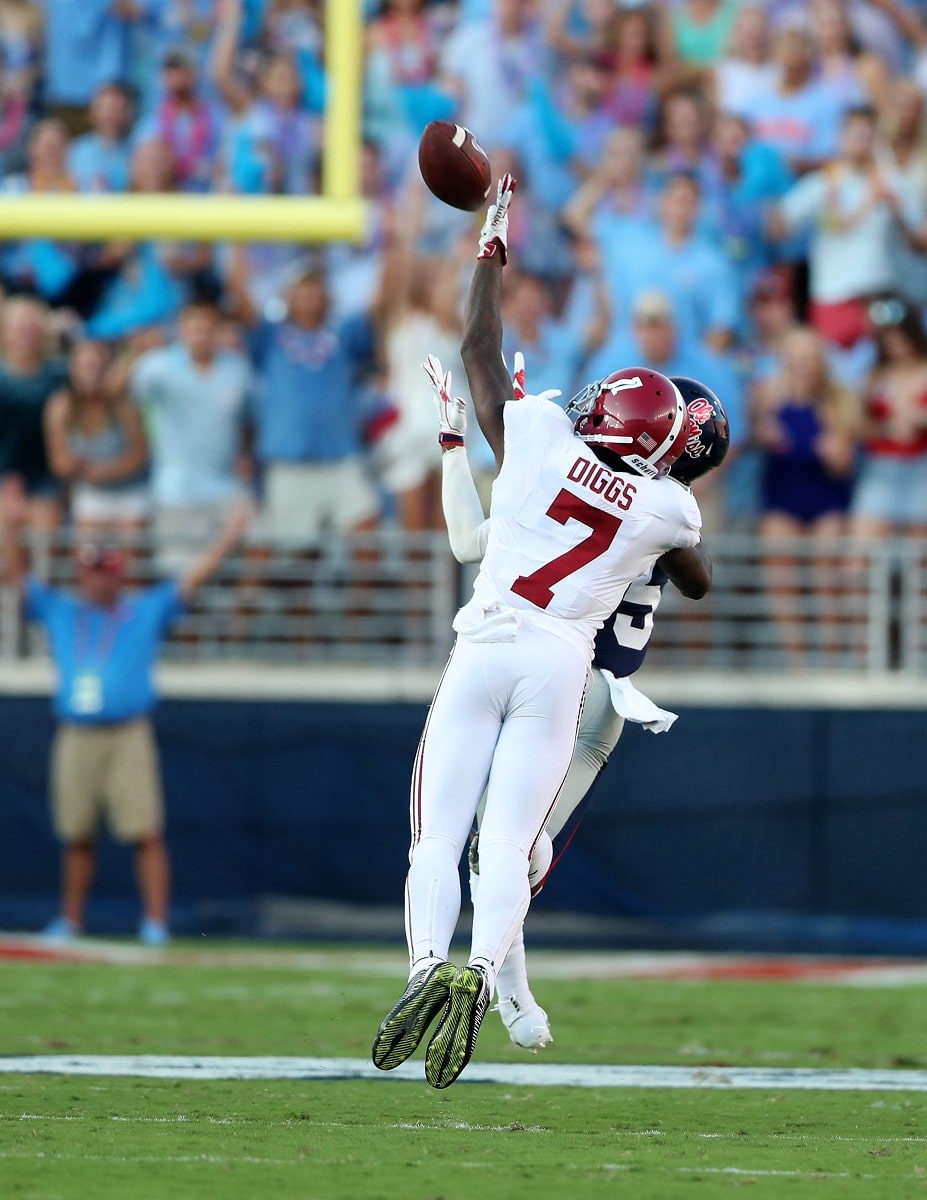 To no one's surprise, Nick Saban isn't blinded by his team's glowing performances to date, especially with Texas A&M visiting Saturday at 2:30 p.m. on CBS.
"Looking at the film, there are a lot of things we can improve on," said the coach of the No. 1 team and defending national champion. "I think the most important thing for our team right now is maintaining a standard of excellence and not allow outside voices and influences to affect our intensity and focus on preparation, and understand the importance of maintaining our standard."
In east Alabama, Gus Malzahn said he and his No. 9 Auburn Tigers have their minds on improvement after falling at home to LSU. They'll try to get back on track as Arkansas comes calling at 6:30 p.m. on the SEC Network.
"We're focused on getting better," the Tigers coach said. "Obviously Saturday we didn't play our best, and that's my responsibility. We will improve throughout the season."
One target of that need for improvement is the Auburn offensive line.
Redshirt freshman Nick Brahms was spotted on the sideline practicing snaps, an indication that he could get a shot at center.
"Nick'll get an opportunity," Malzahn said. "He's been competing. He's been healthy the last two or three weeks. He's gotten quite a few reps, even with the ones. That's a continued battle. He was ready if called upon on Saturday and he'll get an opportunity to compete this week in practice."
Coming off its victory over Nebraska, Troy begins Sun Belt Conference play at 6 p.m. Saturday at Louisiana Monroe.
"When (the schedule) came out and I saw that we had to go to Monroe to open up the conference slate, I knew this was going to be a critical game for us," coach Neal Brown said. "I thought Monroe along with Georgia Southern would be the two most improved teams in our league."
In other action:
Azusa Pacific at North Alabama: The Lions opened the season 2-0 before getting a 38-7 reality check from FCS kingpin and No. 1 North Dakota State. This week, the Cougars come calling at 6 p.m.
Alabama A&M vs. Southern at Mobile: The Bulldogs followed a win over Miles with losses to North Alabama and Cincinnati. They face the Jaguars in the Gulf Coast Challenge at 4 p.m. at Ladd-Peebles Stadium.
Tennessee Tech at Jacksonville State: JSU moved up one spot in both the AFCA FCS Coaches Poll (No. 11) and the STATS FCS Top 25 (No. 12). The Gamecocks (1-1) rolled to a 71-0 win over Mississippi Valley State in their home opener, the second-largest margin of victory in school history and the third-largest scoring total in school history. The Ohio Valley Conference opener is at 6 p.m.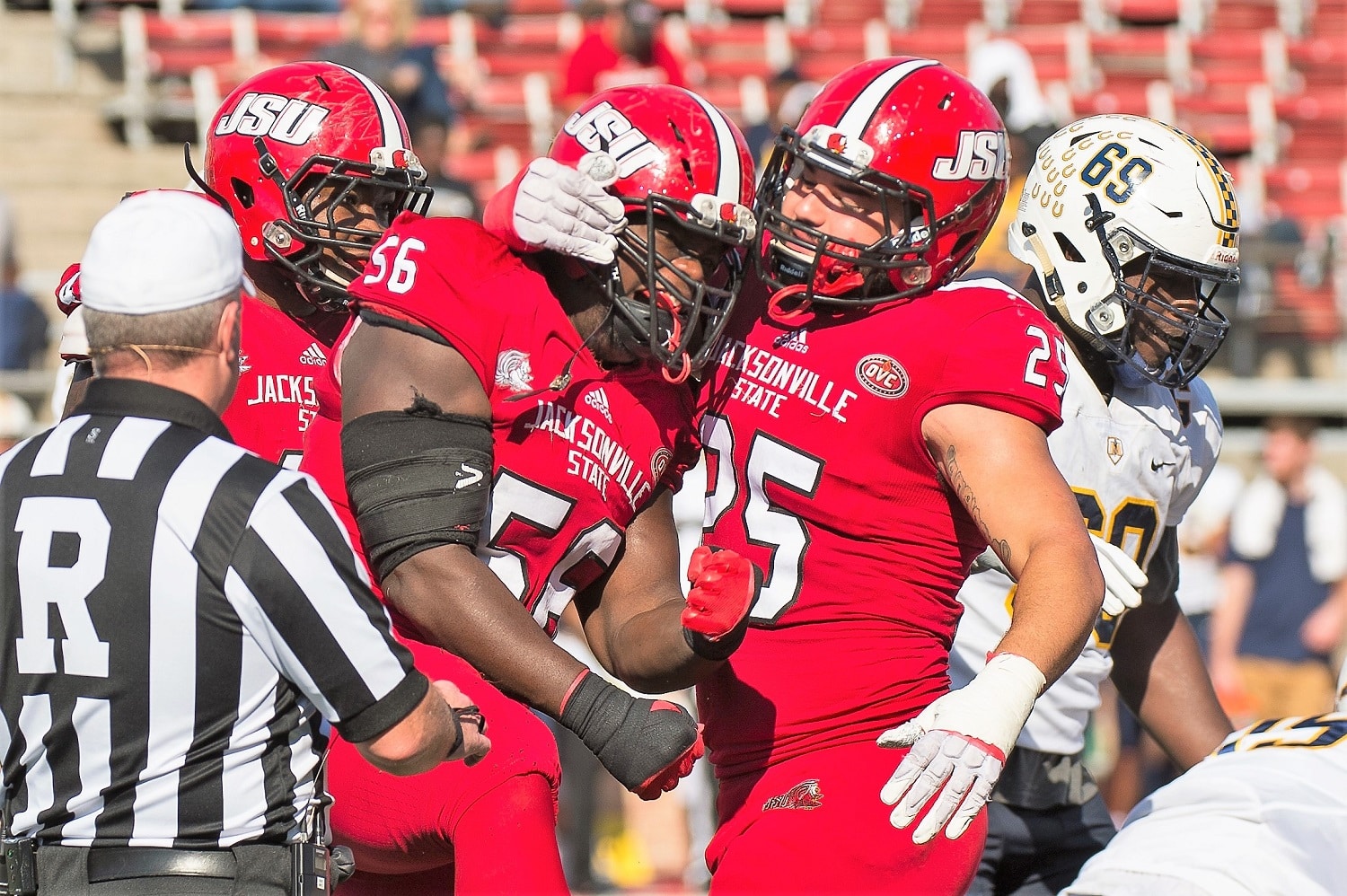 Thomas More at Huntingdon: After their first game was declared no contest because of weather, the Hawks lost the second game on their slate to rival Birmingham-Southern. They'll try to get win No. 1 of 2018 at 1 p.m.
South Alabama at Memphis: The Jaguars (1-2) look to improve to .500 with a 7 p.m. meeting with the Tigers.
Alabama State at Grambling State: The Hornets (1-2) gave up 63 points to Auburn and 62 to Kennesaw State. They open Southwest Athletic Conference action at 6 p.m. against the Tigers.
Morehouse vs. Miles in Chicago: These Southern Intercollegiate Athletic Conference teams will renew their rivalry with a 3:30 p.m. contest in the Chicago Football Classic at Soldier Field.
Missouri S&T at Tuskegee: The Golden Tigers stumbled out of the blocks with a loss to Alabama State. They've won twice since then. They'll go for three in a row at 1 p.m.
Rhodes at Birmingham-Southern: The Panthers were 3-7 last year; they're 2-0 through two games in 2018. They'll try to match last year's win total at 1 p.m.
Samford at Chattanooga: The Bulldogs scored 66 points in a season-opening win, then gave up 66 in back-to-back losses. Kickoff this week is at 6 p.m.
West Alabama at Limestone: The Tigers (2-1) face the Saints in Gaffney, S.C., at noon Central time.
HIGH SCHOOLS
Class 7A: Vestavia Hills (3-0), No. 8 in the latest Alabama Sports Writers Association poll, visits No. 7 Mountain Brook.
Class 6A: No. 8 Jackson-Olin (4-0) welcomes Carver-Birmingham (3-0) in Region 5.
Class 5A: No. 1 Briarwood Christian entertains Wenonah in Region 4.
Class 4A: No. 8 American Christian (4-0) hosts Montevallo (3-0) in Region 3.
Class 3A: Oakman is home to Carbon Hill in Region 4.
Class 2A: No. 9 LaFayette (1-2) is at Reeltown in Region 4.
Class 1A: R.A. Hubbard (4-0) hosts Falkville (4-0) in Region 7.
AISA: No. 2 Autauga Academy is at No. 1 Tuscaloosa Academy.