This is the first in a three-part series on Southern Research's Change Campaign.
When David Powell's mother was diagnosed with ovarian cancer in September 2017, she was relieved.
That's because in January 2017, she had been diagnosed with Alzheimer's. After years of watching her own mother suffer from Alzheimer's, she welcomed cancer as a preferable way to go.
"My mom told her sister, 'This is such an answer to prayers, such a blessing that I got cancer.' And we were all, 'What?' And she said it's because 'I won't have to die from Alzheimer's,'" said Powell, general manager of the service provider unit of LogicMonitor. "When you're so concerned about one disease that cancer … seems like a blessing" (something needs to be done).
Birmingham's Southern Research looking for breakthroughs in neuroscience from Alabama NewsCenter on Vimeo.
Powell is one of 10 "Change Agents" leading a "Change Campaign" fundraising effort for Southern Research's "mind" pillar.
Southern Research is seeking to raise funds for three areas of research that show the most promise.
The institution has classified the three pillars as mind, body and earth. The mind pillar focuses on Southern Research's work in neurosciences seeking to find treatments for Alzheimer's, Parkinson's and Lou Gehrig's disease, or ALS.
The body pillar focuses on cancer treatments and earth focuses on green chemistry.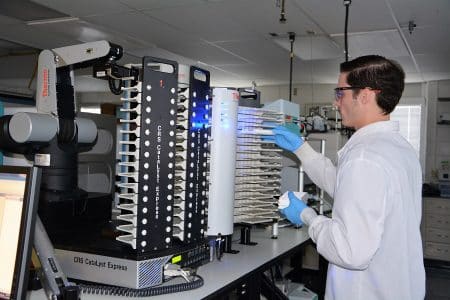 "The campaign is centered around an amazing group of community leaders who have agreed to advocate and raise funds for Southern Research in those three scientific areas," said Brynne McCann, development officer at Southern Research. "These are three areas that are showing a lot of promise."
Rita Cowell, chair of the neuroscience program at Southern Research, said one area showing promise is neuroprotective compounds that can prevent cell death.
The challenge, she said, is getting the research to a point where it can attract much larger grant dollars.
"There are a lot of different ways we can receive money for this type of work," Cowell said. "Any little bit of money helps because then we're able to leverage the existing resources here at Southern Research and UAB to develop some of these new drugs."
The Change Campaign started Sept. 10 and culminates in an event at Southern Research on Oct. 11.
"Our passion at Southern Research is driven by hope: hope for a cure, for a cleaner, greener Earth and for lives to be changed – and ultimately saved," said Art Tipton, Southern Research president and CEO. "Donations to the Change Campaign will allow us to continue to explore important scientific breakthroughs within high-risk, high-reward endeavors that are many times difficult to fund through traditional government grants."
To donate to Southern Research's Change Campaign or for more information or tickets to the culmination event, visit Swell page.