September was an incredible month for women, as the Market at Pepper Place teamed up with the Birmingham Chapter of Les Dames d'Escoffier International the past four weeks to spotlight the top women in food in Birmingham.
Every Saturday at 9 a.m. at the chef demo, a different female chef and member of Les Dames prepared an in-season recipe and provided invaluable cooking tips and tricks, plus samples of their finished dish, to the audience.
Last Saturday, Sept. 29, was the final day for the "Les Dames Market Takeover," and it was a showstopper. The featured chef was Village Tavern Executive Chef Mary Grace Viado. From start to finish, Viado employed the secrets to her success: quality ingredients, patience, thoroughness, hospitality and a good sense of humor. Her recipe, Braised Meatball Skillet, was prepared and served beautifully in individual bamboo bowls. At the end of the demonstration, after handing out samples to dozens of audience members, there was not a leftover scrap to take home.
Viado started with the meatballs, which were shaped, seasoned and pre-baked in the oven. Meanwhile, she stirred a giant pot of Anson Mill Grits – the kind that take 30 minutes to reach perfection – and explained how to flavor and transform them into the creamiest cheese grits anyone ever tasted. Then she added the cooked meatballs to a traditional Italian red sauce, which she said is best simmered slowly on the stove for an hour and a half.
The final plated dish, available as a dinner entrée at Village Tavern, was a large spoonful of the creamy cheese grits topped with the red sauce, a meatball and burrata, and finished with fresh grated Parmesan cheese and chiffonaded fresh basil leaves.
As part of the month-long salute to top women in food at the Market, several members of the Birmingham Chapter of Les Dames d'Escoffier International were on hand to assist and share information about the organization. Les Dames D'Escoffier is a 501(c)(3) nonprofit made up of resident leaders and experts in food, beverage and hospitality. The group is dedicated to growing, creating, promoting and sharing local food culture through education, mentoring, advocacy and philanthropy.
To support the group's philanthropic efforts, it is holding the Southern Soiree fundraiser Sunday, Oct. 7, at Jones Valley Teaching Farm. The al fresco sunset dinner with French wines and a signature cocktail created by Steva Casey from the Atomic Lounge will feature dishes based on recipes by celebrated chef Auguste Escoffier, for whom the group is named. Tickets are $125 and available at: https://www.accelevents.com/events/southernsoiree.
For a complete schedule of the market's chef and maker demonstrations for the remainder of the season, visit pepperplacemarket.com. The market is open every Saturday from 7 a.m. to noon, year-round, rain or shine. Pepper Place Market is at 2829 Second Ave S. in Birmingham.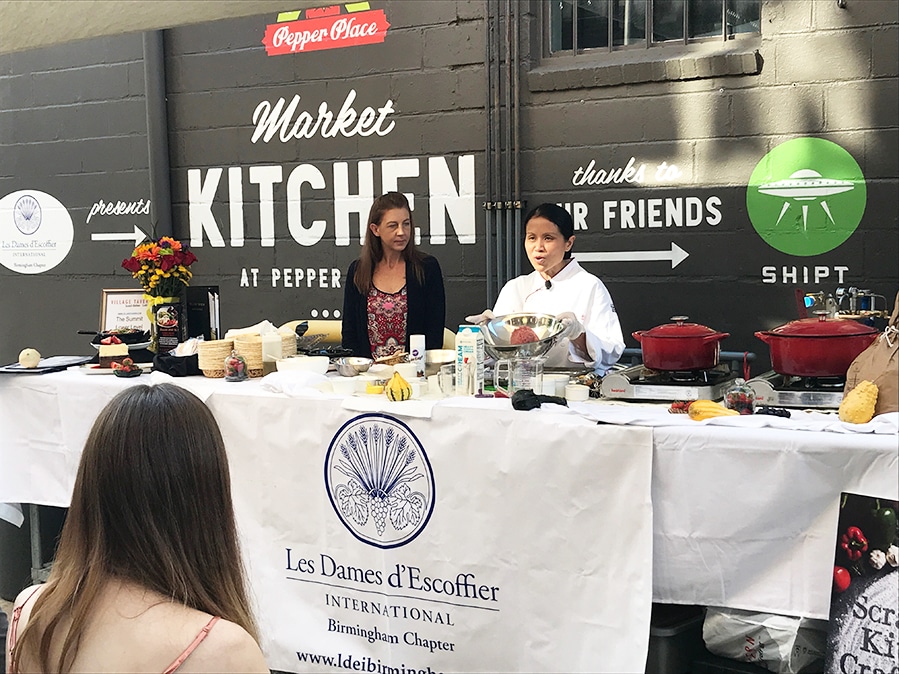 Italian Meatballs by Chef Mary Grace Viado
Ingredients
1½ pound ground chuck
1 teaspoon garlic, minced
1 teaspoon kosher salt
½ teaspoon black pepper, coarse grind
¼ cup bread crumbs
2 tablespoons Italian seasoning
2 tablespoons onions, diced ¼ inch
½ cup water
1 whole egg
½ cup Parmesan cheese, shredded
Instructions
Combine Italian seasoning, garlic, kosher salt, black pepper and bread crumbs in a mixing bowl. Set aside.
In a separate mixing bowl, combine ground chuck and onions. Using gloved hands, mix together.
Add herb-bread crumbs mixture, Parmesan cheese, water and egg to meat mixture and blend thoroughly.
Weigh entire batch into 2-ounce portions and place on a sheet tray lined with parchment paper. Roll each portion into a ball and place on sheet tray. Flatten the top slightly with a fork.
TO COOK: Preheat oven to 300 degrees and place in oven for 18-20 minutes, until meatballs are cooked throughout.
Remove from oven, reserve for plating.
Anson Mills Cheese Grits by Chef Mary Grace Viado
Ingredients
4 cups water
1 teaspoon kosher salt
1 cup heavy cream
1 cup Anson Mills Coarse Grits
½ teaspoon white pepper
1 ounce white butter cut in 1-inch cubes
1½ cups white cheddar or gruyere cheese, shredded
Instructions
Bring water and salt to a boil in a 10-quart or larger saucepan.
Slowly add grits, whisking constantly. Lower heat to a simmer and cook for 20-25 minutes, stirring occasionally. Taste. If grits are cooked, pull off heat. If not, continue to cook for another 10 minutes, stirring continuously.
Once grits are cooked, whisk in heavy cream.
Remove from heat, add remaining ingredients and stir until butter and cheese are melted.
Recipes courtesy of Chef Mary Grace Viado, Village Tavern, Birmingham.