Indie & Chic, Homewood
The Maker: Samantha Echols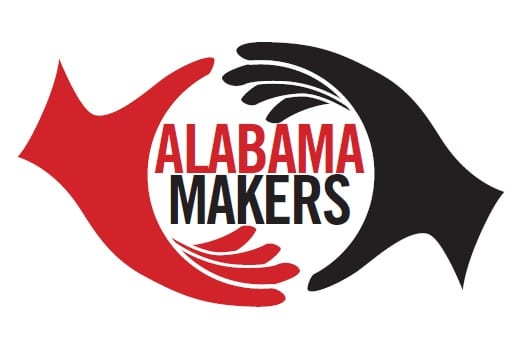 When Samantha Echols started making her own wearables in college, she did it out of necessity. By the time she launched Indie & Chic, she did it out of love.
Echols would make jewelry using resin flowers in her dorm room. Initially it would be to have new things to wear, but then it turned into a way for her to have some spending money.
After her daughter was born, Echols didn't like the teething necklaces or burp cloths that were on the market, so she tapped into her years of creativity to make her own. A friend and her husband urged her to start a business, and Indie & Chic was born.
"Indie" is short for "independent" and a tribute to her mother, who was a single mom. Echols has always loved the design of the ampersand, so she knew she wanted "&" in the business name. "Chic" is all about fashion, and Echols' products have their own style.
Alabama Maker Indie & Chic is a family business in more ways than one from Alabama NewsCenter on Vimeo.
Echols uses food-grade silicone for teething rings and extra layers of gauze for the oversized burp cloths she sells. Cloth patterns, pastel colors and wood are familiar elements of the company's products.
Another key aspect of Indie & Chic's business is its hiring. It was something Echols gave a lot of thought to when it was time to bring on her first part-time hire.
"I thought about what I really wanted as a mom when my husband was deployed," she said. "It was so lonely. I was the first of my friends to have kids."
She knew how expensive childcare can be and a part-time job wouldn't be worth it for many of the best potential employees.
"I really wanted to create a community around that and then also employ other moms without them having to get childcare," Echols said.
She hires moms who get to bring their children to work and be part of a growing consortium of employees and customers.
The Indie & Chic website recently launched its "Marketplace" page that features other products that align with the Indie & Chic style.
Indie & Chic's own brand is expanding into travel pillows, hair bows and a home line with napkins and tea towels.
In addition to selling on its website, Indie & Chic products are available in a growing number of stores, with a goal to be in 100 outlets by the end of this year.
---
Indie & Chic
The product: Child clothing, teething and related items.
Take home: Teething necklace in fruit punch colors ($30).
Indie & Chic is online and on Facebook, Instagram and Pinterest.