Michael is strengthening as it heads toward Florida, forecast to become the second hurricane to make landfall in the U.S. in a month.
The fast-moving storm has already shut in some oil and natural-gas production in the U.S. Gulf of Mexico and sent cotton prices to a one-week high. Michael is expected to skirt the eastern Gulf before making landfall on the Florida panhandle. Currently a Category 1 storm on the Saffir-Simpson scale, it could increase to a 2 or 3 by the time it reaches the U.S. on Wednesday.
"Steady to rapid strengthening is forecast during the next day or so, and Michael is forecast to become a major hurricane by Tuesday or Tuesday night," the U.S. National Hurricane Center said in an advisory.
The storm could generate a 12-foot surge, and 4-8 inches of rain in the region, with isolated areas getting as much as 12 inches. Michael is arriving after Florence hit North Carolina on Sept. 14, causing devastating floods, killing at least 39 and causing about $45 billion in estimated damages. Duke Energy Corp. warned customers in the region to prepare for potential outages.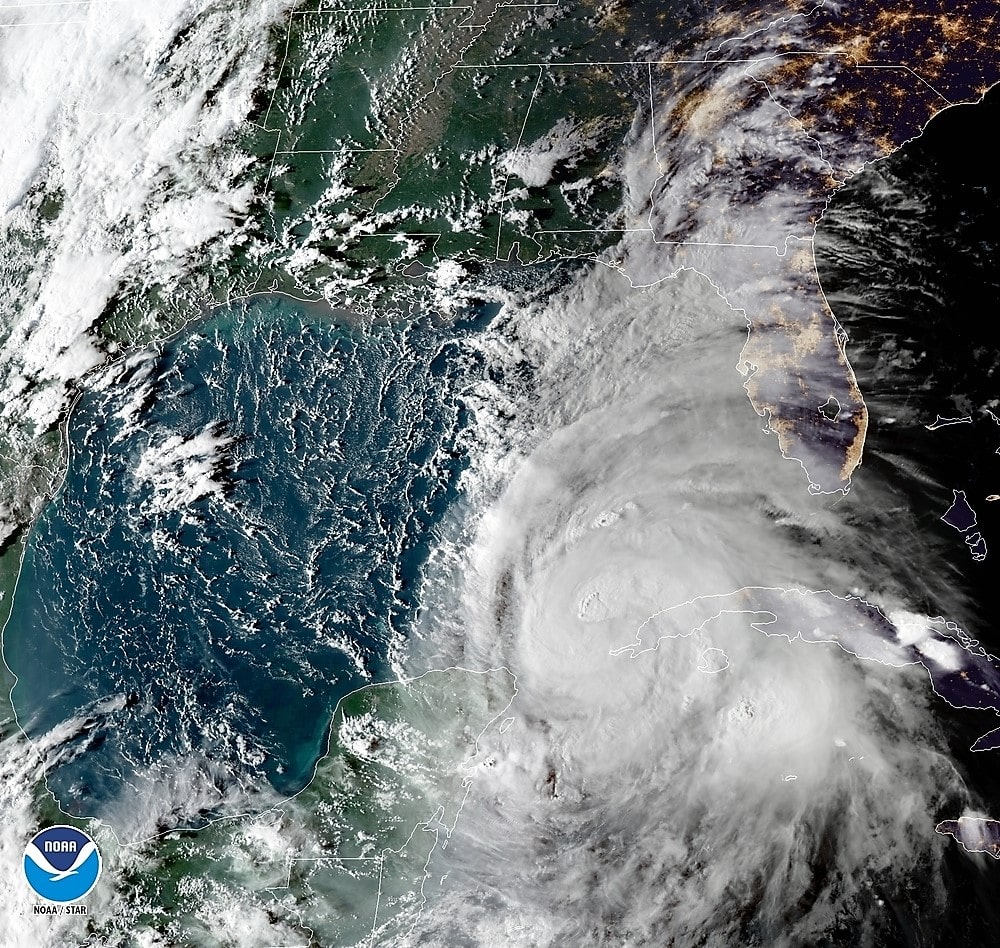 Michael is now about 30 miles northwest of Cuba. While it's currently producing maximum sustained winds of 80 miles per hour, the "major" listing means it holds the potential for 111 mile-per-hour winds. On Sunday, Florida Gov. Rick Scott declared a state of emergency for the region, and at least three counties announced mandatory evacuation orders Monday. Alabama also declared a state of emergency Monday afternoon.
"This storm will be life-threatening and extremely dangerous,'' Scott said. "Everybody's got to get ready." While the state's panhandle is more sparsely populated than many other areas, it includes the capital city of Tallahassee, Pensacola and Panama City.
While most citrus in Florida is produced in the lower two-thirds of the peninsula, south of the storm's path, heavy rain could create difficulties for the U.S. Southeast cotton harvest. Georgia had collected 6 percent of its crop as of Sept. 30 and Alabama had reaped 5 percent, U.S. Department of Agriculture data show.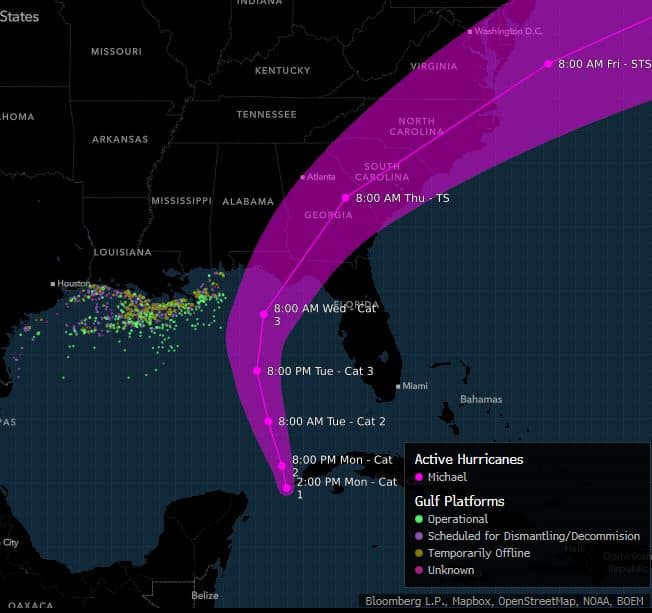 After making landfall in the Panhandle region, the storm is forecast to bend back across Georgia, North Carolina and South Carolina later in the week.
Here's the latest on the storm's effects:
Storm watches and warnings are in effect for the coast of Mexico from Tulum to Cabo Catoche, and a wide swath of the U.S. coast stretching from Mississippi to Florida and including Tampa Bay.
Operators evacuated 10 platforms, moved 5 rigs out of the storm's path and shut in 19 percent of oil and 11 percent of natural gas output in the Gulf of Mexico, according to the Interior Department.
Cotton futures in New York rose 1.9 percent to a one-week high.
It's common to see big "monsoon-like" systems develop in Central America at this time of year, said Jeff Masters, co-founder of Weather Underground. As of Thursday, the Atlantic had produced 12 named storms this season. They include Hurricane Florence, the most powerful one so far this year, and Tropical Storm Gordon, which made landfall on the Alabama-Mississippi border last month.
The panhandle region has suffered storm damage in the past, hit by Hurricane Ivan in 2004 and Hurricane Dennis in 2005. In 2010, the Deepwater Horizon oil spill hit Pensacola Beach, hurting the fishing and tourism industries.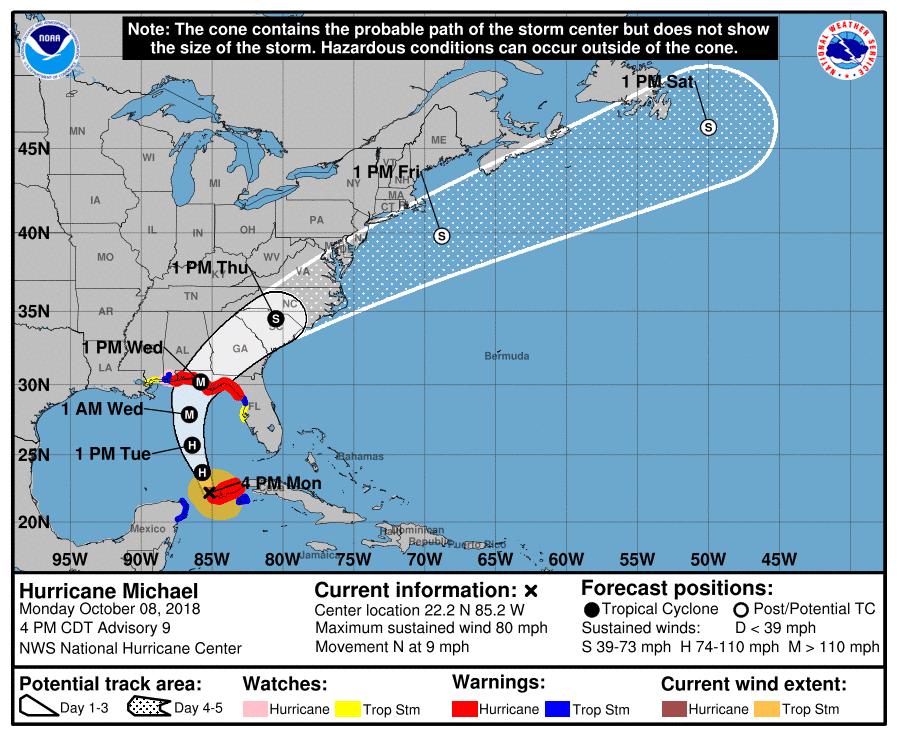 The area is also home to a number of military bases, including the Naval Air Station at Pensacola and Eglin Air Force Base.
(With assistance from Mark Niquette, Megan Durisin, Stephen Voss, Brian Wingfield, Charles Stein, Meghan Genovese, Fabiana Batista and Patrick McKiernan. Contact the reporter at [email protected].)