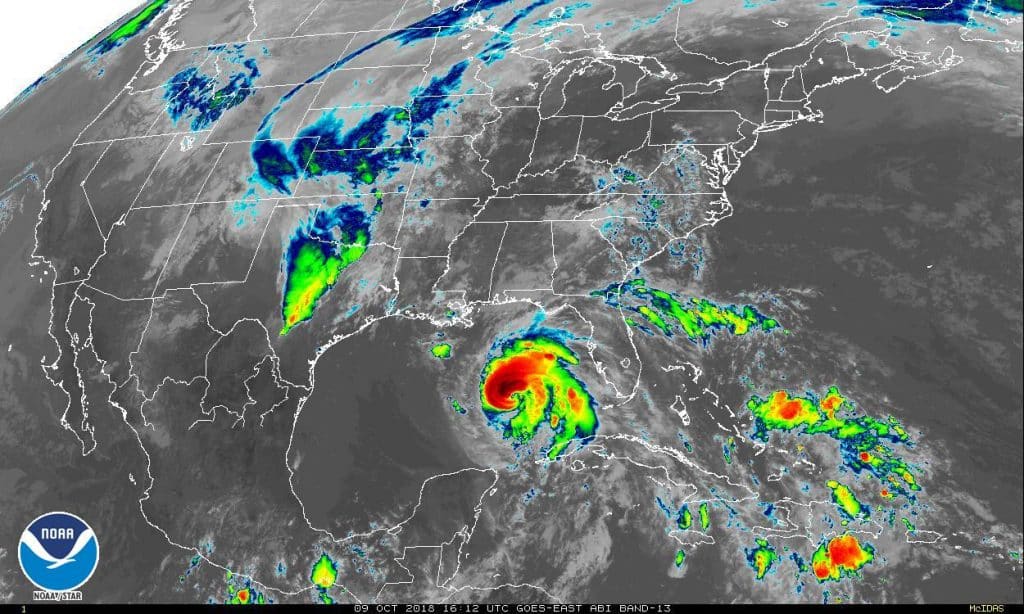 Hurricane Michael is racing toward the Florida Panhandle, threatening as much as $10 billion in damage on a path that's already driven up cotton prices and cut the region's oil and gas production.
Located about 360 miles south of Panama City, Florida, Michael is forecast to become the second hurricane to make landfall in the U.S. in a month. Its 110 mph winds are just below the threshold for becoming a Category 3 hurricane as it plows through the Gulf of Mexico at around 12 mph, according to the National Hurricane Center.
Landfall is expected Wednesday, when forecasters say it could generate a 12-foot "life threatening" surge, and 4-8 inches of rain, with isolated areas getting as much as 12 inches. After ripping through Florida, the storm's set to hit Georgia and Alabama.
"Additional strengthening is expected, and Michael is forecast to be a major hurricane at landfall," said Dan Brown, a senior hurricane specialist at the National Hurricane Center.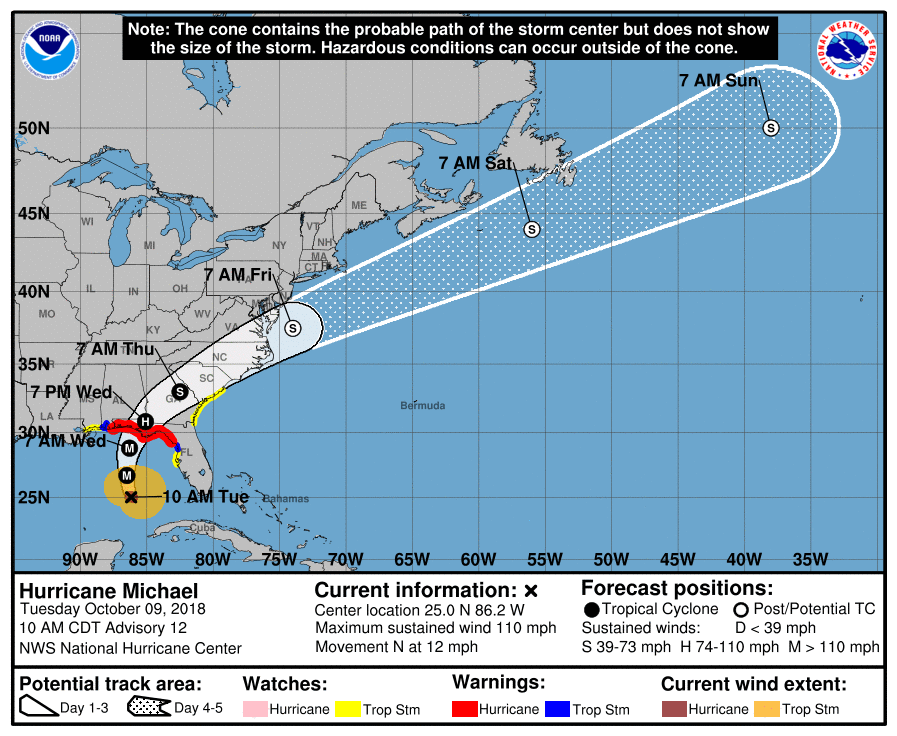 Michael is arriving after Hurricane Florence hit North Carolina on Sept. 14, causing devastating floods, killing at least 39 and causing $45 billion in estimated damages.
Duke Energy Corp., which saw about 1.5 million customers in the Carolinas lose power from Florence, is warning its 1.8 million Florida customers to prepare for extended power outages. The company is moving utility crews and resources into the area to help restore power as soon as it's safe.
Alabama Power crews are on alert and ready to move quickly to restore power as soon as it is safe. The company is in communication with sister utilities in Georgia, Florida and Mississippi and with other investor-owned utilities in the region through its long-standing mutual-assistance agreements. The mutual-assistance system allows for utilities to quickly assist each other in restoration operations.
Alabama Power is urging customers, especially in the southeastern area of the state, to be prepared and make sure they have their hurricane plans in place. Winds from the storm are likely to bring down trees and tree limbs onto power lines. The company reminds customers to stay away from any downed lines or trees, which could be hiding live wires. If customers see a hazardous condition, they can report the situation at www.alabamapower.com or through the company's automated outage reporting system at 1-800-888-APCO (2726). Customers can get more information about preparing for a hurricane or severe weather at https://alabamanewscenter.com/storm-safety/.
Gulf Power said its crews are prepared to restore power as quickly and safely as possible following the storm.
"Customers should prepare for the possibility of losing power for an extended period when tropical storm to hurricane force winds and storm surge or flooding occurs," said Gordon Paulus, Gulf Power spokesperson. "We have our storm plans in place and are ready for any scenario."
We're continuing to watch the path of #HurricaneMichael🌀We encourage you to stay alert and #Prep4Michael with us.

News release: https://t.co/9JUm3JjLAG pic.twitter.com/QogEMmOymy

— Gulf Power (@GulfPower) October 9, 2018
Damage estimate
The latest storm is likely to cause $7 billion to $10 billion in damage, with Panama City, Florida, taking the hardest hit, said Chuck Watson, of Enki Research in Savannah, Georgia. Downed trees, power outages and flooding across the region will contribute to the costs.
"Michael is definitely shaping up to be a classic hurricane," Watson said. "So, the estimates are a bit more stable since you don't have the stall and wander problem" that made Hurricane Florence hard to calculate.
Any cotton that hasn't been harvested in Georgia and across the Southeast could be damaged by the storm, said Don Keeney, senior agricultural meteorologist at Radiant Solutions in Gaithersburg, Maryland.
Rain will hurt the quality of the crop, and wind could knock the plants about, making them worthless, Keeney said. Georgia had collected only 6 percent of its crop as of Sept. 30 and Alabama had reaped 5 percent, U.S. Department of Agriculture data show.
Bloomberg: Hurricane Michael could hurt crops, boost prices from Alabama NewsCenter on Vimeo.
Most corn and soybeans in the region have probably already been harvested, though crops that remain in the field could be affected.
On Sunday, Florida Gov. Rick Scott declared a state of emergency for the counties in and around the panhandle, and at least three counties announced mandatory evacuation orders Monday. Other parts of Florida will also be affected, with a surge of 2 feet to 4 feet forecast for Tampa through Thursday. Alabama also declared a state of emergency Monday afternoon.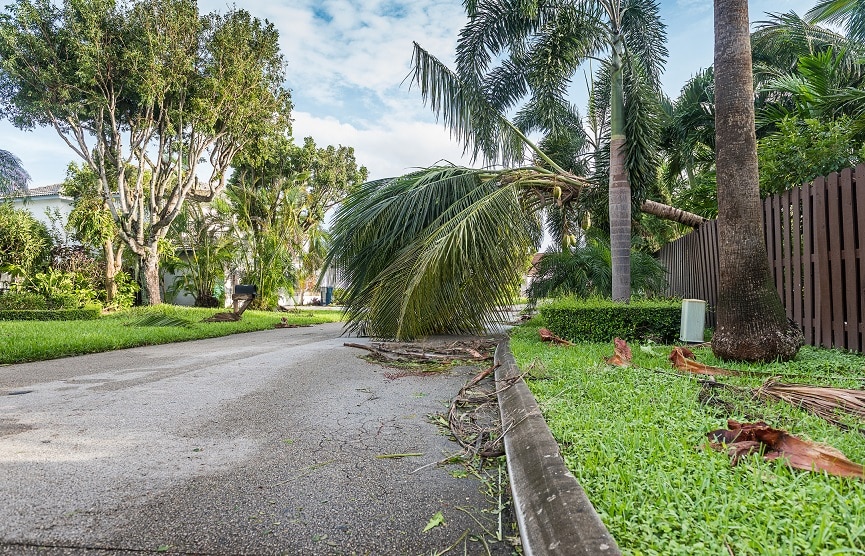 While the panhandle is more sparsely populated than many other areas of Florida, it includes the capital city of Tallahassee, Pensacola and Panama City.
Most citrus plantations in Florida are in the lower two-thirds of the state, away from the storm's path. After making landfall in the panhandle region, the storm is forecast to bend back across Georgia, North Carolina and South Carolina later in the week, ending up back in the Atlantic.
Here's the latest on the storm's effects:
Hurricane warnings are in effect from Suwannee River, Florida, to the Florida-Alabama border, and a hurricane watch is in effect for the entire coast of Alabama.
The Coast Guard Tuesday closed ports at Gulfport and Pascagoula in Mississippi, Mobile in Alabama, and Panama City and Pensacola in Florida, and restricted vessel traffic on the Intracoastal Waterway.
In the Gulf of Mexico, operators evacuated 10 drilling platforms and moved five rigs out of the storm's path, shutting down 19 percent of oil and 11 percent of natural gas output in the gulf, according to the Interior Department.
Cotton futures in New York were little changed on Tuesday after earlier reaching a one-week high. On Monday, the price rose 1.9 percent, the most in four weeks. Total insured losses for Hurricane Michael should be manageable and have minimal impact on property reinsurance pricing, KBW analyst Meyer Shields said.
The Atlantic has produced 14 named storms this year. They include Florence, the most powerful one so far, and Tropical Storm Gordon, which made landfall on the Alabama-Mississippi border last month.
The panhandle region has suffered significant storm damage in the past, hit by Hurricane Ivan in 2004 and Hurricane Dennis in 2005. In 2010, the Deepwater Horizon oil spill hit Pensacola Beach, Florida, hurting the fishing and tourism industries.
The area is home to a number of military bases, including the Naval Air Station at Pensacola, Florida, and Eglin Air Force Base in Fort Walton Beach, Florida.
(With assistance from Stephen Voss, Mark Niquette, Megan Durisin and Katherine Chiglinsky. Contact the reporters at [email protected] and [email protected].)