Hurricane Michael made landfall near Mexico Beach, Florida, at about 1 p.m. as a Category 4 hurricane with initial measurements making it the strongest to hit the Gulf Coast since Hurricane Camille in 1969.
Officials are calling Michael one of the strongest hurricanes on record and the strongest to make landfall in October in the U.S. It is also believed to be the strongest hurricane to strike the Florida Panhandle.
Structural damage, power outages and storm surge have already been reported along the Florida coast and into the panhandle. Extreme winds, rain and tornado warnings remain a threat inland in southeast Alabama, the Florida Panhandle and northeast Florida and southwest Georgia.
In Alabama, a number of cities and counties in the southeastern part of the state have issued curfews.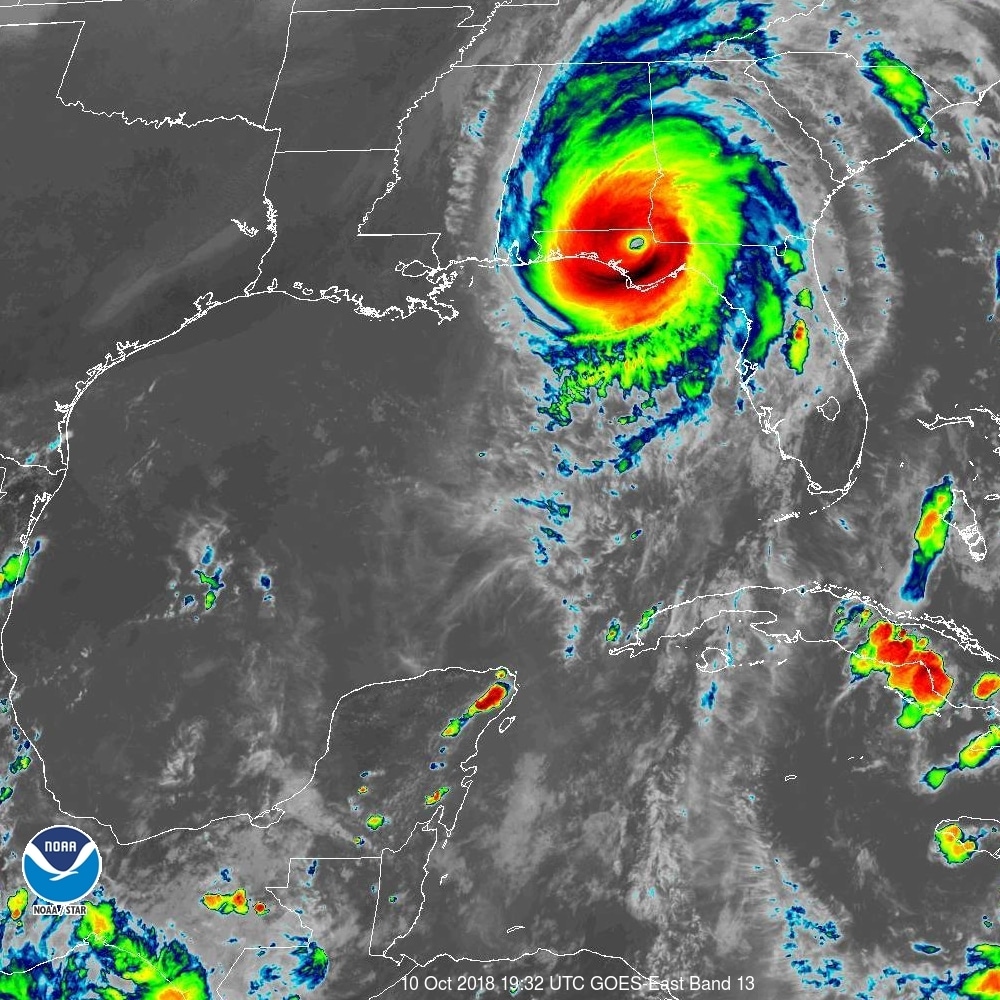 Between 600 and 700 Alabama Power and contract crews are being deployed to the southeast area of the state to support Alabama Power teams already on the ground. The crews will be staged closer to where the storm is expected to cause damage.
Because of the magnitude of the storm, damage is likely to substations, transmission lines and distribution lines. Alabama Power will work safely and as efficiently as possible to restore power. Safety will be of utmost importance for Alabama Power crews and customers.
Alabama Power is communicating with its sister companies and other investor-owned utilities through its mutual-assistance agreements. The agreements provide for utilities to move quickly to help each other, if needed, following a natural disaster or other significant disruption.
Gulf Power, a sister company, operates in the Florida Panhandle.
Alabama Power's Customer Service Center (CSC) storm team was activated Oct. 9 to help restoration efforts should customers be affected. In addition, the CSC has mobilized to support Gulf Power. More than 25 agents are scheduled to assist Gulf Power today by taking customer calls, with an additional 38 agents scheduled the rest of the week and into the weekend.
Southern Company subsidiary Southern Nuclear is reducing power for units 1 and 2 at the Joseph M. Farley Nuclear Plant as a precautionary safety measure to prepare for potential weather-related conditions caused by Hurricane Michael. These proactive steps will allow station personnel to continue monitoring the storm's progress and take any necessary actions.
Southern Nuclear operates the facility on behalf of owner Alabama Power.
"Safety systems at nuclear power plants are designed to withstand significant hazard events, and we take pride in our ability to safely and reliably operate our facility," said Farley Site Vice President Dennis Madison. "The decision to reduce power in preparation for the storm is a conservative measure, as the safety of our plant, employees and neighbors remains the top priority in everything we do."
As of 3 p.m., Geneva, Houston, Henry and Dale counties remained under a hurricane warning while Conecuh, Escambia, Covington, Butler, Crenshaw, Pike, Coffee, Bullock and Barbour counties were under a tropical storm warning. Parts of Barbour, Bullock and Pike counties are also under an area flood advisory.
The governor's office has provided a list of shelters available in the state for those looking to get out of the path of the hurricane.
the Alabama Department of Transportation (ALDOT) said it has multiple crews on standby ready address problems when the storm clears.
ALDOT said it is closely monitoring the historic storm with crews at its area and district offices in Troy, Dothan, Ozark, Enterprise Andalusia, and Eufaula prepared to respond as soon as it is safe to do so. Once conditions allow, ALDOT crews will be out to assess damage and crews with chainsaws will help clear roadways of debris in an effort to aid the efforts of first responders. Also, multiple signal techs and sign trucks are on standby and ready to repair any damaged signals or signs as quickly as possible.
Any drivers in affected areas who do have to be on the road are asked to be mindful of first responders as well as state and local transportation and power crews. Also, officials urge people to "turn around, don't drown" when motorists observe roadways covered in water.
Preparing for a hurricane:
Know your community hurricane evacuation routes, in case an evacuation is necessary.
Determine where your family will meet.
Make sure you have a way to contact your family.
Keep cellphones and electronic devices charged.
Stay informed with a battery-operated weather radio.
Stock an emergency kit with flashlights, batteries, first-aid supplies, cash and copies of your critical information.
Keep a three-day supply of water – a gallon per person per day – and three days' supply of nonperishable food on hand.
Trim shrubs and trees close to your home to minimize damage to your property.
Turn down the thermostat in your home. It can help keep your home cool for up to 48 hours after a power disruption.
Bring in outdoor items, such as furniture, decorations, garbage cans, etc.
During a hurricane:
Seek shelter in a sturdy building, away from windows and doors.
Monitor your weather radio for updates.
After a hurricane:
Stay off flooded roads.
If there is a power outage or a downed line, report it at www.alabamapower.com or call Alabama Power's automated reporting system at 1-800-888-APCO (2726). Turn off appliances to avoid any potential safety hazards when power is restored.
Stay away from downed lines and keep pets away.
Stay clear of damaged and fallen trees where a downed line may be hidden. Stay away from areas where repair crews are working.
Generator safety tips
More people are purchasing portable generators to keep appliances running during outages. While generators can be a convenience, they can also be deadly when used improperly.
Read and follow carefully the manufacturer's instructions before using a generator.
Do not plug in portable generators to your household wiring. This can cause serious injury to you and to Alabama Power employees working on the lines in your neighborhood. Connect only essential appliances – such as freezers and refrigerators – directly to the generator.
To avoid carbon monoxide poisoning, operate generators outdoors in a well-ventilated, dry area that is away from air intakes to the home, including window air conditioners. A good location is an open shed. Never use a portable generator indoors or in attached garages.