Fire Horse Pottery, Northport
The Maker: Kerry Kennedy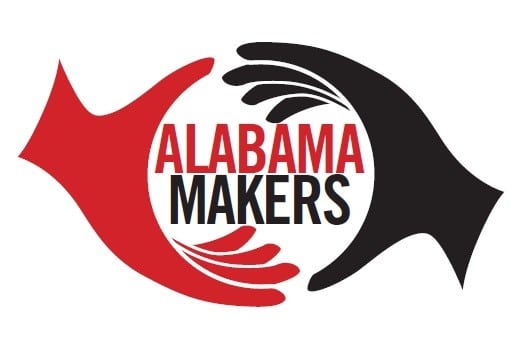 When you look at Kerry Kennedy's pottery, it's not surprising that she got her start in art with painting and illustrating.
The beautiful designs and patterns on her plates, bowls, mugs and other pottery are among what makes Fire Horse Pottery distinct.
She was drawn to pottery as an art student at the University of Alabama.
"I loved painting. I loved illustration. Drawing is one of my passions," she said. "But clay just caught my heart. I love it. I had a good potter as a teacher so that made a big difference, too."
Fire Horse Pottery is an Alabama Maker marrying form and function from Alabama NewsCenter on Vimeo.
Lowell Baker was the director of ceramics at the University of Alabama Department of Art and Art History in the College of Arts and Sciences at that time and got Kennedy started in the art form. She has taken it to new places, inspired by her personal pursuits and adding new techniques along the way.
"(Pottery) is the right mix for my personality," Kennedy said. "I've always loved historical pottery. I'm actually an historical re-enactor, so I love that. Anything ancient I love. I think it just makes its way into my work, I don't copy it directly."
She works with slip, or liquified clay, to add colors and patterns to a piece of pottery while it is still on the wheel.
Kennedy is a cone six potter, meaning she works at a temperature suitable for a special set of stoneware glazes but that allows for faster firing and cooling than those who work at the much hotter cone nine or cone 10 glazing temperatures.
"I like glazes as a finish because they're very durable and you get some beautiful colors that way," she said. "But I'm also experimenting with leaving the clay showing a lot more now. I work with three different colors of clay and I can change the color of the clay with slips."
She can also create designs by drawing with the glaze by itself onto the clay. Her husband, Joe Rossomanno, a graphic designer, creates some of the designs on her pottery.
Kennedy recently started a new marbling technique that she brought out for last weekend's Kentuck Festival of the Arts in Northport.
Kennedy has been demonstrating pottery at Kentuck for 10 years and has added many of her techniques while working with the clay on the potter's wheel to keep her demos fresh.
RELATED: Alabama NewsCenter live at Kentuck Festival of the Arts
"They've seen all of my tricks, so I've got to think of something new," she said.
"I introduce a new thing and see if it works and if it works, then I go with it, and if it doesn't I let that one go," she said. "I'm always editing and I'm always exploring new things."
Kennedy is an artist in residence at the Kentuck Art Center in Northport.
"This has been my dream since I was a little kid," she said.
While she came into art as a lover of form, Kennedy cherishes the functional aspects of her work in pottery.
"I love it that people will say, hey, 'I drink out of your mug every day' because I feel like I'm having coffee with them every day," she said. "It's really nice."
---
The product: Original works of functional pottery in a variety of shapes, sizes, colors and textures.
Take home: A serving bowl lined with hand-painted elephants ($98).
2014 Fifth St., Northport, Alabama 35401 (at Kentuck Art Center in the studio behind the blue doors)
205-242-2530