Ruth's Porch Art, Grand Bay
The Maker: Ruth Robinson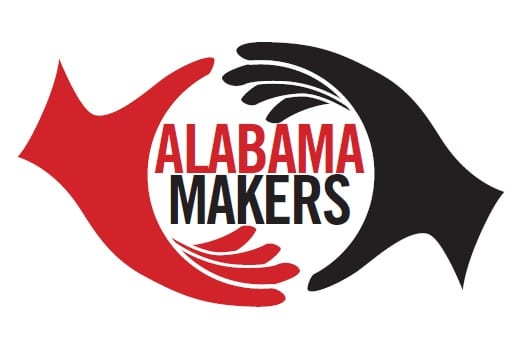 Ruth Robinson never knows ahead of time what her folk art paintings will be about.
Well, that's not exactly true. She's pretty sure it's going to be about family.
"When I paint fish, it's about Uncle Bud. When I paint cotton, it's about my Papa, who was a sharecropper in Wilmer. When I paint about the school bus, that's my Mom," she said. "I paint about family and I have a lot of stories to tell about my family."
The artist and owner of Ruth's Porch Art never knows which family story is going to come out.
"I don't know what I'm going to paint," she said. "When an idea comes to me, I can't rest until I get it down and then it might take three or four days for me to say it's perfect. I set it before me for two or three days and when I'm at ease and when I've had it long enough, I can get rid of it."
Ruth's Porch Art wins attention far and wide by staying close to home, family from Alabama NewsCenter on Vimeo.
Robinson didn't start painting with any plans of "getting rid of it." Her work has always been a personal pursuit, even when she was very young.
The Grand Bay artist started painting at age 8 and her room served as gallery space.
"I had a real good eye for drawing people and things," she said of her younger self. "I had all of this stuff on my wall in my bedroom."
Those earliest works were among what her family lost in a house fire in the 1960s. It was a tragedy not just in what the fire physically took away, but that it also took away Robinson's creative pursuit.
"After the fire I didn't paint like that anymore," she said.
Many years and much more hardship would come before Robinson would be drawn to art again.
"In the early 2000s my dad became sick and then after that my mother became sick also," Robinson said.
In the anxiety of caring for them and worrying about their health, Robinson returned to the thing that made her happiest as a child – painting.
"I found that doing that, it helped me a whole lot," she said. "I've been doing it ever since then. It was kind of like a gift – something that was just waiting to get started again."
Still, Robinson had no plans to sell the art she was creating. She may not have ever thought of selling it if her mother hadn't encouraged her to "get rid of some of it" on her deathbed.
Just like Robinson believes her art is "a God-given talent," her path to success was, she believes, paved by divine intervention.
"I think the Holy Spirit led me," she said. "I was just walking, I didn't know where I was going and I ended up in the Cathedral (Square) Gallery in downtown Mobile and I stayed there for, like, four years."
While there she met a photographer who liked her work and wanted to manage Robinson as she began her career. That led to a showing together in New York in 2007 as Robinson was building a following well outside Alabama.
"I guess it grew into a big, huge thing," she said, giggling.
Even funnier is that while many people in New York know her art, some of her neighbors in Grand Bay do not.
"A lot of people in Grand Bay don't know I paint," she said. "It's kind of like a secret."
Robinson's art can be found at Marcia Weber Art Objects in Montgomery and American Folk Art Gallery in Asheville, North Carolina. You can also find her at art shows and festivals throughout the year.
---
Ruth's Porch Art
The product: Original folk art paintings on wood, metal, canvas and found objects.
Take home: A fish painting on wood (prices vary).
Ruth's Porch Art can be found on its website and on Facebook.