ACTIVE NIGHT AHEAD: There's not much change in the overall thinking concerning tonight's weather across Alabama. A dynamic weather system will bring the threat of strong to severe storms to the northern counties of the state, mainly after midnight.
So far, clouds have been holding tough over north and central Alabama, keeping temperatures in the 60s, but despite the lack of sun, the air will become unstable tonight and will interact with a dynamic upper trough with strong wind fields and a robust low-level jet. The atmosphere will be highly sheared, and we will need to watch the storms across north Alabama very carefully tonight.
The Storm Prediction Center maintains an enhanced risk (level 3 out of 5) of severe thunderstorms for areas north of a line from Sulligent to Decatur to Huntsville; a slight risk (level 2 of 5) extends as far south as Eutaw, Hoover and Glencoe; and a marginal risk (level 1 of 5) runs down to Linden, Verbena and Wedowee.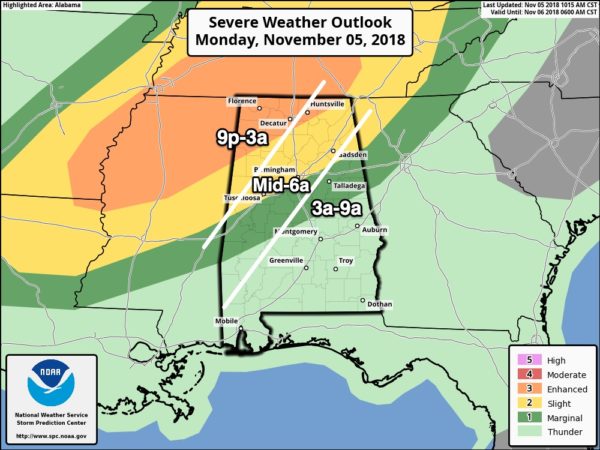 No severe weather is expected in south Alabama tonight, and there is just a marginal risk tomorrow morning for some counties in the southeast part of the state. The overall threat there is very low.
THREATS: The highest tornado threat late tonight will be across the enhanced risk area of north and northwest Alabama, but we can't rule out a tornado as far south as I-20. Otherwise, a line of storms will bring the threat of damaging straight-line winds. Some hail is possible; we expect no flooding.
TIMING: A few discrete storms could enter northwest Alabama as early as 9 tonight, but the main organized line will enter the northwest corner of the state around midnight. Then, it progresses slowly southeastward during the pre-dawn hours. The line of storms will be in the Tuscaloosa, Birmingham and Gadsden areas between 4 and 6 a.m., then will reach parts of east-central Alabama after daybreak. The storms will weaken after 6 a.m. as the main upper support lifts away to the northeast.
REMEMBER: This is a middle-of-the-night event, so be sure you have a properly programmed NOAA Weather Radio with a fresh battery backup in your home, and have a good app on your phone designed for warnings, like this one.
Know the safe place in your home, and in that safe place have helmets for everyone (including adults), a portable air horn and hard-soled shoes.
If you live in a mobile home, identify a shelter that is open late tonight and be ready to go there quickly if a warning is issued. And, of course, nobody should be driving through a tornado warning polygon. A car can be a death trap during a tornado.
After the line of storms passes early tomorrow, the rest of election day will be dry for the northern half of the state, with some partial clearing possible. The high tomorrow will be in the mid 70s.
REST OF THE WEEK: A surface front will stall over south Alabama tomorrow night, and a wave of low pressure moving along the front will bring periods of rain to Alabama Wednesday. Thursday will be mostly cloudy with just a few scattered showers; the high both days will be in the mid 60s.
On Friday, a cold front will bring another chance of showers, and the coldest air so far this season begins to arrive. The high Friday will be in the low 60s, and by Saturday morning we are headed for the 30s. The sky will clear Friday night as drier air works in.
THE WEEKEND: Look for sunny, cool days and clear, cold nights. Colder spots will see a freeze early Sunday, with widespread frost likely elsewhere and lows in the 30- to 36-degree range for most communities.
NEXT WEEK: The week looks mostly dry, and even colder air blows in here by midweek. Long-range guidance suggests we will have potential for highs in the 40s and lows in the 20s by Wednesday.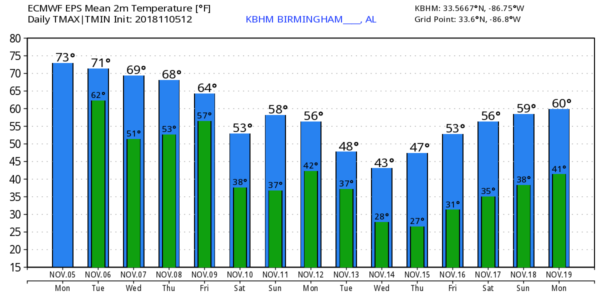 BEACH FORECAST: Click here to see the AlabamaWx Beach Forecast Center page.
WEATHER BRAINS: You can listen to our weekly 90-minute show any time on your favorite podcast app. This is the show all about weather featuring many familiar voices, including meteorologists at ABC 33/40.
CONNECT: You can find me on all of the major social networks:
Facebook
Twitter
Instagram
Pinterest
Snapchat: spannwx
For more news and information from James Spann and his team, visit AlabamaWx.