Lisa C. Warren Studio, Mobile
The Maker: Lisa Warren
Lisa Warren calls herself a "late bloomer" because she took some time to get her art degree and start a family before devoting herself professionally to painting and pottery.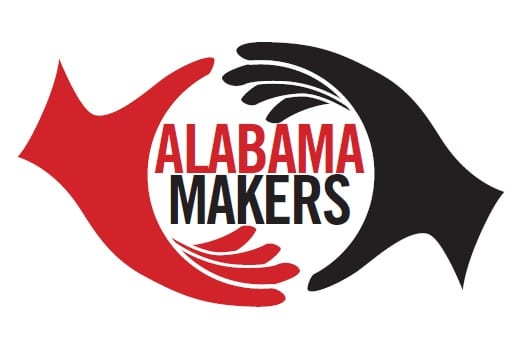 While that may be true, Warren is sure making up for lost time.
Oil painting has always been her focus, but she also studied pottery while at the University of South Alabama.
Once her son started school and she decided it was time to pursue art full time, Warren realized pottery could be something that could sell easier than paintings at art shows and festivals.
"That's really my bread and butter, is pottery," Warren said. "I'm very thankful for it, but I really love oil painting, too."
The pottery gives her a connection to her customers because it is functional and much of it is Alabama-themed. She works with textures and dark colors in shades of reds, blues and earth tones, mostly.
"Ultimately with my pottery, I went it to sell," Warren said. "I want somebody to find it and love it and take it with them."
To that end, while her pottery started with large pieces like platters and serving dishes, Warren soon found that people liked smaller pieces. Many of her customers are tourists who want something they can take home with them.
Lisa Warren is an Alabama Maker showing creativity in pottery and painting from Alabama NewsCenter on Vimeo.
"They love it and see it and find a connection to it," she said. "That's very gratifying."
Warren initially worked on a potter's wheel, but now most of her work is hand-built pottery that she shapes, textures and glazes from rolled clay.
Another aspect of her pottery that Warren appreciates is she gets to hear directly from customers who make suggestions about what they would like to see in a ceramics piece. Warren said she has listened and many of her pieces today incorporate those suggestions.
"I really listen to the people who come to my booth," she said.
While her ceramic work is for the masses, Warren's painting is decidedly personal.
"My pottery is more my bread and butter, and I really listen to my customers," she said. "My painting, on the other hand, is where I really focus on my creativity, and I really listen to myself and do what interests me."
What interests her is figurative work drawing and painting people in various poses and positions. She also has been doing a large amount of floral work.
Her work can be found at the Stewart Heath Gallery in Spanish Fort, the Eastern Shore Art Center and at a number of Mobile art shows.
Warren lists Georgia O'Keeffe, Diego Velazquez and Odd Nerdrum as traditional influences but said she is also inspired by Mobile artists like Ardith Goodwin and Cat Pope.
Warren said the latter artists are helping her let go more and not overthink or overwork her painting.
"I am inspired by how she just walks up to a canvas, and she just starts doing it," Warren said of Goodwin. "I'm very formulated in what I do, and I'm trying to break outside of that."
The youth and talent of Pope is also something Warren finds freeing.
"Her youthful passion is actually inspiring in that she almost gives me permission to just do it," Warren said.
Warren is one of several artists, including Goodwin, who works out of the Central Arts Collective in Mobile's Central Presbyterian Church on Dauphin Street.
The former school classrooms at the church have been converted into studios for artists and low-cost rents. Warren said having the space has been critical from both a functional and a creative standpoint.
"Being in a creative environment, it's wonderful," she said. "I'm able to step out of my studio and get the advice from fellow artists in the building or get pulled into projects that they're doing."
Warren tried working from home, but always felt like she should be doing laundry or the dishes instead of being able to focus on her art. Having a studio and a place to go to work makes it easier to spend her days creating and producing.
"You can't get that when you're home alone, so it's very motivating and I treasure it," she said.
She said her husband is supportive and makes it possible for her to pursue her art. She also wants to show her son the importance of a work ethic and pursuing your dream.
Warren now feels like she has the best of both worlds because she is able to pursue both painting and pottery.
"My goal is to paint more and to put more paintings out into the universe and really explore that," she said. "Pottery, I love it. I love working with my hands and I love giving people something they enjoy on a daily basis. If it's a matter of just their daily routine of making their coffee and they can put their spoon down on it and it makes them smile, then it makes me happy."
---
The product: Pottery and paintings.
Take home: A spoon rest in the shape of Alabama ($15).
Lisa C. Warren Studio is online and on Facebook.
Email at [email protected]