Auburn native Candace Wilson remembers her high school friends' responses upon learning her college of choice was the University of Alabama.
"It was definitely a horrified reaction," said Wilson, a UA senior.
As for her parents … well, they're starting to get more comfortable. Give them some more time. It's only been four years.
Most days, her parents will even (gulp) root for the Crimson Tide football team … as long as it's not the November Saturday when the Tide and Tigers are battling it out on the football field.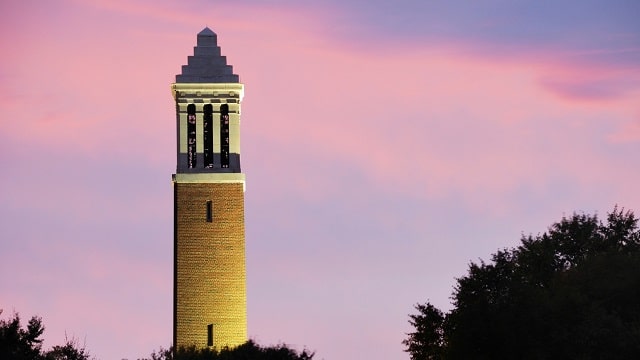 While the sports rivalry between the two schools can be intense, it's usually all in good fun, and it doesn't stop students from crossing the figurative gulf to seek an education across the state. During fall 2018, 83 students from the city of Auburn were enrolled at the University of Alabama.
UA freshman Elizabeth "Bess" Gordon spent her high school years living in Auburn and, unlike Wilson, she rooted for the Crimson Tide the entire time. Born in Tuscaloosa and having lived in Trussville, she, her parents and her twin brother moved to Auburn before her ninth-grade year.
"I was really disappointed when I heard we were moving there, but I learned to love Auburn," the UA Honors College student said of the city. "It's a really nice town and a nice place to grow up."
Wilson concurs. Pursuing a double-major in psychology and biology, she is eyeing medical school following her May 2019 graduation and fondly remembers attending cheerleading camps and other activities on Auburn's campus.
For UA senior Lucas Glisson, being born in Opelika and living in Auburn until college didn't result in an orange-and-blue indoctrination. His parents, who both graduated from the University of Georgia, helped see to that.
The biology major following a pre-med track says his hometown is a "great conversation starter" when meeting fellow UA students.
"Everybody will give you a look, and you have to ask them, 'I made the right choice, didn't I?'"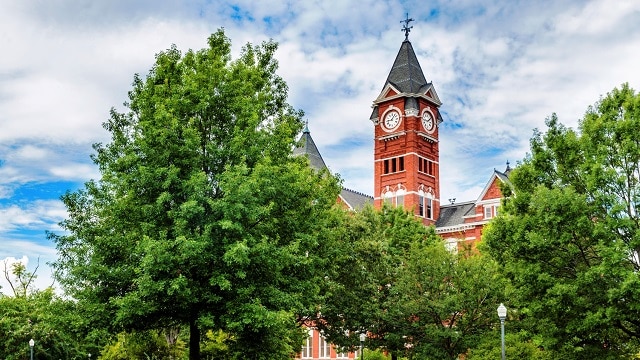 Vice president of the biological honor society, Tri Beta, and active in his fraternity, Glisson says he's learned to be more self-sufficient by attending college a few hours from home.
"I am happy with all the resources that UA has," Glisson says, "and I don't think there is another university that would have done any better for me."
Gordon said she follows football but says she doesn't consider herself a hardcore fan.
"The rivalry is fun, but if you're going to judge people for the T-shirt they're wearing … well … OK," Gordon said.
While living in Auburn, Gordon says she got a lot of "negative feedback" because she chose to cheer for the Crimson and White of Alabama but indicated it was all handled in the spirit of the rivalry.
"Everyone teased me about that, and now that I'm at Alabama, people tease me about me being from Auburn. I'm like, 'wait a minute.'"
Four years after her decision to attend school in Tuscaloosa became reality, Wilson says she still encounters teasing back home.
"'Oh, you're still going there,'" she quoted the haters as saying. "'How's that working out for you?' People were definitely shocked."
While each side may sometimes throw shade at the other, Wilson, who graduated from Lee-Scott Academy in Auburn, said she's pleased she exchanged the land of War Eagle for the one of Roll Tide.
"I have loved every second of being at college. Sometimes I think about how it's almost over, and I get really sad. It's been everything I hoped it would be."
This story originally appeared on the University of Alabama's website.