Don't be too quick to throw out the record book as Auburn travels to Bryant-Denny Stadium for a 2:30 p.m. Saturday meeting with Alabama in the Iron Bowl on CBS.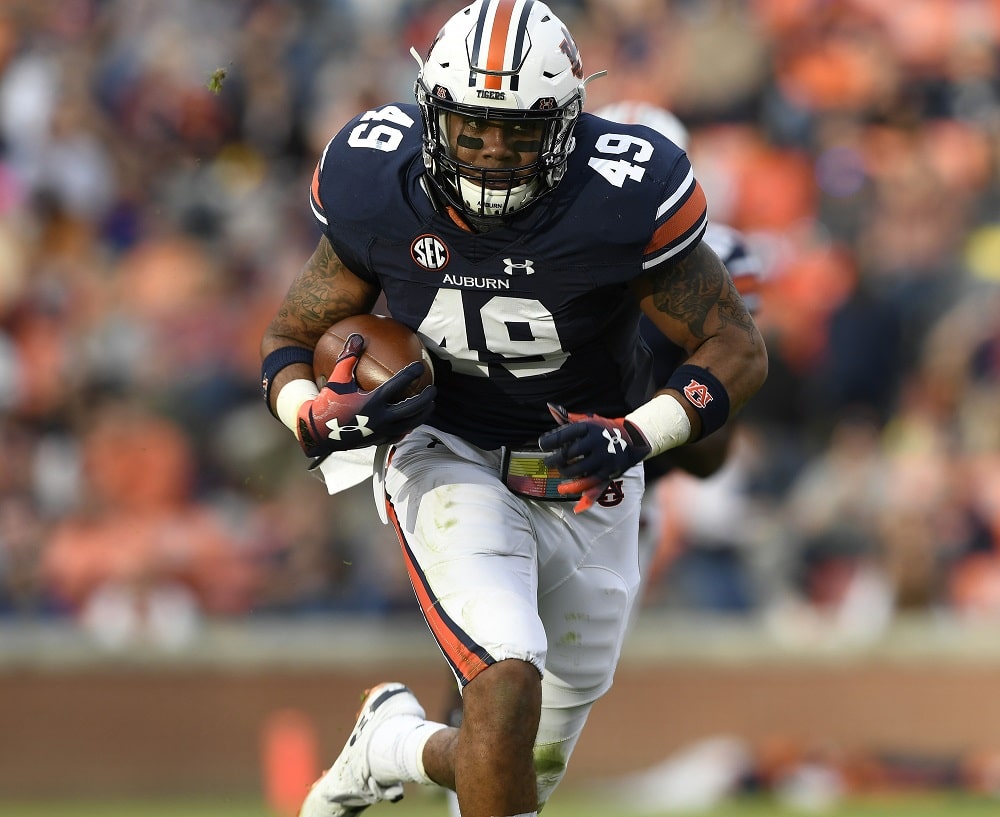 The records – and the statistics – may tell an accurate story.
Auburn's win over the Crimson Tide a year ago may not have been as close as the 26-14 final score indicated. The 2017 Tigers were a serious contender for the College Football Playoff.
And with wins over Georgia and Alabama – a pair of No. 1 opponents – who could argue against them?
That Auburn team had a dynamic defense and an offense anchored by SEC Offensive Player of the Year Kerryon Johnson.
But Johnson's playing his rookie season in the National Football League and the running attack of these Tigers (7-4) has largely been AWOL in 2018. And the defense, while still a strength, has buckled under the pressure of carrying a disproportionate load.
Conversely, the Crimson Tide defense has largely had it easy as the offense has generally turned games into laughers by intermission. But that defense loomed large in recent back-to-back shutout victories over LSU and Mississippi State.
Tua Tagovailoa has turned Alabama into a pass-first offensive juggernaut that has left jaws dropping from Neyland Stadium to Death Valley. His 31st touchdown pass, thrown Saturday against The Citadel, broke the previous school record of 30 set by AJ McCarron in 2013.
Saturday Down South pointed out the disparity. The Auburn offense has slipped from 2017 to 2018 in rushing yards per game (218.3 to 149.9), total yards per game (451.6 to 366.9) and points per game (33.9 to 26.5).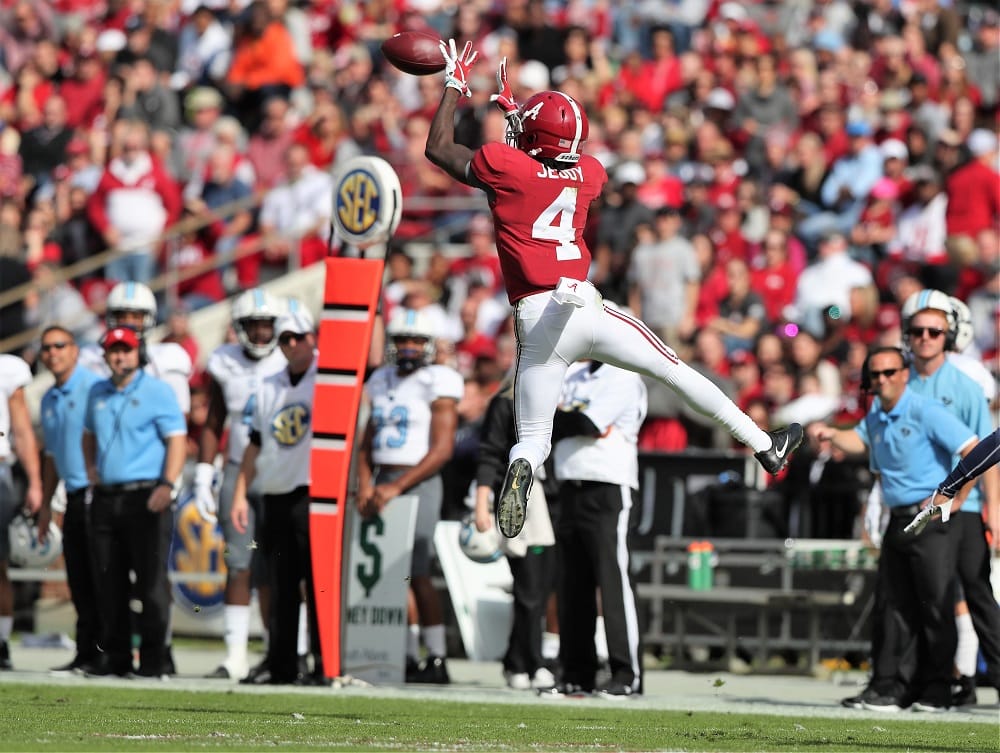 In stark contrast, Alabama, 11-0 and No. 1 in the College Football Playoff ranking, has turned on the booster rockets. Passing yards per game have blasted off (193.4 to 323.7), as have total yards per game (444.1 to 539.5) and points per game (37.1 to 48.6).
The Crimson Tide learned a lesson from its 10-10 halftime tie with The Citadel before beating the Bulldogs 50-17. It's a lesson that's certain to be repeated this week.
Said Nick Saban: "The competition you're playing against should not determine your level of intensity, sense of urgency, discipline – all the things that I think it takes to perform at a high level."
Gus Malzahn said his team will have to make plays on offense.
"They make you earn it, and you're going to have to have some one-on-one situations you make plays in," he said. "Defensively, you've just got to do a good job of keeping them out of the end zone. They're explosive on offense and they can move the football.
"And you know we've got to win the special teams battle too. If you're going to have a chance to win, that's what you've gotta do (when) playing there."
UAB's amazing follow to The Return season of 2017 hit a speed bump Saturday night at College Station, Texas. Aided by Blazer miscues, the Aggies of Texas A&M downed coach Bill Clark's team 41-20.
But the Blazers (9-2 overall and 7-0 in Conference USA) still have a job to do. A win in their 2 p.m. game against Middle Tennessee will earn them a home field advantage in the CUSA Championship game.
"To get that championship game back for our fans and our city is a huge deal for us," Clark said. "Middle Tennessee is playing very well, three losses against SEC schools and one loss was without their quarterback at FIU, so it's going to be a big deal to them and it'll be big for us. To get the game back here would be tremendous."
In other action:
Mississippi Valley State at Alabama State (today): This latest edition of the Turkey Day Classic pits the Hornets (3-7, 2-4 Southwestern Athletic Conference) against the Delta Devils of Mississippi Valley State. Kickoff is at 2 p.m. The visitors bring records of 1-9 over and 1-5 in the SWAC to ASU Stadium.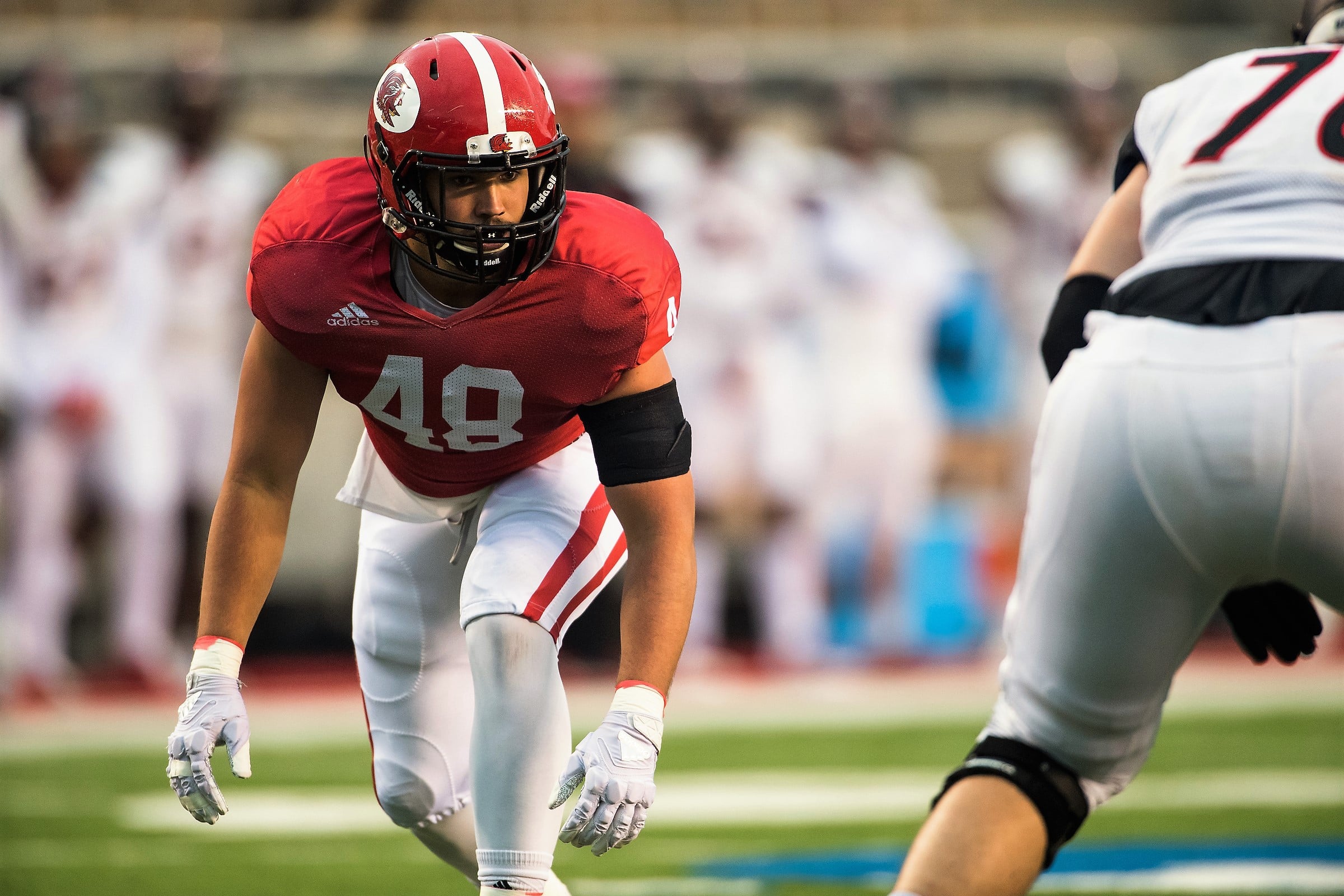 East Tennessee State at Jacksonville State: The regular season didn't go the way it has the past few years for JSU. The Gamecocks (8-3) are coming off a five-overtime, 60-52 loss to Kennesaw State. That loss and the two that preceded it mean Jacksonville State goes into the Football Championship Subdivision Playoffs unseeded and playing in the first round. "Maybe playing this week is good for us," coach John Grass said of the 6:30 p.m. contest. "I like the focus of this group and I think we are dealing with a team that has learned all year long and the lessons along the way with some losses and have learned from those losses. Not to be seeded and playing this week is a good thing for us with being a young football team. I think it is good that we are playing a really good East Tennessee State team. They have come out of nowhere with them being in the fourth year since bringing the program back."
Troy at Appalachian State: The Trojans' suffocating defense forced six turnovers and Tyler Sumpter booted a school-record four field goals in Troy's 12-7 victory over Texas State last Saturday. The Trojans' 13th straight Sun Belt win sets up a winner-take-all battle at 1:30 p.m. at Appalachian State for the right to host the inaugural Sun Belt Championship Game.
Coastal Carolina at South Alabama: The Jaguars (2-9, 1-6 Sun Belt Conference) will try to end the 2018 season on a high note at 2 p.m., and not with a four-game losing streak. The Chanticleers (5-6) have beaten UAB, Campbell, Louisiana, UMass and Georgia State this year while falling to South Carolina, Troy, LA-Monroe, App State, Arkansas State and Georgia Southern.
HIGH SCHOOLS
CLASS 7A: In 23 games all time against Hoover, Thompson has lost 22 of them. The exception was the 2017 regular season meeting that gave the Warriors the Region 3 championship. Hoover, of course, avenged that loss on its way to the state championship. Thompson (10-1) travels to Hoover (9-3) in the second round of the Alabama High School Athletic Association playoffs. The winner will take a week and a half off before playing in the title game. The team that doesn't win will ponder what went wrong.
Thursday give thanks. Friday be loud. #callingallBucs #allhandsondeck #sailsup @HooverAthletics pic.twitter.com/QAoJIgQEUc

— Hoover Bucs Football (@BucsFootball) November 21, 2018
CLASS 6A: Pinson Valley won its only state championship in 2017 at Bryant-Denny Stadium. Conversely, Homewood has six state titles in 10 championship game appearances. The Patriots (10-2) host the Indians (10-1) for a berth in the third round.
CLASS 5A: Greenville and Ramsay have never met before on the football field. That changes this week as the Tigers (10-2) head to Birmingham's Lawson Field to face the Rams (11-1).
CLASS 4A: American Christian is 12-0. UMS-Wright is 11-0. Their first meeting will be in Mobile in the second round of the playoffs.
CLASS 3A: Mortimer Jordan hits the road to Walker County to face Jasper, which has won eight of the prior 10 games with the Blue Devils. Each team is 11-1.
CLASS 2A: Fyffe hosts Ohatchee in a meeting of unbeatens. The visitors are 11-0 and the hosts are 12-0. The Red Devils of Fyffe are 3-0 against the Indians.
CLASS 1A: The Pickens County Tornadoes have faced Spring Garden only once, falling 51-9 in 2017. A year later, the programs meet on the Tornadoes' home turf in Reform. The hosts are the only team left in the 1A playoffs with fewer than 10 wins (8-4). Spring Garden is 11-1, losing its opener 28-6 to Cedar Bluff.