No. 1 Alabama faces No. 4 Georgia for the championship of the Southeastern Conference and a berth in the College Football Playoff.
It is easily one of the most anticipated rematches in recent college football memory. Ten months and 23 days will have passed since Tua Tagovailoa came off the bench in the national championship game to complete three touchdown passes.
The last of those tosses came on second-and-26 on Alabama's second play of overtime to secure the title.
The rematch comes at 3 p.m. on CBS.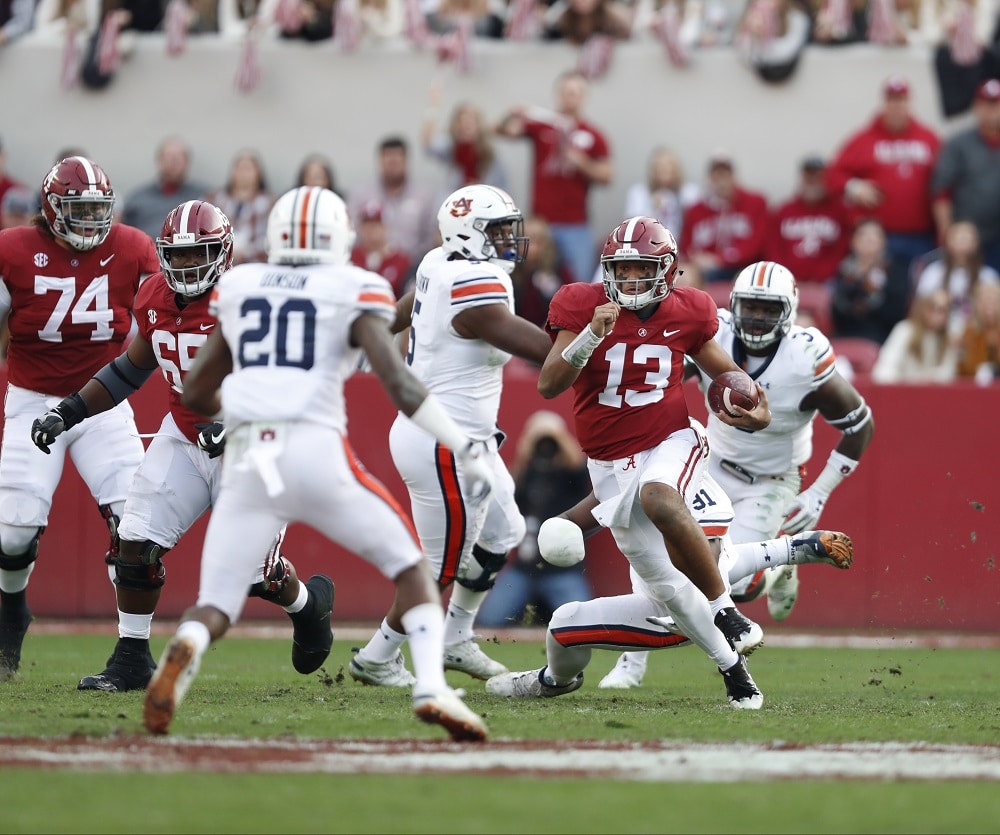 Alabama coach Nick Saban was asked yet again this week about his decision to bench starter Jalen Hurts in the second half of the championship game in favor of Tagovailoa. Yet again, Saban said he and his assistants felt it was the thing to do to give the Crimson Tide its best chance to win the game.
"It's really as simple as that," he said. "It worked out, so everybody thinks it was a good decision. If it wouldn't have worked out, everybody would be talking about what a bad decision it was.
"I had a lot of confidence in both players," Saban continued. "I have a lot of confidence in both players this year at that position and feel both are capable of going in and executing, doing a good job for us if need be."
The Tide coach said Georgia is again one of the most complete teams in the country.
"Kirby (Smart, the Bulldogs coach) has done a fantastic job there in terms of taking the players who were there and developing them in the style that he wants them to be," he said. "He's doing a good job of recruiting, getting new players to come and buy into their system."
Smart had similar praise for Alabama, whose defense has improved as the year has gone on, he said.
"We know a lot about them (and) they know a lot about us," he said. "They've got a great team; I don't think anybody would argue that. They've got very few deficiencies in any area.
"The young man we're playing (Tagovailoa) can run, can throw, can make the throws, can make the checks," the Georgia coach said. "(And) they've got really good backs. They've got the complete package."
View this post on Instagram
UAB has a rematch of its own this week. Just a week after falling 27-3 to Middle Tennessee State in their regular season finale, the Blazers face the same team in the same stadium at 12:30 p.m. on CBS for the Conference USA crown.
MTSU coach Rick Stockstill said his squad (8-4, 7-1 CUSA) can't do the same thing this week as it did last week.
"We'll build on a couple of things that we did good," he said. "They're going to try to counteract those things, so you have to have another plan as well. It'll be a lot different from what we saw last Saturday because of the uniqueness of playing back-to-back games against the same team.
"This time of year, you can't change too much because you are who you are," Stockstill said. "In the same respect, we can't come out there and just line up in the same formations, in the same sets and play the same defenses that we did last week without thinking they're going to adjust and have a plan for it."
UAB coach Bill Clark remembered three times having rematches in the same season when he was a high school coach.
"I don't know that I'm a real fan of this, but being on the losing side of it, very few times do you get a chance at some redemption," he said. "Being on this side, it is a good chance to redeem yourself. Not taking anything away from them … but I know we can play better and hopefully we'll show that this week."
While not making an excuse, Clark acknowledged that his team was missing some injured players last week. Some of them may be back in the lineup for the rematch.
"We're just going to have to go with the guys who are available," he said.
In other action: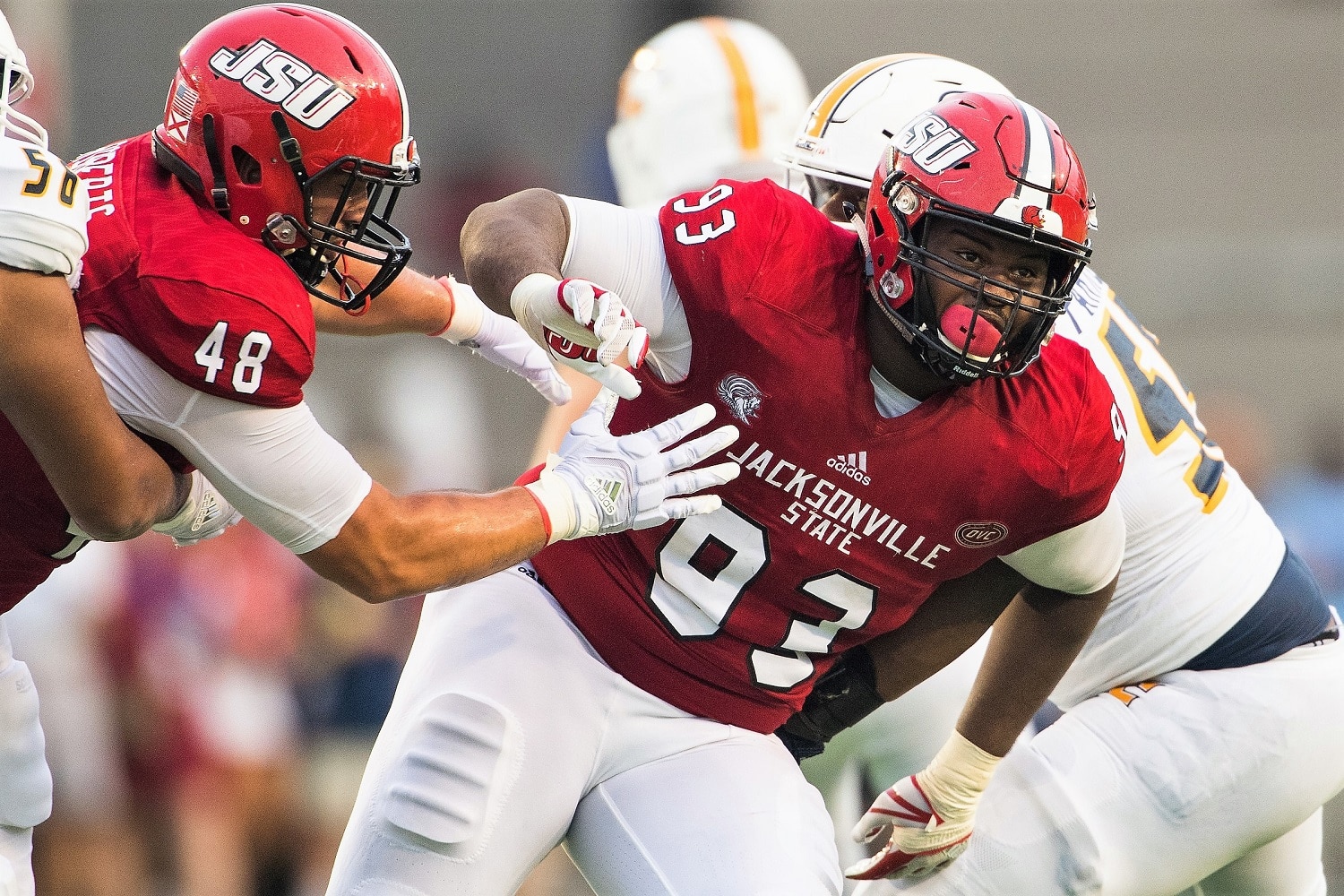 Jacksonville State at Maine: A 7-point victory over East Tennessee State set the stage for the Gamecocks to face the Black Bears at 11 a.m. Central Time. "You move on to this week and with the playoffs, you don't have time to dwell on a win," coach John Grass said. "Maine has been sitting there waiting on us for a week. I am sure they worked on both opponents last week, so they are ahead on preparations. It is a long road trip and they have a quality team and won the CAA (Colonial Athletic Association), which is a really good football league. They play great defense and a ball control offense. The quarterback is really good and (they have) some receivers that are really good, so we have our work cut out for us."
HIGH SCHOOLS
The AHSAA Super 7 takes place Dec. 5-7 at Auburn University's Jordan-Hare Stadium.
Class 7A (Dec. 5, 7 p.m.): Central-Phenix City (13-0) has been an unstoppable force in its drive to the championship round. The Red Devils have outscored opponents 526-101 and have notched six shutouts. Thompson (12-1) hasn't been shabby in downing Florence, Hewitt-Trussville and Hoover to earn its title shot. Central and Thompson have never played before.
Favorite Images From Friday Night! pic.twitter.com/4hJQy5S8xX

— THS Athletics (@athletics_ths) November 24, 2018
Class 6A (Dec. 7, 7 p.m.): Clay-Chalkville (12-1) lost to Pinson Valley 28-21 in its fourth game this year. The Cougars visit the Indians (11-1) with hopes of avenging that loss.
Class 5A (Dec. 6, 7 p.m.): Mortimer Jordan (12-1) welcomes Central-Clay County (10-3) to Kimberly for their fourth-round contest. The Blue Devils won the only meeting between the two 32-27 on Oct. 5.
Class 4A (Dec. 7, 11 a.m.): Oneonta (10-3) heads to Tuscumbia for its game against Deshler (8-5). The Redskins lead this series 2-1, beating Deshler 48-20 in 2011.
Class 3A (Dec. 6, 11 a.m.): Flomaton (10-3) plays host to Providence Christian (12-1). This is the first meeting of these teams.
Class 2A (Dec. 7, 3 p.m.): Luverne (12-1) is at Highland Home (12-1). These programs have faced one another 81 times, with Luverne leading the series 63-15-3.
Class 1A (Dec. 6, 3 p.m.): Pickens County (9-4) hits the road to Florence to face Mars Hill Bible (12-1). This will be the first meeting of these programs.