Every December, the Jefferson County Public Library Association celebrates local Library Champions – people and organizations nominated for their selfless work at various branches. These champions come from all walks of life and throughout the Birmingham metro area, but they all share a lifelong love of libraries.
This year, a library champion of another sort was honored alongside the recipients of the 2018 awards. She has made it her life's work to be an everyday kind of champion for all the libraries of the Jefferson County Library Cooperative (JCLC).  Patricia Ryan served as the executive director of the JCLC for 20 years. The Library Champion luncheon this week was also her retirement party.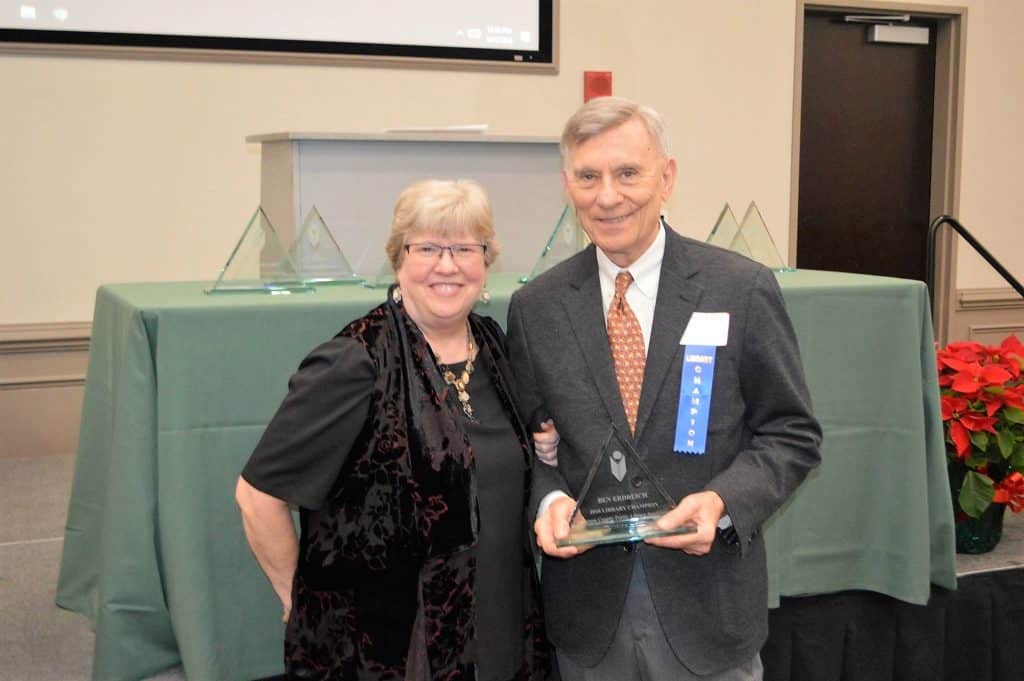 Before Ryan left, though, she nominated a special person as a 2018 Library Champion – former Congressman Ben Erdreich, who was a significant early advocate for the idea of a library cooperative.
All this is particularly fitting right now since the event caps off a yearlong celebration of the 40th anniversary of official cooperation among Jefferson County's libraries. Erdreich had the vision; Ryan has been seen it through for fully half the time it's been a reality.
Erdreich was a Jefferson County commissioner in the 1970s when he asked George Stewart, the director of the Birmingham Public Library system, to investigate ways to improve library service for the entire county. Stewart saw Erdreich's inquiry as an opportunity to prepare a long-range plan for a countywide system, and he worked with the directors and boards of the various municipal libraries to develop a library system to serve all of Jefferson County.
Both men attended the Dec. 4 luncheon that also honored Lee Green, John Gregory, Jones Valley Neighborhood, Eloise Martens, Patsy Pace, Lashunda Scales and Stephen Wolfe as Library Champions.
As Ryan retires this week, Tobin Cataldo, a 13-year employee of the Birmingham Public Library, becomes the new JCLC executive director.
"I feel exciting times are ahead for JCLC as technology continues to change libraries and they continue to adapt to meet those challenges," Ryan said. "I look forward to the innovative ideas Tobin will bring forward. It helps make retiring easier knowing JCLC is in good hands."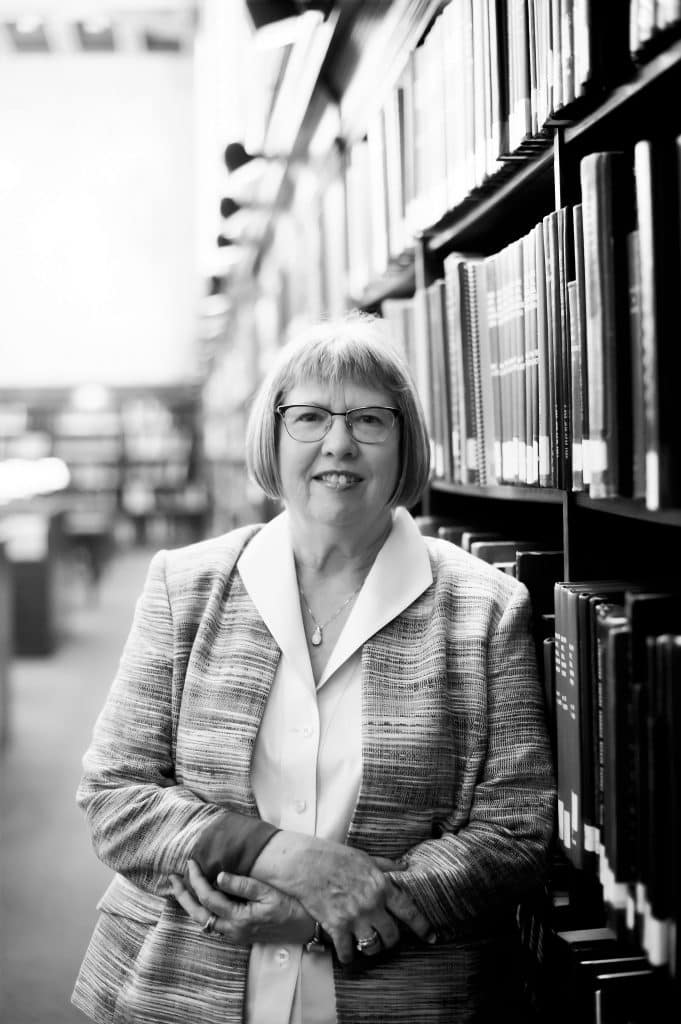 Ryan began her library career in 1978 – the same year the Jefferson County Library Cooperative was established to link all locally funded city libraries in the county. (Today, 22 member libraries with 40 locations offer countywide sharing of countless services and resources with the "One County, One Card" system.) Ryan worked first at the Birmingham Public Library, and five years later she became the assistant director of the newly formed Hoover Public Library (one of three full-time employees at the time). In 1997, Ryan became executive director of the JCLC.
"One of my favorite memories of being director of the JCLC was in 1998 when Alabama accepted the Gates Library Foundation Initiative as their first state project to improve technology in public libraries," she said.
A $578,156 grant allowed the county to add 329 computers and other equipment, increasing the number of PCs from 425 to 754. Today, the 40 member libraries in Jefferson County have 1,455 public and staff PCs. These libraries offer access to countless databases where patrons can research anything from jobs to genealogy; some have 3D printers available to patrons. All offer free, online homework help with actual tutors (Alabama was the first in the nation to purchase this resource statewide) as well as one-on-one technology help.
Advancing the libraries' technology has always been important to Ryan, but she also has a deep respect for how all this happened. To mark the 40th anniversary of the JCLC, she spearheaded an effort to produce a book about the history of Jefferson County's library services.
JCLC has flourished under Ryan's leadership (the organization also received the Birmingham Business Journal's Nonprofit Award), but most importantly, the cooperative has served its patrons well.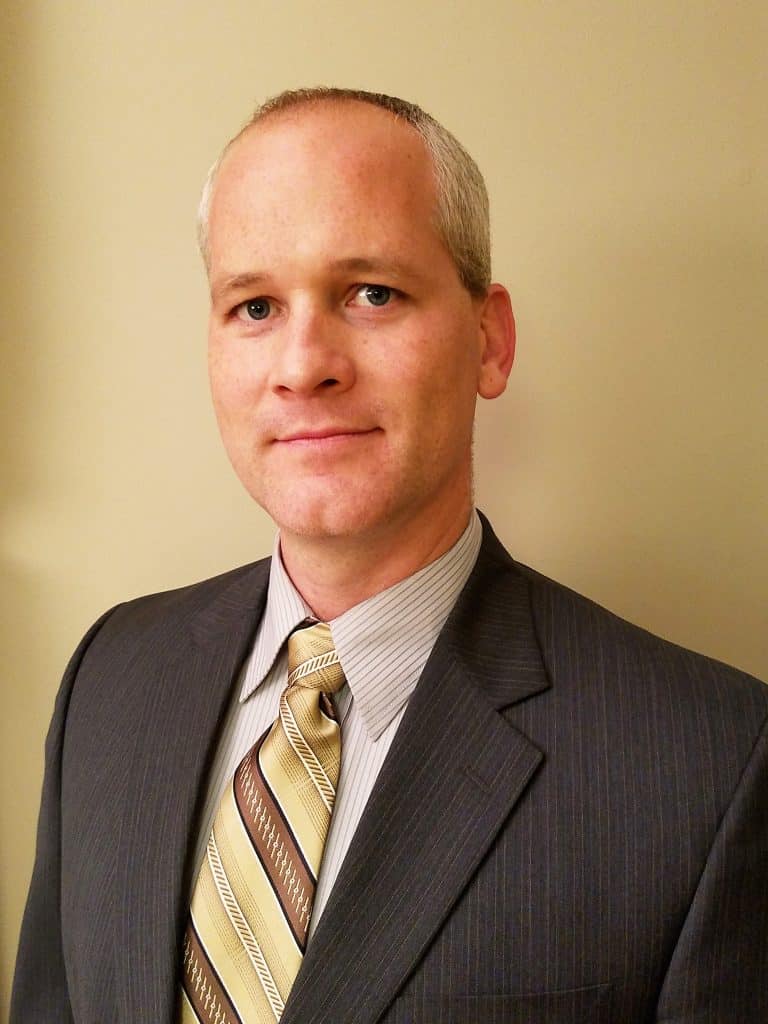 According to the 2016 annual report of the Jefferson County Library Cooperative Inc., there were 4.3 million items checked out that year, more than half a million holds placed on popular items, nearly 342,000 eBooks borrowed, more than 1.4 million website visitors, and nearly 28,000 new library cards issued.
A simple request – in person or online – gives patrons quick and easy access to the more than two million items held in the county's libraries. Library vans travel more than 73,000 miles each year between branches delivering books, CDs, music, DVDs and audio books on request.
Cataldo shares Ryan's appreciation for the past and has exciting plans for the future. And he recognizes the value of cooperation.
"For 40 years, JCLC has demonstrated a working model of inter-municipal cooperation," he said. "The Public Affairs Research Council of Alabama, the Greater Birmingham Regional Planning Commission, cities, towns and other community organizations recognize that effective collaboration can result in new efficiencies, cost-savings, standardization and less duplication of services. In this next iteration, JCLC will work to increase opportunities for cross-boundary facilitation and cooperation to drive costs down and service up.
"As a believer in public libraries, I stand firm in my belief that regardless of the district or municipality or any other perceived boundary, when we seek to put forth the tools and the systems to help develop a smarter and more informed community, we all win."