PaxArtist (Mobile)
The Maker: Sharon Heggeman
Pax means "peace" and no word is more appropriate for what art has brought to Sharon Heggeman.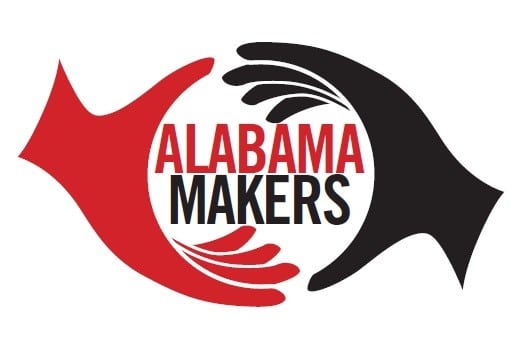 The Mobile artist has been doing art professionally for only eight years but it's what brought her to art that has made all of the difference.
"I didn't start painting until I was much older, when my daughter was an artist and we were not getting along very well, so I let her teach me," Heggeman said. "It was something that we had in common."
Art brought peace.
"Pax is a Latin word meaning 'peace' and that's really why I started painting."
That was after Heggemen survived cancer.
"The name, Pax, came after I had finished treatment," she said. "Pax was another part of that journey. After I finished my treatment and I had done really well, I was really pleased and thankful that I had come through."
PaxArtist is an Alabama Maker marrying peace with pieces of art from Alabama NewsCenter on Vimeo.
So Heggeman formed PaxArtist.
When her daughter went to college, Heggeman needed to continue to learn so she discovered online tutorials that exposed her to various art forms and styles.
She pursued many of them, from drawing to gold leaf to cold wax and oils to clay work. She now does large mixed-media abstracts and produces everything from plate chargers to Christmas tree ornaments.
"There's really not anything about art that I don't like," Heggeman said. "I do a lot of different things."
When she became an empty-nester, art started taking over the second floor of Heggeman's house.
"I was kind of terrorizing my second floor," she said, noting her work started in one room but soon spilled over into other rooms.
By the time it started taking over her bathroom, and materials began clogging the plumbing, Heggeman knew she needed an alternative.
That's when she found out about the Central Arts Collective in Mobile's Central Presbyterian Church on Dauphin Street. Former school classrooms have been converted into studios with low rent for artists.
"It was a perfect time," Heggeman said. "I was ready to make the change and my house was ready for me to make the change as well."
She started at Central Arts Collective with a smaller studio but has since moved into a larger space to have room for a gallery and entertaining.
These days her entertaining centers on the holiday season. Her Christmas tree proudly displays one of Heggemen's latest pursuits – Christmas ornaments.
"That was a natural progression," she said. "I saw a tutorial online that intrigued me because they were using different types of molds and different types of clay. I like the look, so I decided to try it to see if I could. Then it kind of got addictive. I have a ton of ornaments. I found myself at night when I was watching a show or something, I would just put together a couple of ornaments."
While she does a few art shows throughout the year, Heggeman said she focuses on displaying her work at Central Arts Collective and sells through her Facebook page and in a few outlets like Feather Your Nest in Mobile and Fairhope and The Campus Store at St. Paul's Episcopal School in Mobile.
These days Heggeman does a number of commissioned works. She likes to focus on large pieces and has been drawn to drawing of late.
Though art has brought her peace, that doesn't mean she is lax about it.
"You never can get bored," she said. "You can constantly have something to do and something to challenge you with."
---
The product: A variety of artistic productions from gold leaf glassware to Christmas ornaments and abstract paintings.
Take home: A Pax on Earth Christmas tree ornament ($10 to $20).
PaxArtist can be found on Facebook.
Email at [email protected]